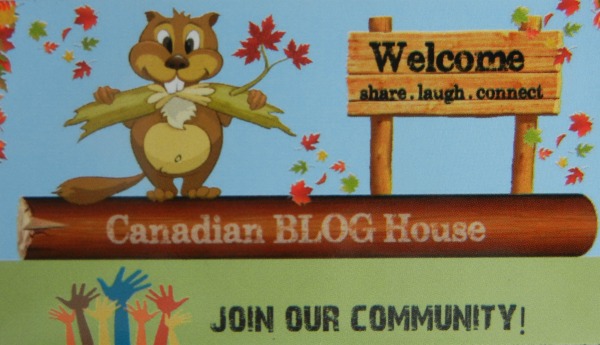 Canadian Blog House turns One Year Old today!! This first anniversary nearly slipped by me without notice.  I only thought of it yesterday as I referred back to an old post.  Wow.  One year old.  I can hardly believe it myself.  Where did that year go?
It has been a great ride so far. Nurturing this blog over the last year has been a lot of hard work, with a huge learning curve, but I wouldn't change it for the world.  The rewards have been immense.  The biggest reward? Getting to know you, my readers.
Thank you for all your support, sharing, laughs, and comments over the last year.  It means so much to me.  It's what keeps me going.  Whether it's a tweet on Twitter, a comment on Facebook, a share on Pinterest, Google+ or StumbleUpon, a click on my advertisements, everything you do to help support Canadian Blog House is appreciated.
What about all those blog comments you, my readers, have left me?
I read them ALL.  Every. Last. One.
Some of my blog posts get so busy with comments that, as much as I want to,  I simply cannot respond to all of them.  Rest assured, though, I don't miss out on reading ANY of them.  One of the highlights of my day is reading the comments you leave me.  Quite often they are funny.  I've laughed so hard at times, I've almost peed my pants.  Seriously.  Some of you exhibit an outstanding sense of humour.  Some comments are full of great ideas, information or advice.  I love how you share all of that we me and your fellow Canadian Blog House readers.  So please, never ever stop commenting. Hearing from you lets me know you are out there, that you are stopping by, and that you are enjoying what you are reading.
As I look back on this first year of Canadian Blog House, I can see that it has become all that I had hoped it would be, and more.  Thanks to each and every one of you for making Canadian Blog House a real "community".
So without further adieu, I'm celebrating our one year anniversary by sharing this fun list with you:
TOP 10 FUN FACTS ABOUT CANADIAN BLOG HOUSE
1.   Canadian Blog House published 170 original blog posts in the first year.
2.   Canadian Blog House won a "Silver" from the Canadian Blog Awards for "Best New Blog" 2014
3.   Canadian Blog House was welcomed into the SavvyMom Storytellers & the Yummy Mummy Club Communities in 2013.
4.   Canadian Blog House  got to interview the inspiring Hannah Alper about We Day 2013.
5.   Canadian Blog House's Top 5 Referrers this year were:  Twitter, Facebook, RedFlagDeals, ContestCanada and Pinterest.
6.   Canadian Blog House was once found online by someone Googling "frozen trolls".  Luckily, the person Googling this was referring to the frozen trolls in Disney's "Frozen" – not cold internet trolls.
7.   Canadian Blog House's Number 1 Search Query for the year was "Zaggora Reviews".  It seems those hot pants are HOT!
8.  Canadian Blog House was followed on Twitter by one of my favourite bands…The Tragically Hip. Hehehe… I wouldn't mind if they followed me IRL too!
9.  Canadian Blog House got retweeted by none other than RJ Mitte himself (Walter Jr. on Breaking Bad).  As a fan, this was pretty exciting.
10.  Canadian Blog House's #1 Viewed Post?  "Sailun Ice Blazer Tires – I Love You Already"