Canadian Blog House was invited by Sally Bowen of Topsy Farms to come to visit this beautiful farm on Amherst Island, to experience little lamb cuddles…and so much more. A great Ontario road trip destination! All opinions are our own. 
We recently ventured out on a long-awaited journey to a great Ontario road trip destination – Amherst Island's Topsy Farms.
For those of you not familiar with Amherst Island, it is located in the waters between Lake Ontario and the Bay of Quinte, and is approximately 33km west of Kingston, Ontario.
It is here, on this idyllic Southern Ontario island, that we had the extreme pleasure of meeting with Sally Bowen and her wonderful family. This Amherst Island farm family run Topsy Farms, a farm that began in 1971 as a commune.
I first "met" Sally online on Twitter. Sally's real-life warmth and personality shone through during our back and forth online banter.
It wasn't long before Sally was inviting me to come visit Topsy farms – and more specifically – to cuddle with her little lambs.
Topsy Farms – A Great Ontario Road Trip Destination
It took us a year to finally make it down to Topsy Farms…but it sure was worth the wait!
And cuddle Sally's little lambs, I did…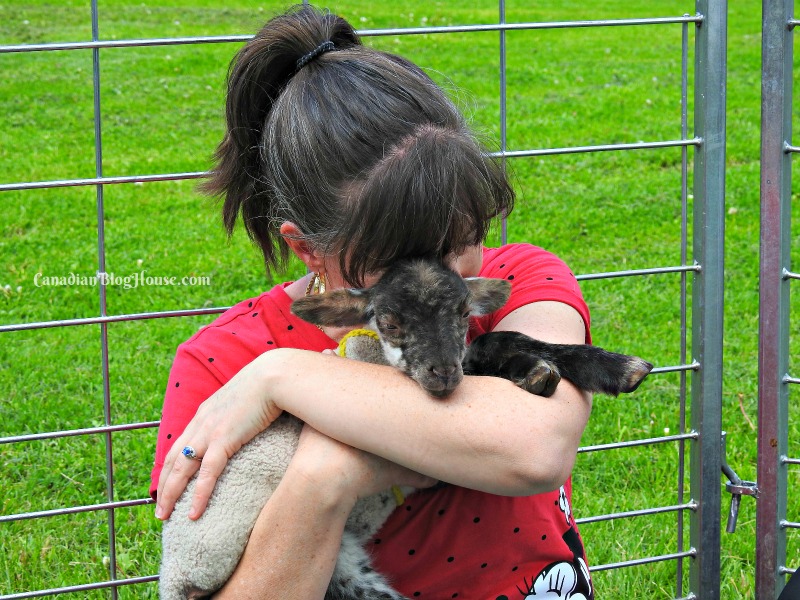 And cuddle…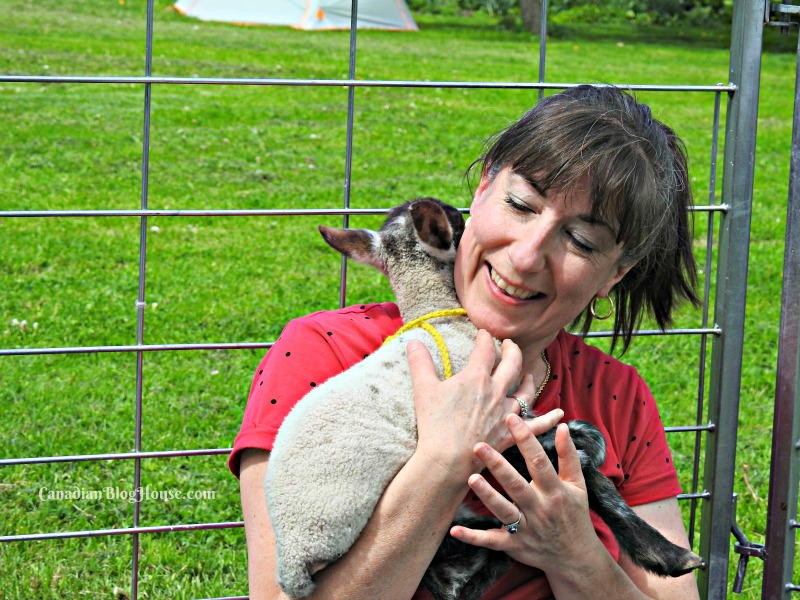 And cuddle some more…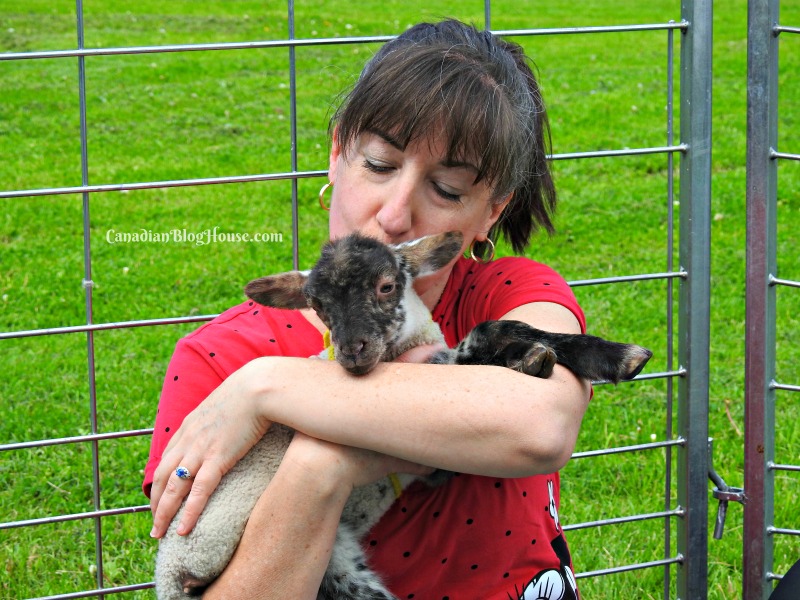 Just like all babies, little lambs love to eat…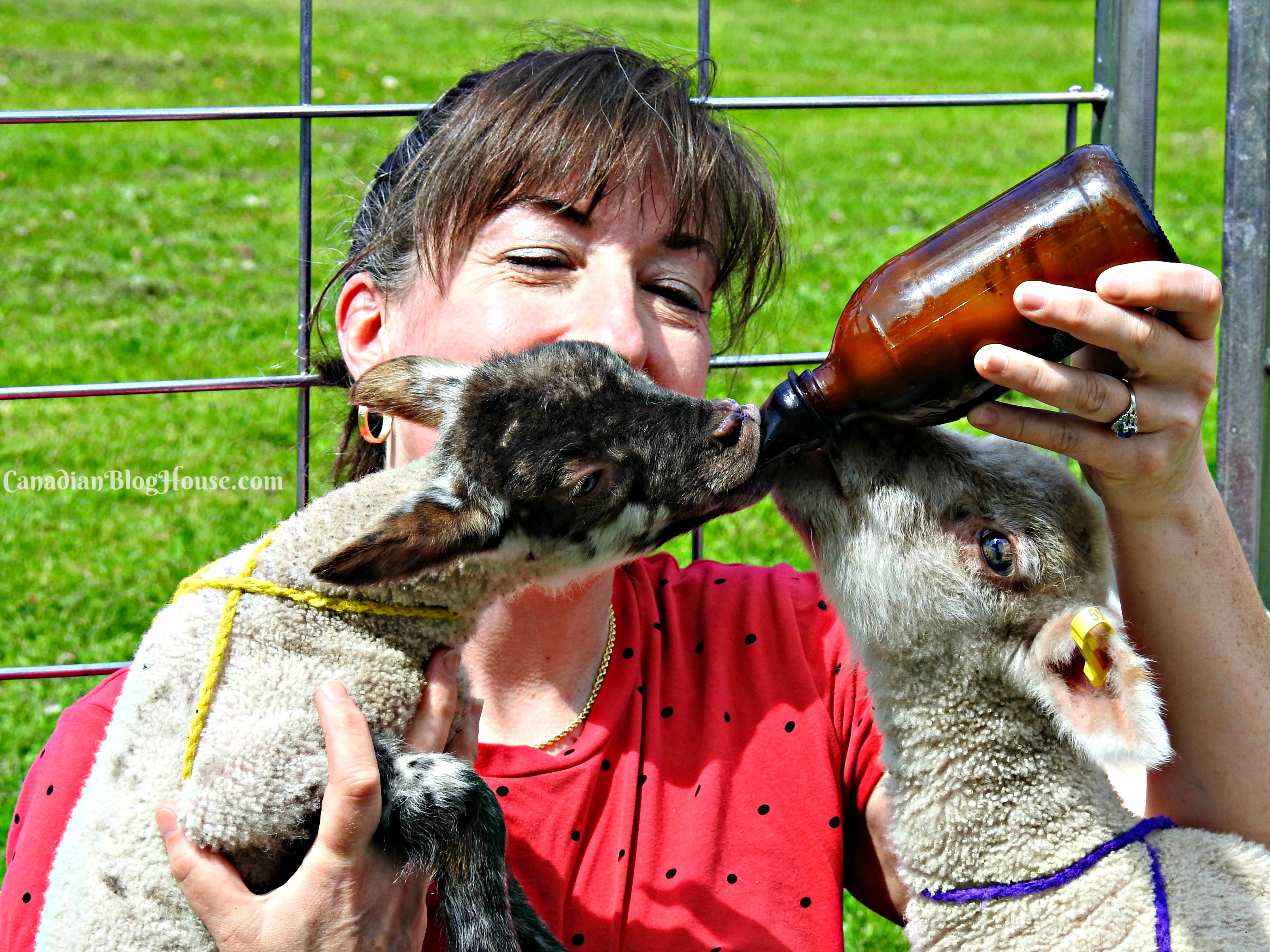 Sally could have left me there all day in that pen, cuddling with Rémi, and I would have been perfectly content.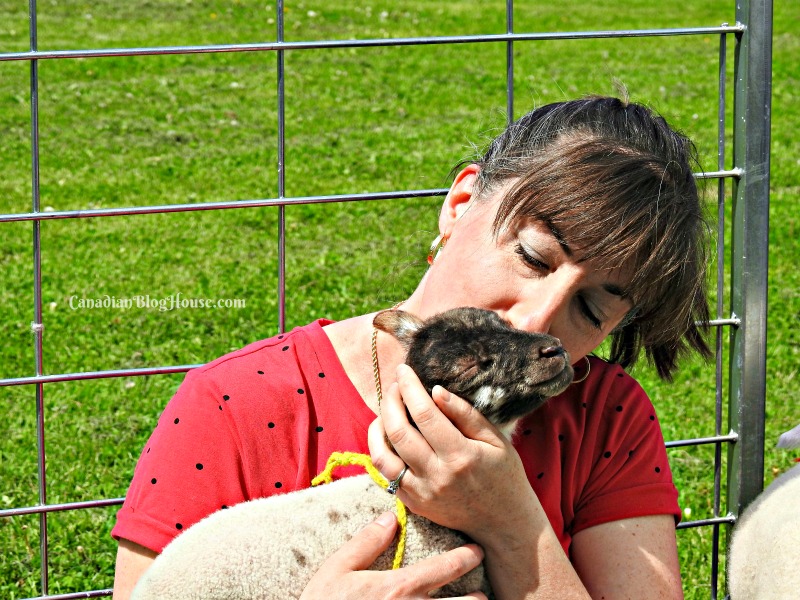 Rémi was lapping up the attention, and I became a sucker for his little lamb kisses.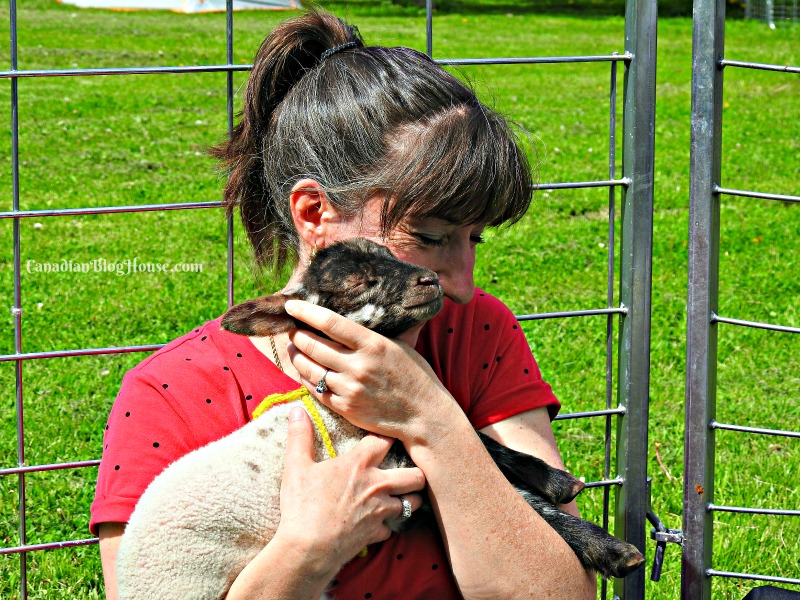 I was in my happy place, sitting here holding Rémi. I think we were both pretty content.
History In The Making At Topsy Farms
It was almost 47 years ago that Sally's husband, Ian Murray, and friends first set foot on the land that was to become Topsy Farms.
Seeking a different lifestyle, their plans to purchase an old farm barn, for the purpose of building a geodesic dome, were quickly dashed after a visit from the head of the municipal government.
This government official could not believe that they planned to destroy such a good barn. His offer to sell them a few heifers, so that they would keep the old barn intact, changed the course of history for Topsy Farms.
The purchase of farm machinery, more cattle, goats, chickens, pigs, and sheep, turned this commune (disbanded in 1975) into a full-fledged working farm.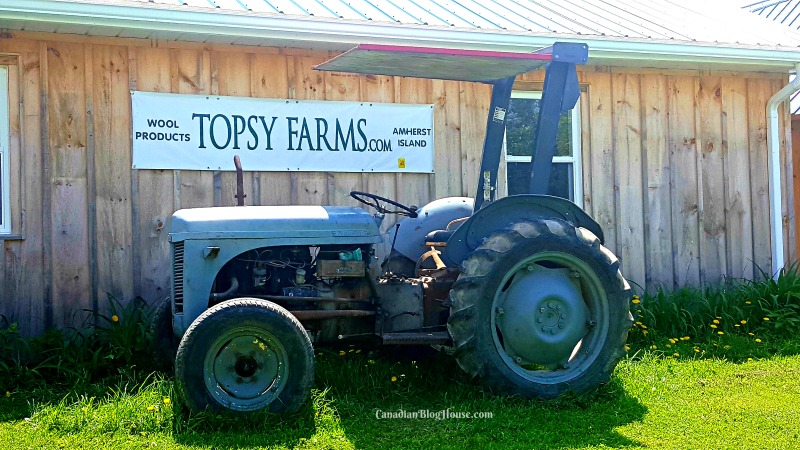 Creating A Sustainable Future With Little Lambs At Topsy Farms
Ian Murray and his friends soon realized that they would need to focus their attention on farming either cattle or sheep.
Financially, sheep looked more promising than cattle, so sheep it was.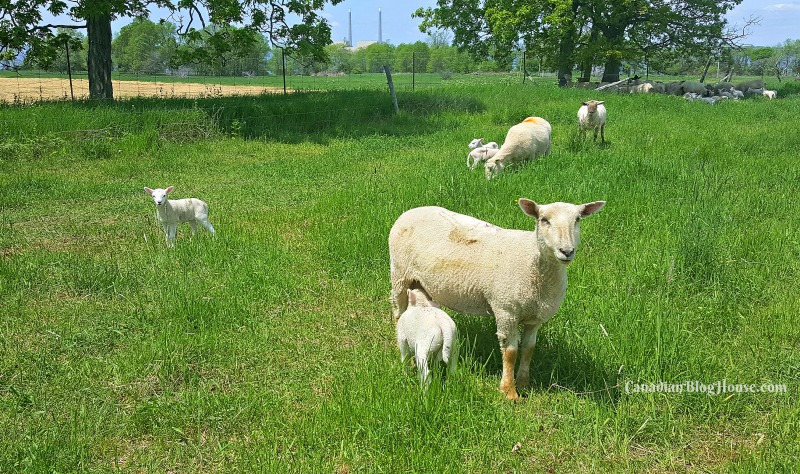 The Murray family's willingness to take advice, make changes, and look towards the future in Topsy Farms' early days, is still very much evident today.
They see the writing on the (barn) wall.
Operating a successful family farm has only become more difficult. It has become almost impossible for a small family-run farm to compete against large grocery chains and big-box stores that can purchase meat in large quantities from other suppliers – at a much lower price.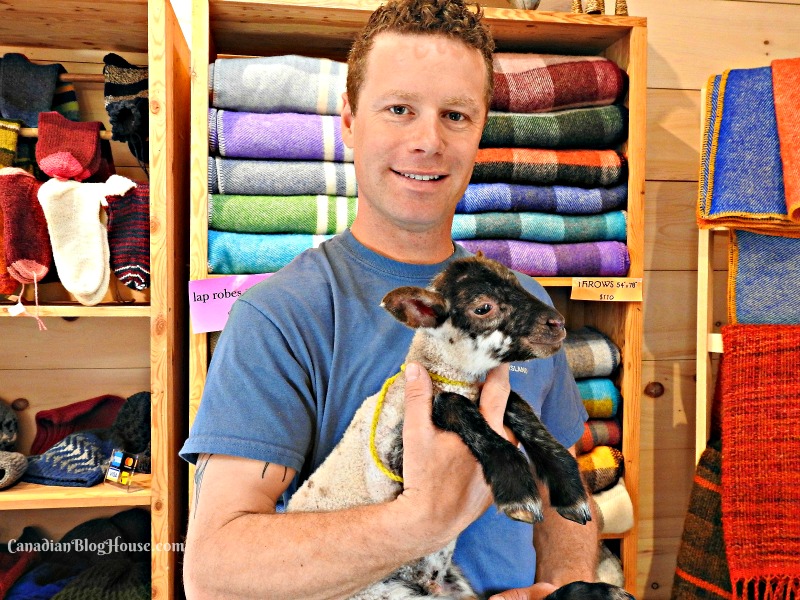 The Murray's know it's time once again to change things up on their family farm, and Jake Murray, one of Sally's children, is just the man to get the proverbial "ball of wool" rolling at Topsy Farms.
Jake has his eye on the future of Topsy Farms.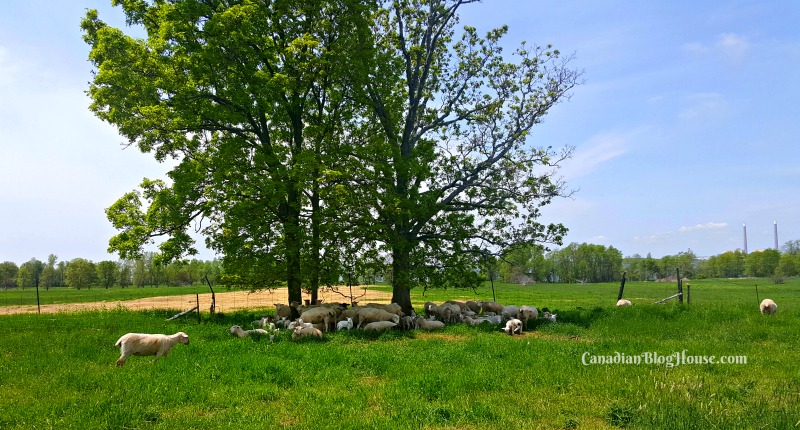 I got to spend some one-on-one time with Jake as he took me on a tour of the back fields of Topsy Farms – by 4-wheeler!
Magical things happen in those backfields.
Like the birth of this precious little lamb. Jake told me this lamb was less than an hour old. See the placenta? It's still lying on the ground next to mama and baby.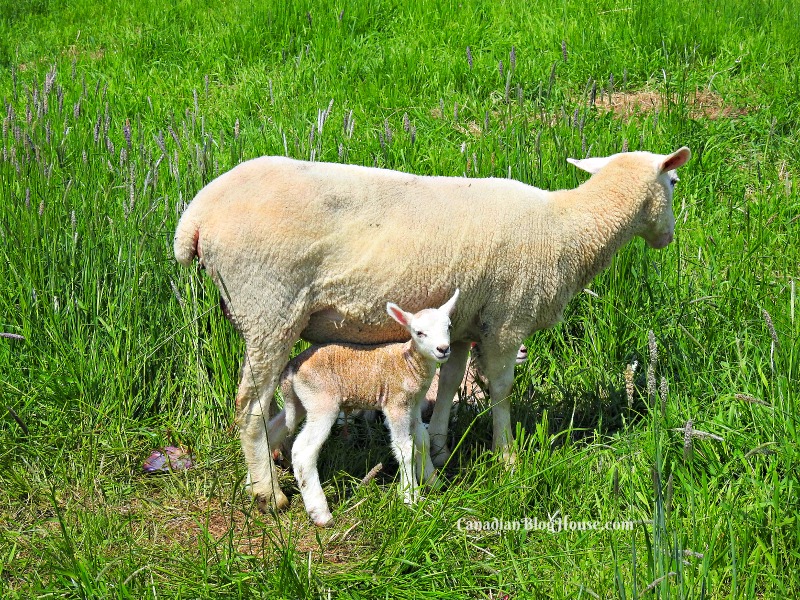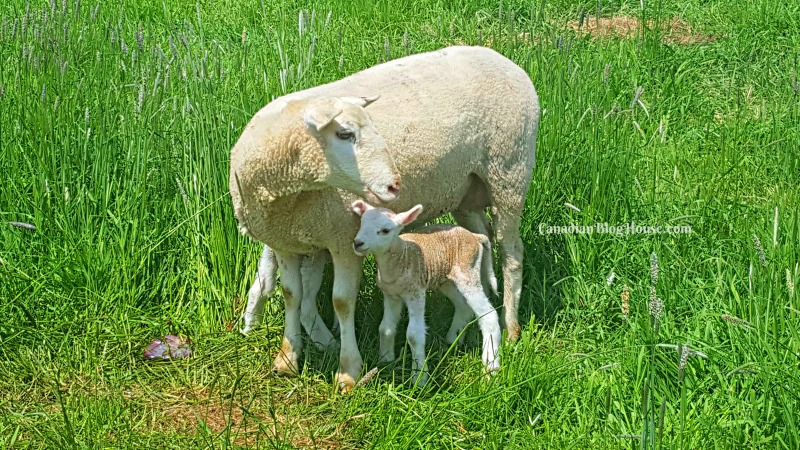 Like meeting up with the Murray family's gorgeous dogs, who work hard 24/7 to protect the sheep from coyotes and other predators.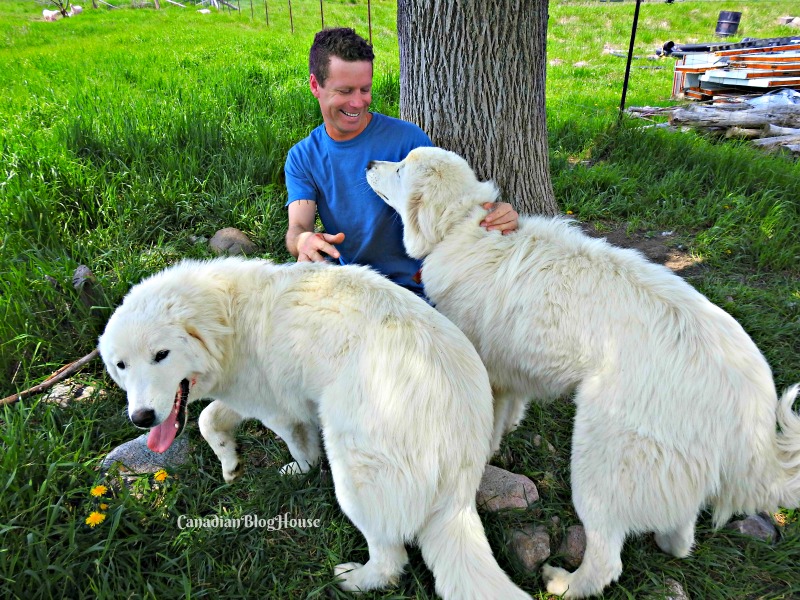 It was on our journey into these backfields that things started to get real for me.
Sure, it's heart-warming to cuddle the baby lambs but, this is a working farm. Little lambs grow into big sheep, and you can't keep them all, especially when there are so many babies.
Flashbacks of my mum's delicious leg of lamb dinners hit me like a ton of bricks.
As much as I love lamb meat, and as much as I know the sale of lambs for meat has long been a part of Topsy Farms' business, I have to admit, I am happy to see the family taking Topsy Farms down a new path.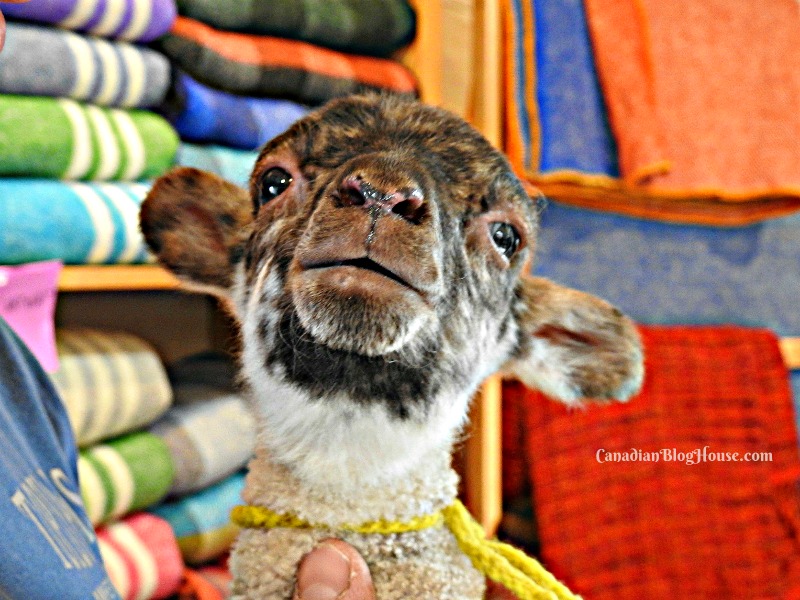 Ideas Man
Jake is an "ideas man", and he has some great ideas for the future of Topsy Farms.
Like the hiking trails that are currently being constructed in some of the forested areas of Topsy Farms' property.  Soon, families who come to visit Topsy Farms will be able to enjoy a relaxing walk on the trails of this wonderful Ontario road trip destination.
Jake says he and his family envision something much greater – and more sustainable – for Topsy Farms, and they are currently exploring a number of other options to entice families to visit their farm.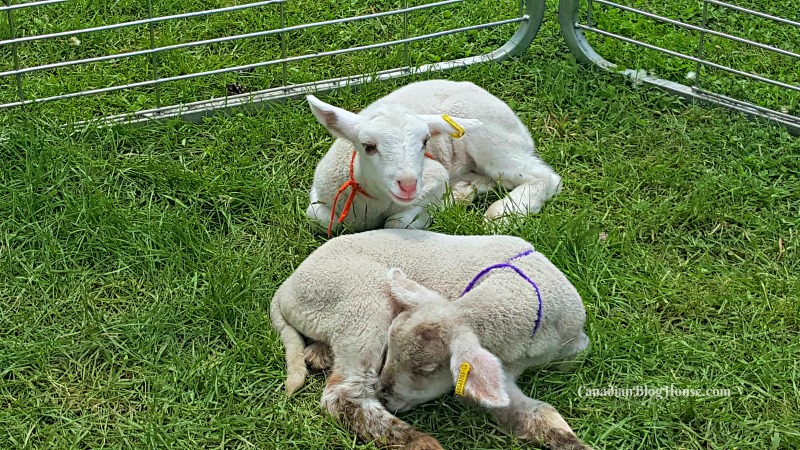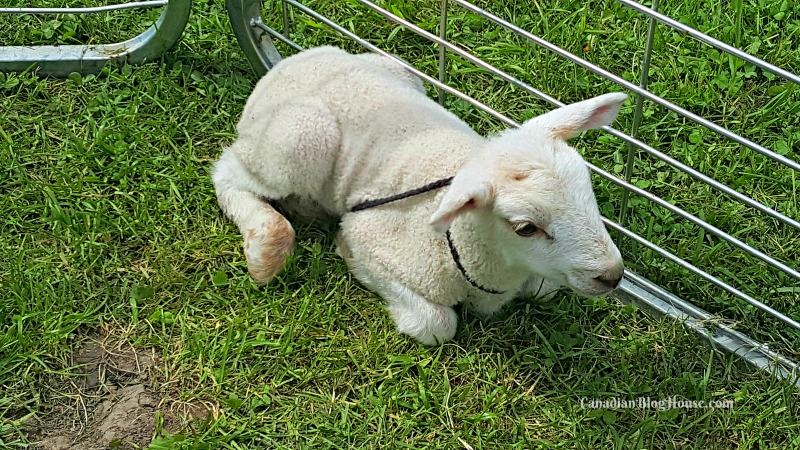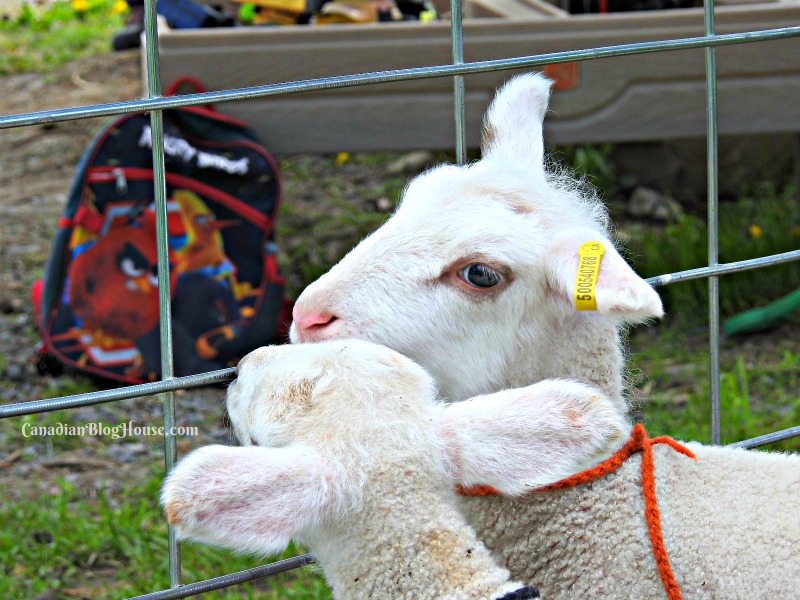 We suggested to Jake that they make "little lamb yoga" part of their spring events in future. Not surprisingly, Jake had thought of this as well. We think that would be so much fun, don't you?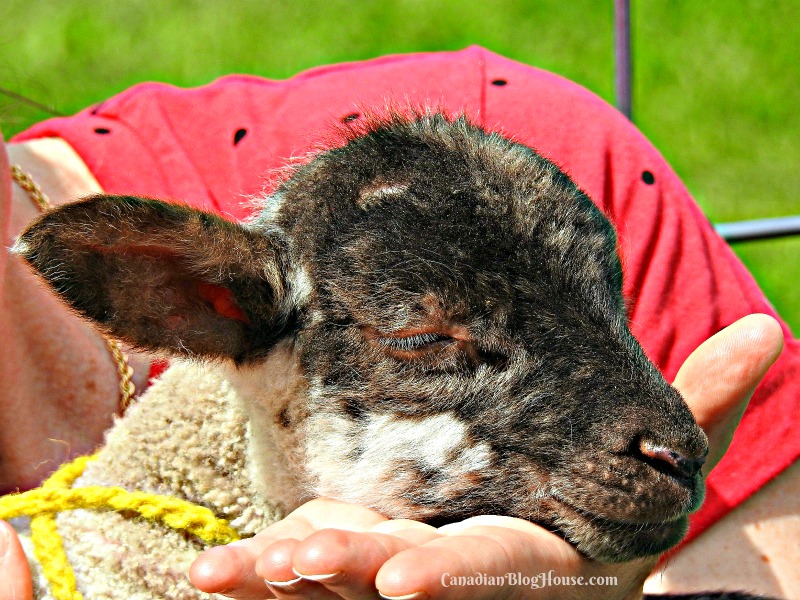 If you go…things you need to know
Ferry Ride
You will need to take a short ferry ride on the Amherst Island Ferry from the mainland (at Millhaven), to Amherst Island. The ferry leaves the mainland hourly on the half hour, and from Amherst Island on the hour. Keep this in mind when planning your route/timing. The ferry ride is part of this fun Ontario road trip destination!
The fee to ride the Amherst Ferry is $9 per car (passengers included), round trip.
Take time to use the washroom on the ferry as there are no public washrooms at Topsy Farms.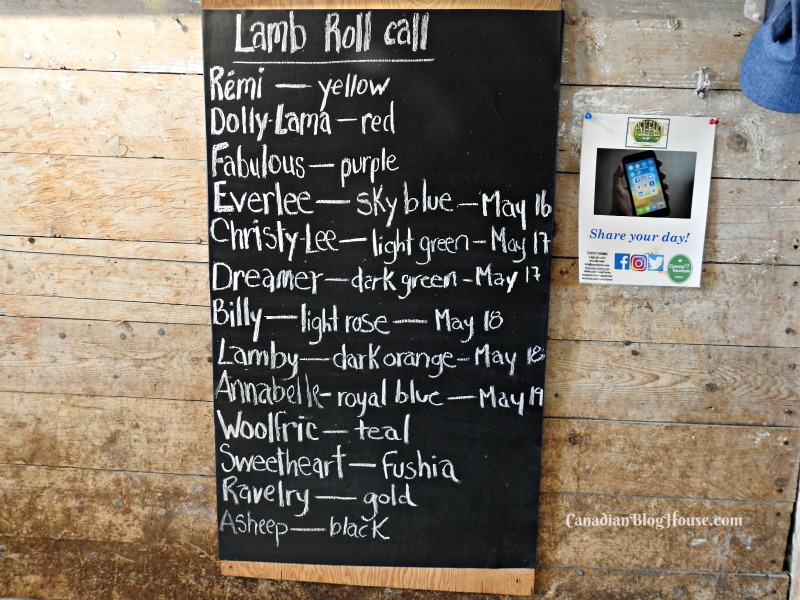 At Topsy Farms
If you visit Topsy Farms in the spring for the lamb cuddling and feeding, the fee for participating in the lambing is $15 per family/carload. This gives you 25 minutes with the lambs, with a staff member present.
Topsy Farms is a working farm. Please make sure to wash your hands at the special washing station next to the Wood Shed once you are finished cuddling the lambs.
Stella!
Once declared by Harrowsmith Country Life magazine as "one of the prettiest towns in Ontario" the hamlet of Stella, on Amherst Island, is just a short drive from Topsy Farms. In fact, you will arrive on the island at Stella.
In Stella, you will find a few small businesses, including a general store.
Little Lambs And So Much More
While it was the little lamb cuddles that sold me on a visit to Topsy Farms, we learned that there is just so much more to this family farm – things that make it a great Ontario road trip destination for families.
In addition to the spring-time lambing (bottle-feeding and cuddling lambs), Topsy Farms offers fun activities and workshops such as:
Workshops such as their Action Photography workshop and Earth, Air, Fire Water workshop
Play area for kids
Walk a Sheep
Wool Shed – a wonderful shop located on-site (and online) featuring beautiful wool products as well as creative felted, thrummed and knitted items like toques and mittens. Their wool blankets are absolutely gorgeous, and come in a great variety of colours.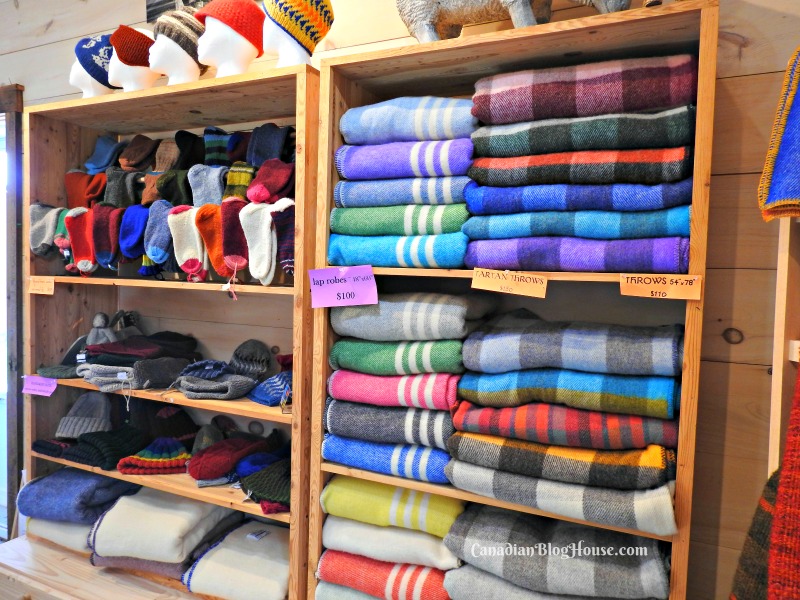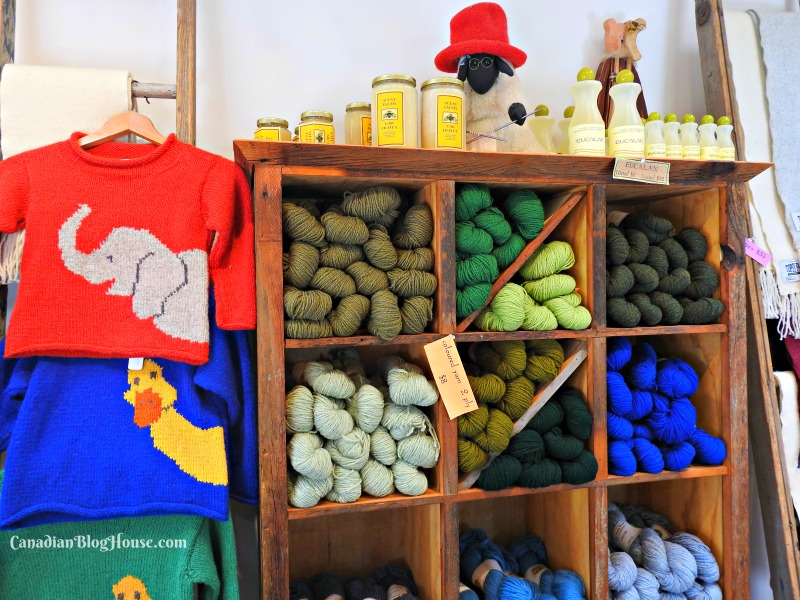 Some Topsy Farms products can even be found at select shops in Southern Ontario
Special events held at Topsy Farms from time to time include Dry Stone Canada festival which will hold its annual event at Topsy Farms, September 29th and 30th. The theme is "building walls to support farming and to celebrate the interconnection between local food and farmers".
The "Adopt a Lamb" program is an especially great program to get your kids involved in.
We met Jack during our visit to Topsy Farms. Jack was there visiting and helping to look after the lamb he had recently adopted.
Here's Jack to tell us about how he came to adopt his little lamb. What a sweet and thoughtful boy!
Baaaaack To The Lambs
Our time at Topsy Farms, and especially our cuddles with the little lambs, was such an enjoyable experience, we hope you get the chance to cuddle the lambs one day too.
If you are looking for a great place to take the family on a fun road trip, don't miss the chance to visit Topsy Farms, a great Ontario road trip destination!