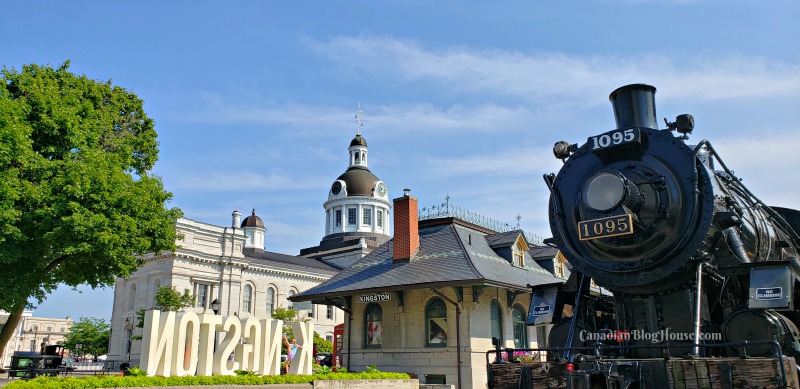 Canadian Blog House was invited by Tourism Kingston to "come home" for a weekend to vacation in historic downtown Kingston – as tourists. All opinions are our own. 
A vacation in historic downtown Kingston Ontario is something that should be on everyone's bucket list.
If you've never been to Kingston before – what are you waiting for?!
This past July, we went back to my hometown, to visit Kingston – as tourists. I was super excited to get the chance to go back and experience Kingston in a way that I never had before.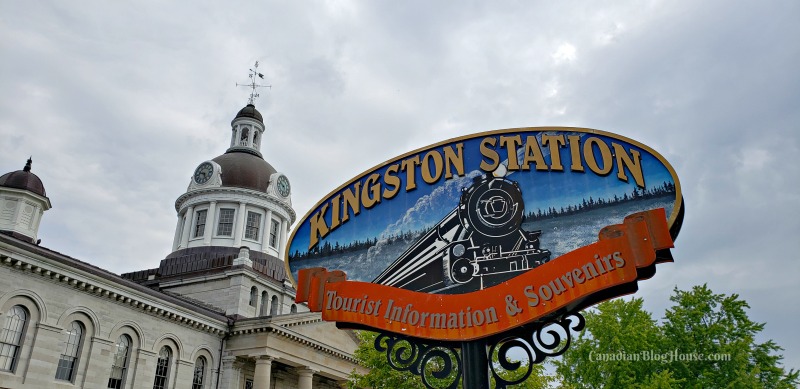 I already knew that Kingston…
has one of Canada's most vibrant and beautiful downtowns
is steeped in history and played a very important role in the history of Canada and the War of 1812
has so many great tourist attractions to offer families
is one of the most wonderful cities to live in
What I did not know was how delightful "my" city is to visit – as a tourist – and how easy it is to see and do so many things in downtown Kingston – all within walking distance of our hotel!
During our visit, we discovered so many reasons why you should vacation in historic downtown Kingston.
So many, in fact, that we decided to split our list in half.
You can find our first 15 reasons to visit historic downtown Kingston here.
If you still aren't convinced to visit Kingston after reading that list…we need to talk!
Or maybe this will convince you…
15 More Reasons Why You'll Want To Vacation In Historic Downtown Kingston
Hometown Pride
Did you know that Kingston was crowned the "Happiest City in Canada" in 2014 by Jetpac City Guides?
Personally, I happen to think the city of Kingston still owns that title to this day. We saw plenty of evidence of happy Kingstonians everywhere we went.
There is a real sense of hometown pride amongst Kingston residents, and it shows. Those that live in Kingston truly love their city. And those of us who have left – we still love our city.
Why does this matter as a tourist in Kingston?
When residents love their city and show their happiness, it can't help but have a positive effect on the tourists around them!
Kingstonians aka "Old Stones"
Residents of Kingston, are some of the nicest people I have ever met. I might be a little biased but, we sure did meet a whole lot of Kingstonians on this trip, for the first time, who were such wonderful people.
Of course, this includes the folks who were expecting us to come and visit but, it also includes folks who had no idea who we were, or why we were visiting Kingston.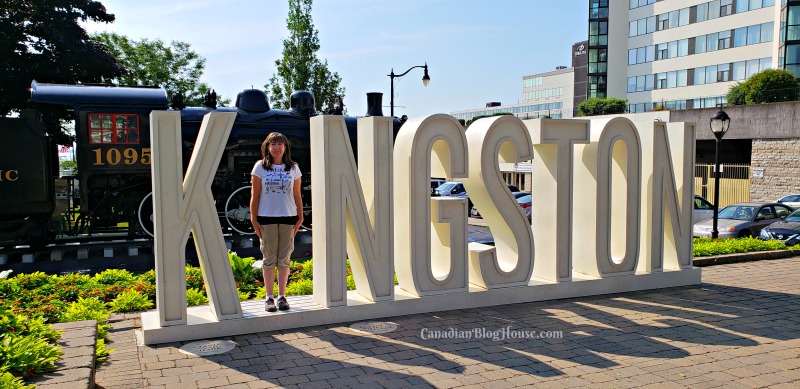 Like the woman running the cash in the gift shop on Ontario Street, not far from City Hall. Not only was she helpful with finding something we were looking for, she readily offered up tips and advice on what to see and do in Kingston, without being asked.
Then there was our waiter at Dianne's Fish Shack and Smokehouse, Carl, who was full of personality, and superb at his job. He provided us with great service, while not knowing we were there to experience this restaurant – until we got into a conversation that led to me revealing why we were visiting Kingston.
Another example of a great Kingstonian we encountered was our guide and driver on one of our rides on the Kingston Trolley Tour. I failed to get his name but, this gentleman was a fabulous guide, great ambassador for Kingston, and even indulged me by posing out the window of the trolley! (see GIF further down in this post)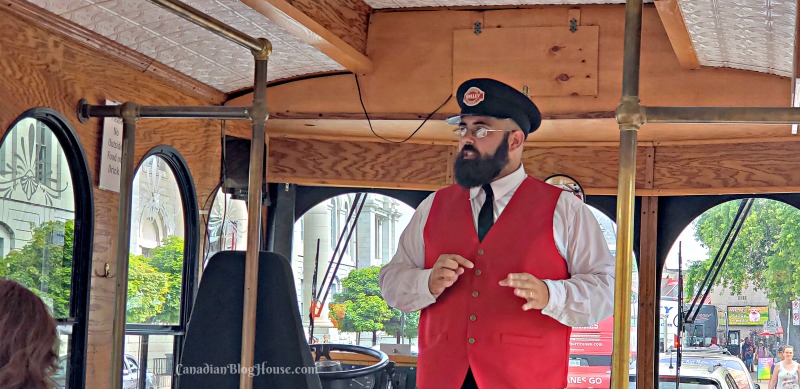 Magical History Tours
It was here in Kingston that we participated in our second-ever food tour.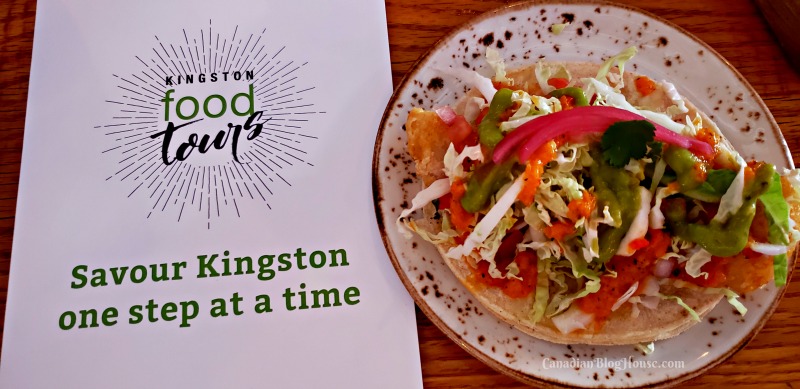 Kingston Food Tours, owned by the very lovely and personable Heather Ford, "is a walking tour of Kingston's hip and historic downtown that blends tastings at our best local restaurants with an insider's perspective on our city's history and culture."
It was Will from Kingston Food Tours who guided us (and a group of other visitors) on a 3-hour tour of several of Kingston's beloved restaurants, shops, and food establishments such as Pan Chancho…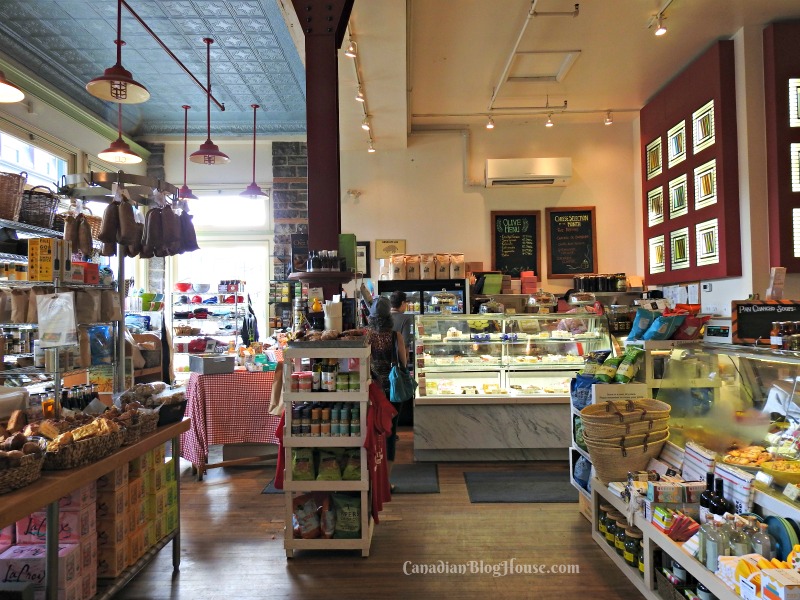 Olivea Restaurant…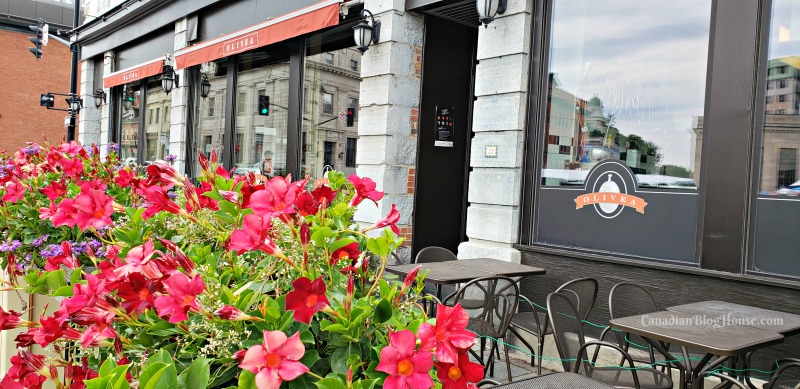 Common Market…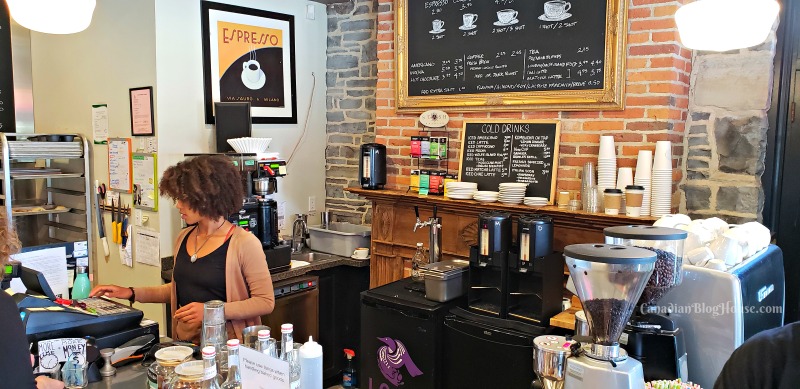 and Tango Nuevo.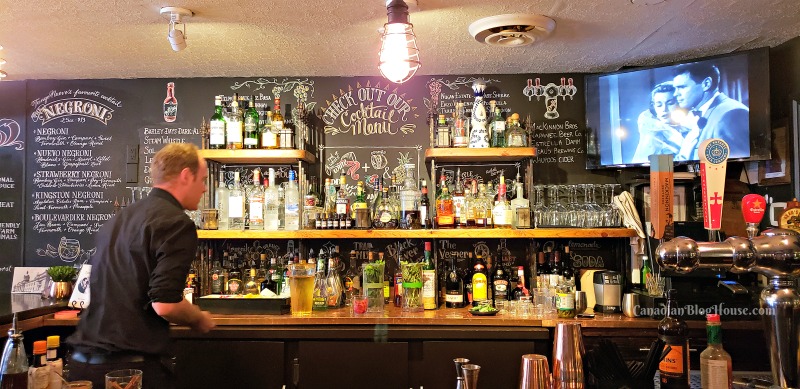 Will's touch of witty comedic comments, paired with some fascinating historical information about Kingston and the places we visited, made for a tour that was informative and fun.
Both Heather and Will (a 5th generation Kingstonian!), have a great love and passion for their city, and the sizzling hot foodie scene in Kingston – and it shows!
Foodies Rejoice!
If you love food, and learning some history about the places you visit, a tour with Kingston Food Tours should be on your bucket list!
One piece of advice. Wear comfy shoes and be prepared to walk. Each Kingston Food Tour covers a lot of ground throughout downtown Kingston. It's a great way to get a little exercise to help you wear off some of those calories from all the delicious foods you will be taste-testing!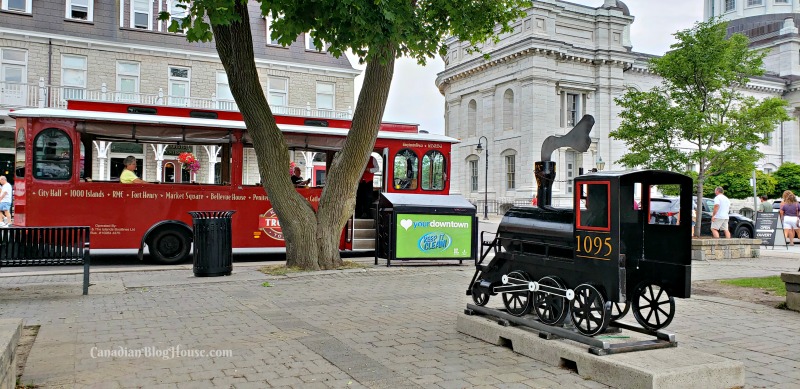 All Aboard!
One of the best ways to get around while visiting historic downtown Kingston is onboard Kingston Trolley Tours.
Kingston Trolley Tours "an informative, engaging overview of Kingston's more than three hundred years of history. The Trolley route covers all of Kingston's historic old town and downtown shopping district, as far East as Fort Henry and as far West as the Kingston Penitentiary."
Visitors traveling with Kingston Trolley Tours have the ability to "hop on hop off" at any of 9 stops along the tour, giving you the chance to easily explore many of the great shops, restaurants, and attractions Kingston has to offer.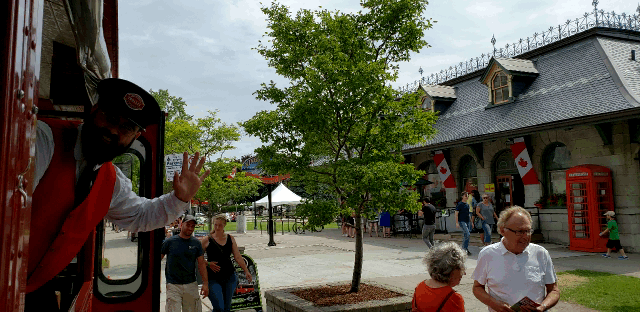 Get even more value out of your rides with Kingston Trolley Tours by purchasing a K-Pass!
"K-Pass is your all-inclusive ticket to Kingston, including a 1000 Islands Cruise, Hop on, Hop off Trolley Tour, and admission to museums and attractions. You can choose a 24h, 48h or 72h pass, which includes admission to each attraction once while the pass is active."
Leave your car at your hotel and catch a ride with Kingston Trolley Tours! Tours leave from the Kingston Visitor Information Centre every half hour on the hour.
Shop In The Name Of Love
You'll find some great places to shop in historic downtown Kingston!
Some of our favourites include: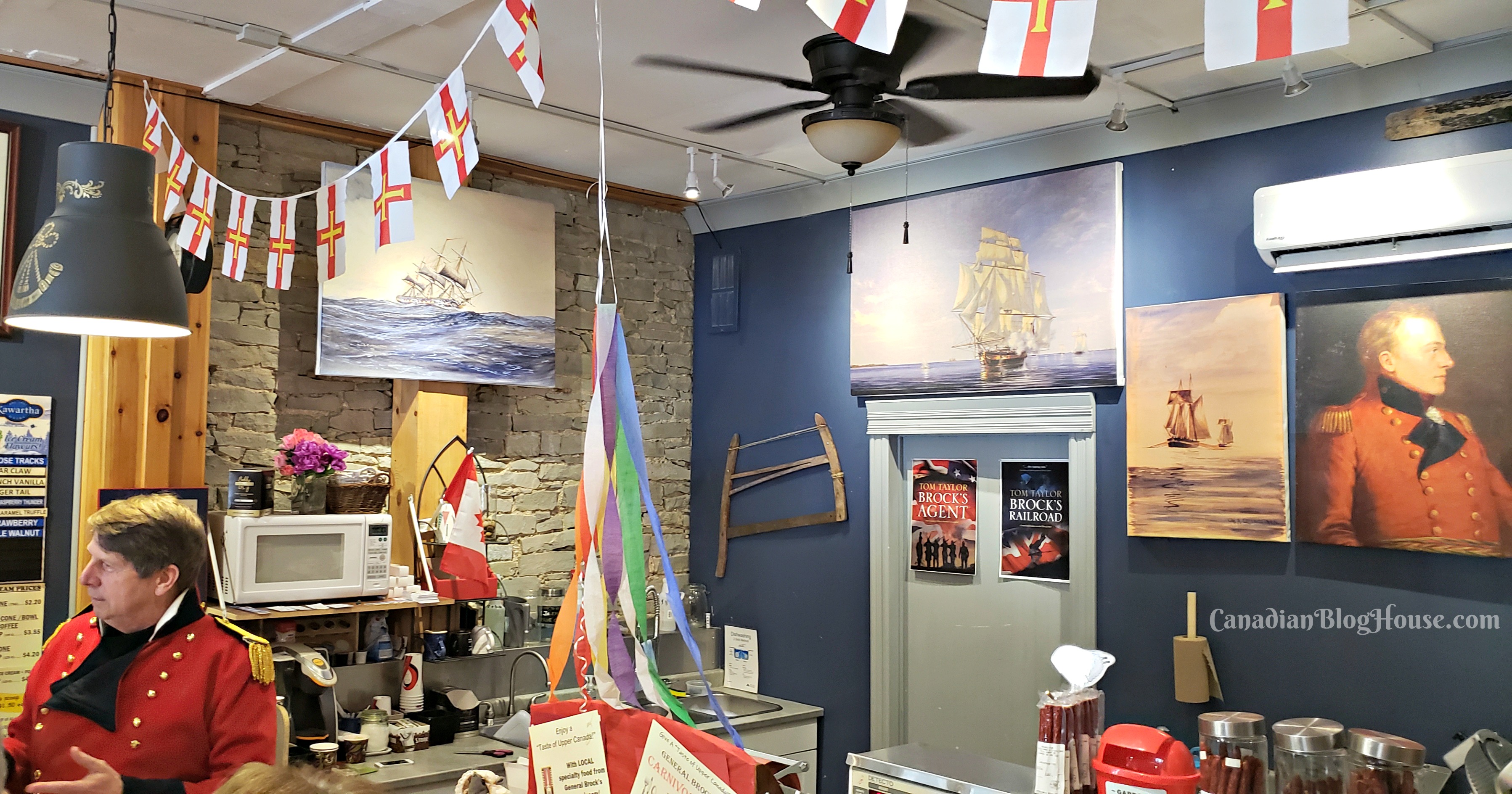 The Rocking Horse
Trailhead
Cooke's Fine Foods and Coffee (a must-see…and smell!)
Bagot Leather Goods
Tara Natural Foods
Hatley
Vandervoort General Store
Birds 'n Paws
Waterfront Gifts & Apparel
Gracie's Ladies Wear
Cornerstone Canadian Art & Craft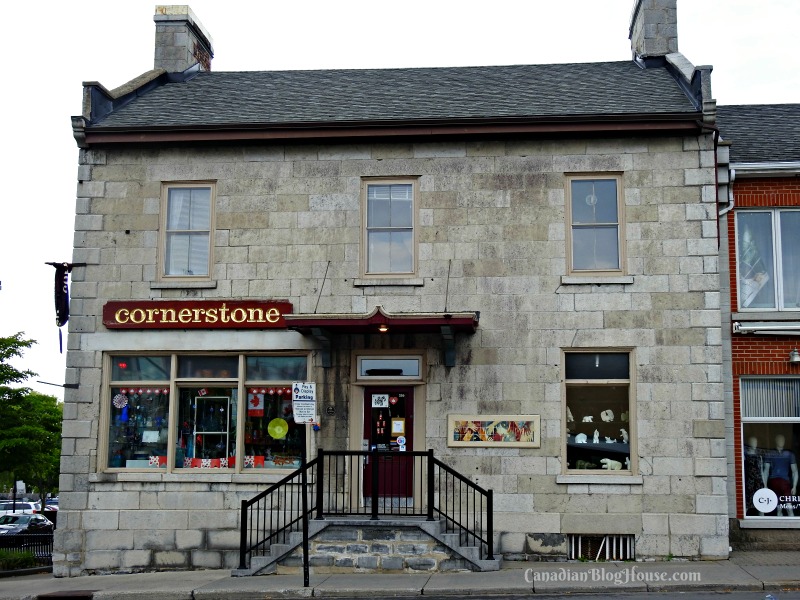 Send In The Clowns
Fancy That/The Roundstone
These shops are just some of our favourites. You'll find many more wonderful local shops in historic downtown Kingston.
A Vacation Of Historic Proportions
History abounds in downtown Kingston!
Each week, Kingston's Springer Market Square hosts the Kingston Public Market – Ontario's oldest market. In addition, you'll find a fabulous antique market in the same location each Sunday.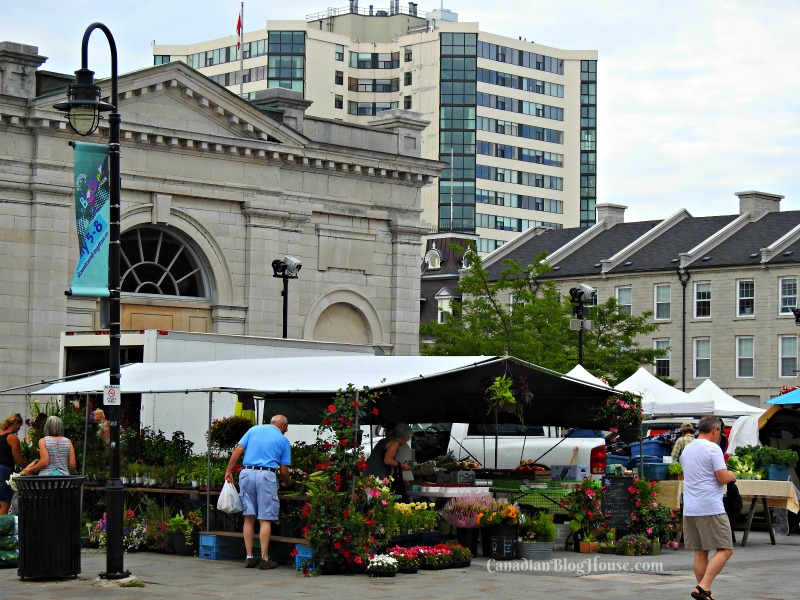 It is here at Springer Market Square visitors can also experience "Movies in the Square", music concerts…and even yoga at City Hall just adjacent to the square.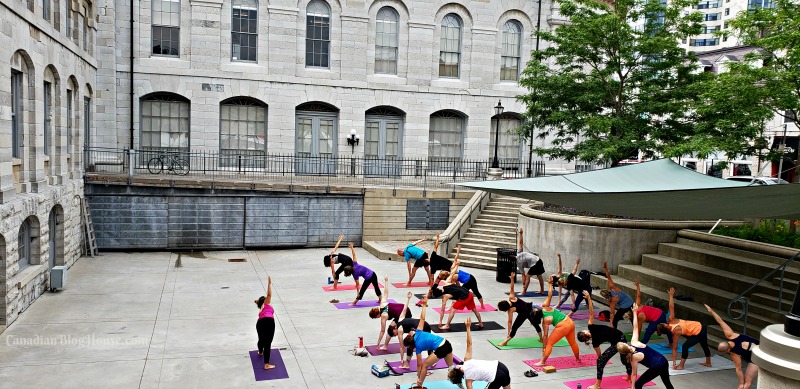 Whether it's the beautiful limestone buildings, majestic churches, or the magnificent martello towers, you'll find history surrounding you as you stroll around historic downtown Kingston.
Experience Kingston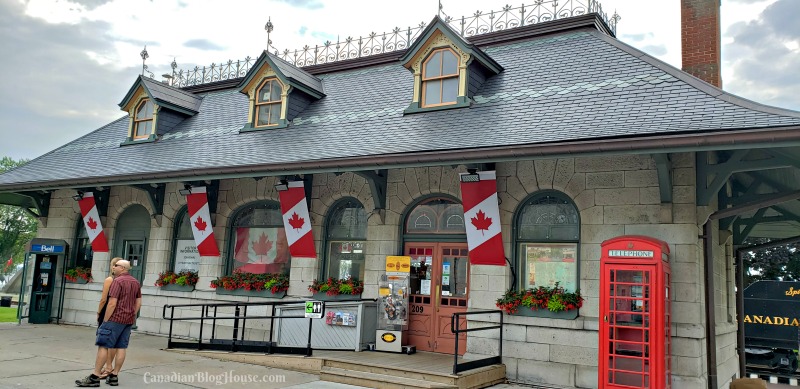 A stop a Kingston's Visitor Experience Centre is a must when exploring the downtown area.
Located in Confederation Park at the waterfront, the Kingston Visitor Experience Centre provides visitors with an abundance of information to help make your stay in Kingston a great one.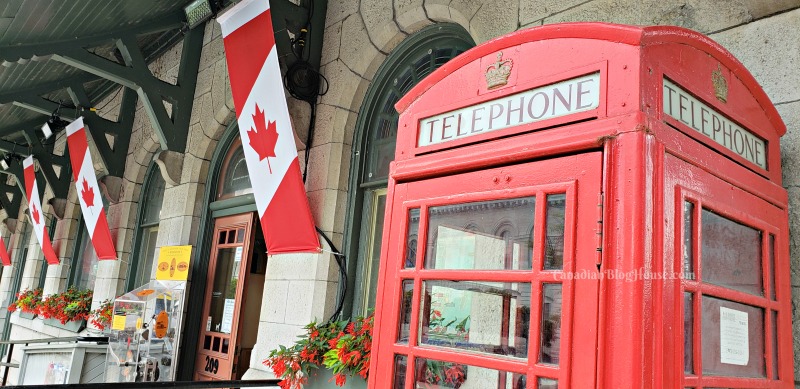 You can talk to the friendly staff onsite, grab some printed materials to go, and even do a little Kingston souvenir shopping.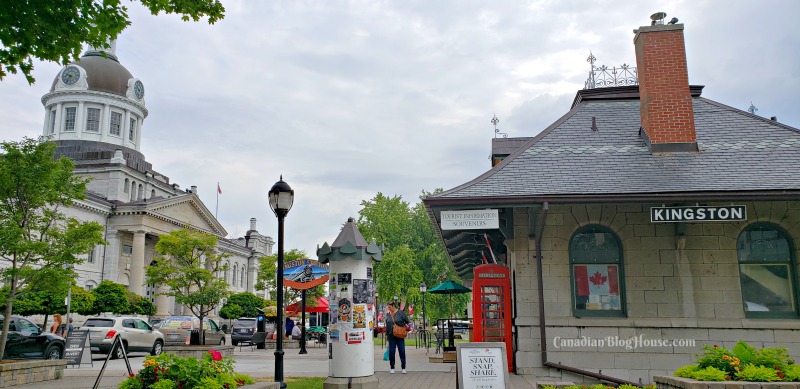 If you're lucky, you may even get to meet Kingston's famous Town Crier, Chris Whyman.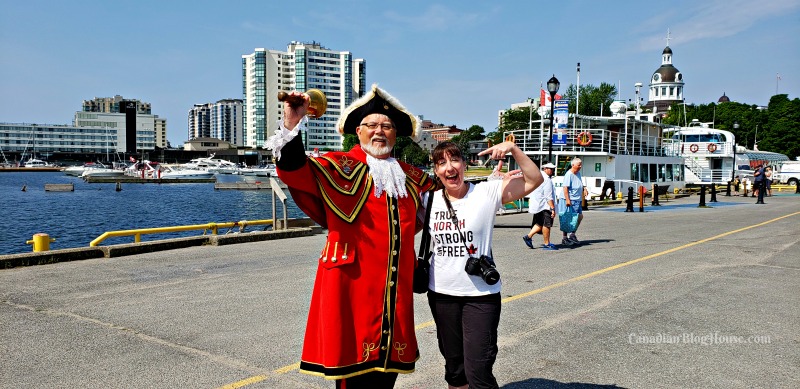 During our visit, we had the pleasure of meeting Chris, who also happens to be the Manager of Visitor Services for the City of Kingston.
Chris is a busy – and very popular – ambassador for Kingston. During our visit, Chris graciously agreed to take us on a walking tour around the downtown area to help us learn about the history of Kingston.
I don't believe I've ever met a Kingstonian who knows more about this great city than Chris. We learned so much from him, including some fascinating secrets – which I'll share with you in a future post!
We were beyond thrilled when Chris asked us if we would like him to do a town cry for us. If you haven't seen it already, you can watch Chris' "cry", and more Kingston fun, here:
If you see Chris out and about during your visit to historic downtown Kingston, don't be shy – say hello and ask for a photo!
A Day At The Museums
Visitors can easily spend a day discovering several of Kingston's fascinating museums.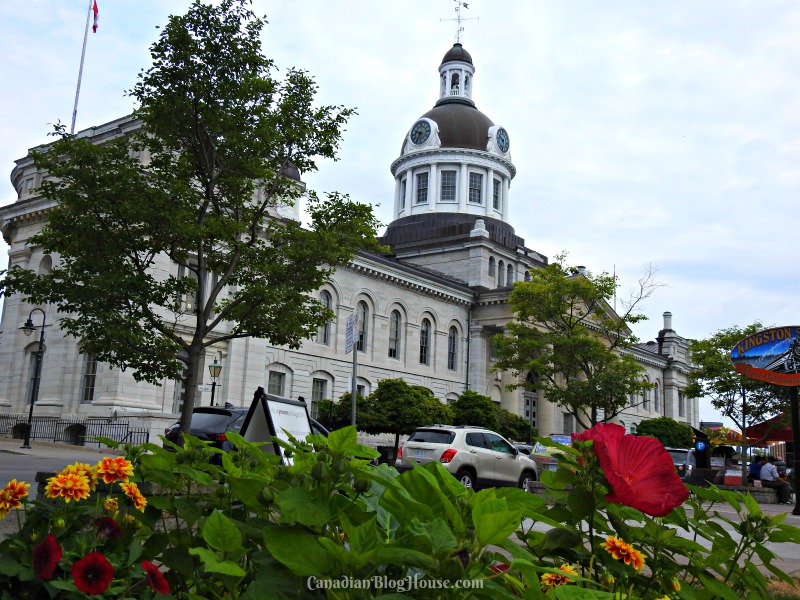 Don't miss the chance to explore Kingston's City Hall. Free guided tours of City Hall are offered daily (see website for schedule). Visitors can also take part in self-guided tours.
Step inside this glorious building and you will be taken back in time to the days of Sir John A. Macdonald where you can visit…
Kingston City Council chambers…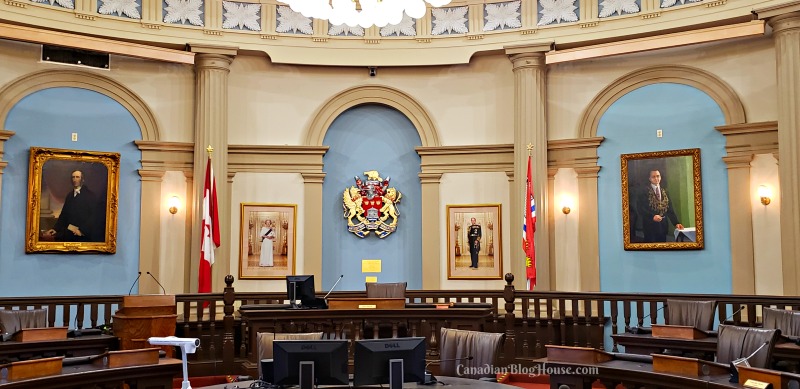 and this beautiful ceremonial room where weddings are often performed.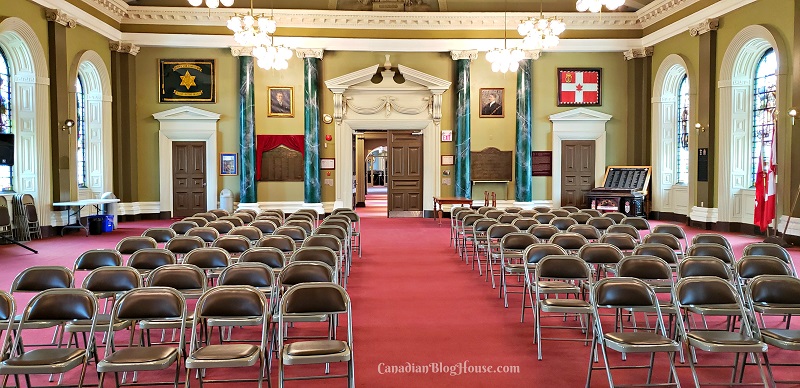 Check out Sir John A Macdonald's personal desk…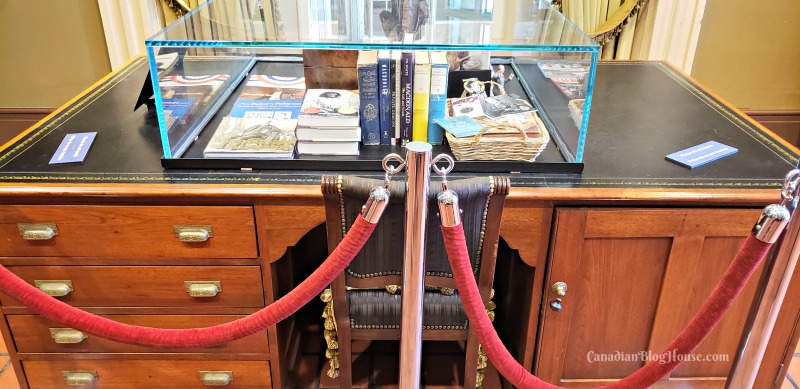 and marvel at the incredible wooden staircase that leads towards the top of the dome.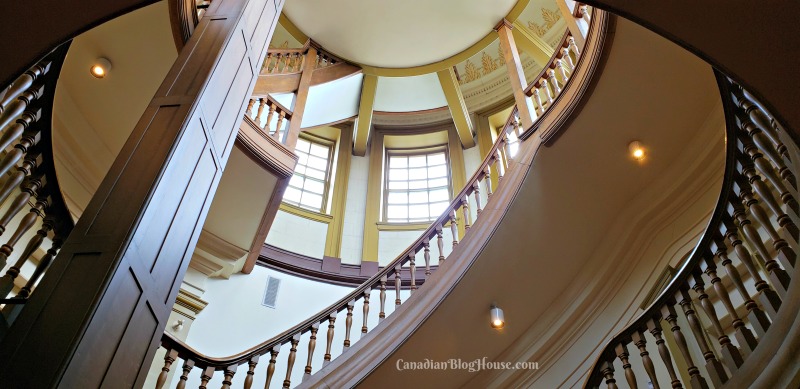 Something we discovered for the first time, is that the Kingston Police original police holding cells are housed in the basement of City Hall. This is a must-see part of your visit. Here you can step inside the cells, browse relics from years' past, and learn all kinds of fascinating facts about the history of policing in Kingston.
Another interesting Kingston museum not to be overlooked is the Pumphouse Steam Museum. In all the years I lived in Kingston, I had never once visited this museum that played an important part in the history of Kingston.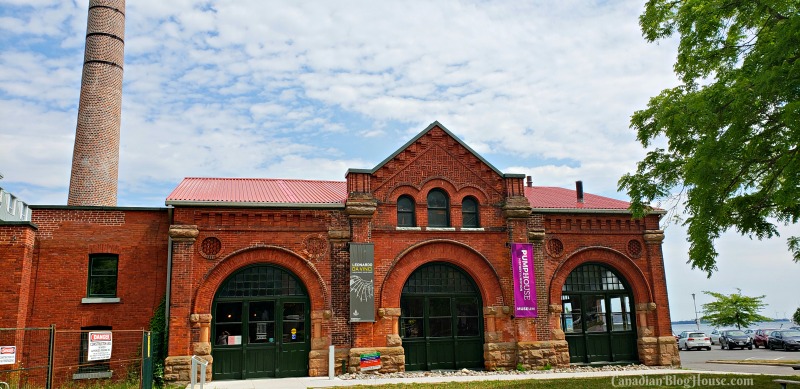 In addition to the exhibits of pumphouse equipment and artifacts, you'll find fun and enriching activities for kids, and featured exhibits. Currently showing at the Pumphouse Steam Museum is Leonard Da Vinci: Relentless Curiosity.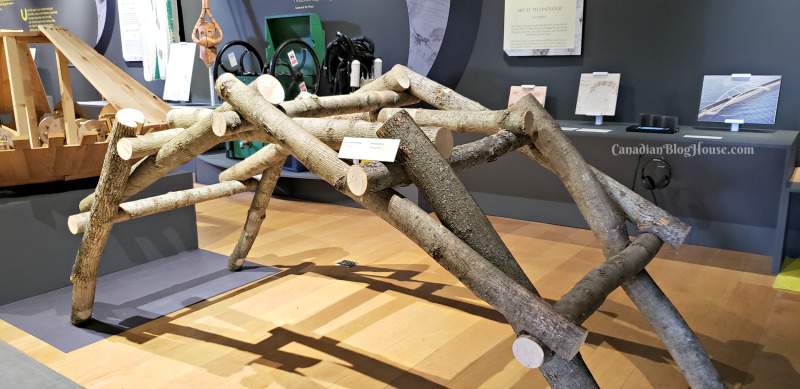 A fun surprise (for me!) that we discovered at this museum was the original scale train set from TV's "The Friendly Giant" on display. The kid in me may have done a little happy dance when I spotted it!
True train aficionados will delight in the "stunning collection of the best model railway trains", and "see working model trains reflecting Canadian and European railroads in both steam and diesel eras" at the Pumphouse Steam Museum.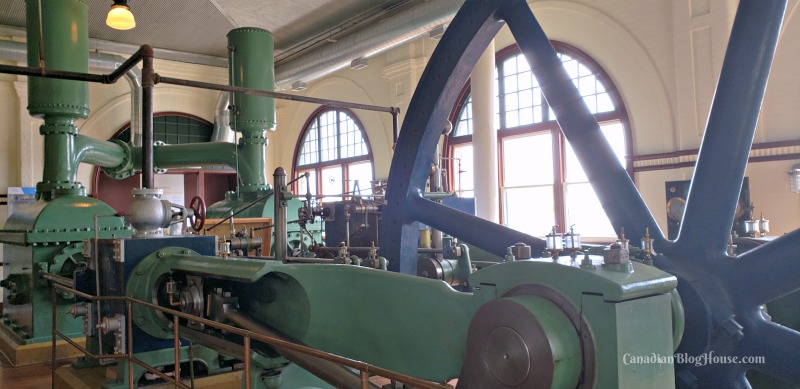 Kingston's Collection Of Museums
Visitors to historic downtown Kingston can easily enjoy many exhibits at other Kingston museums such as:
Canada's Penitentiary Museum
Agnes Etherington Art Centre
Military Communications and Electronics Museum
Marine Museum of the Great Lakes
Museum of Health Care
Murney Tower National Historic Site
Original Hockey Hall of Fame
Frontenac County Schools Museum
Feel The Attractions
There's no end of great things to see and do in Kingston!
Kingston Pen Tours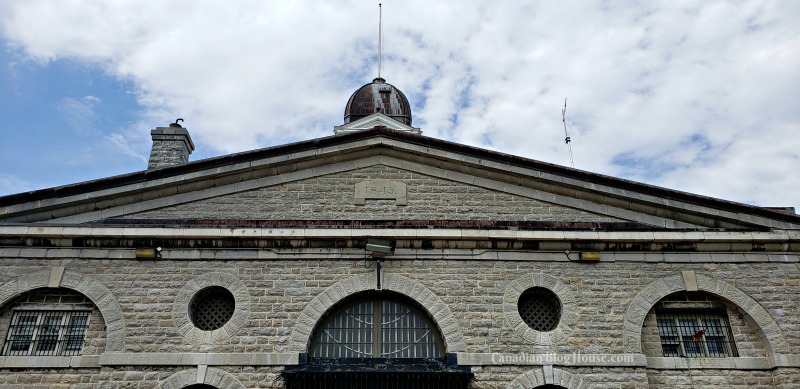 When I was growing up, friends and family from out-of-town used to ask my family – with a look of fear in their eyes – what it was like to live in a city full of prisons (Kingston is home to 6 federal correctional facilities – previously 10 ).
Our response?
When prisoners escape from Kingston penitentiaries, they don't stick around town – they take off to Toronto, Ottawa, or Montreal – as quickly as possible!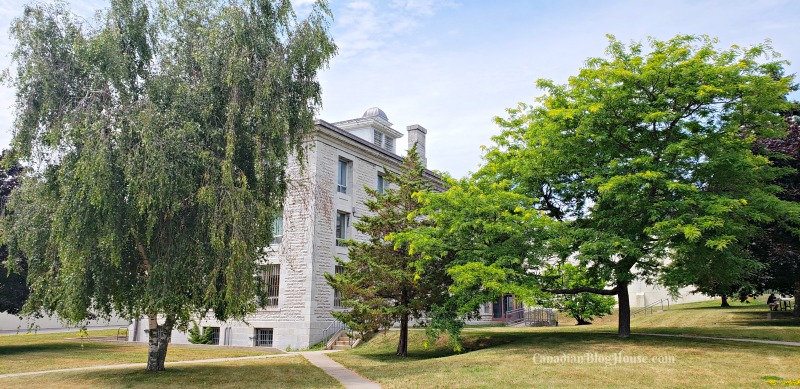 Life's A Riot!
I remember several prison escapes over the years, and although I was a child, I also remember the Kingston Penitentiary Riot of 1971. That was a scary thing to hear about as a kid living less than 10 minutes from the prison!
Kingston Penitentiary closed its doors for good in 2013, until "a partnership between the City of Kingston, Correctional Service of Canada and the St. Lawrence Parks Commission" started Kingston Pen Tours.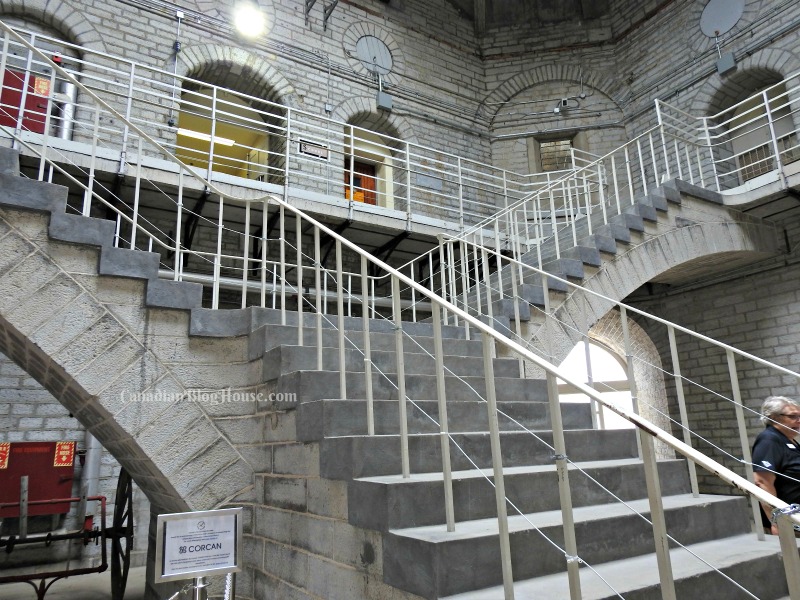 For me, getting the chance to walk through the doors of this notorious prison, and to see what life was like for the prisoners held here, was an experience I will never forget.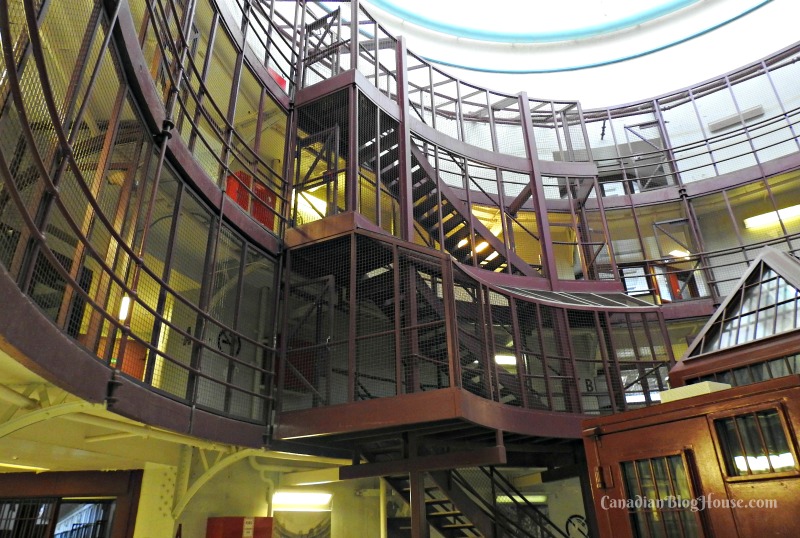 We wandered through the visitation rooms, the children's play area, and family quarters.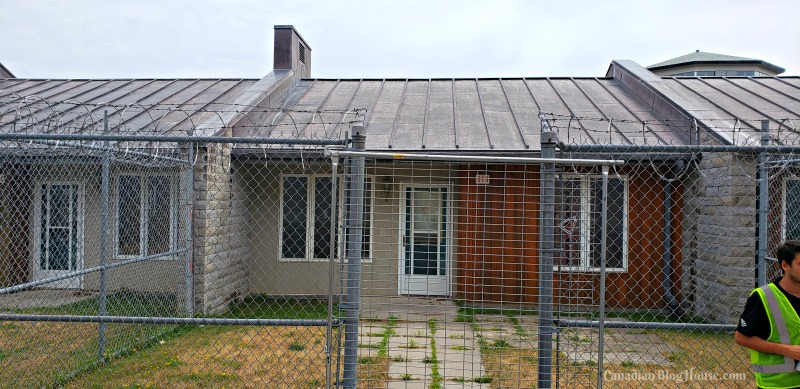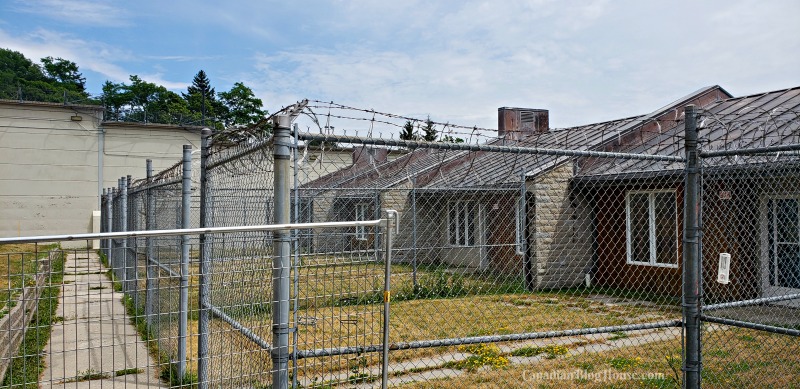 We walked around the outdoor grounds and exercise area, peeked into workshops, and strolled down cell block after cell block.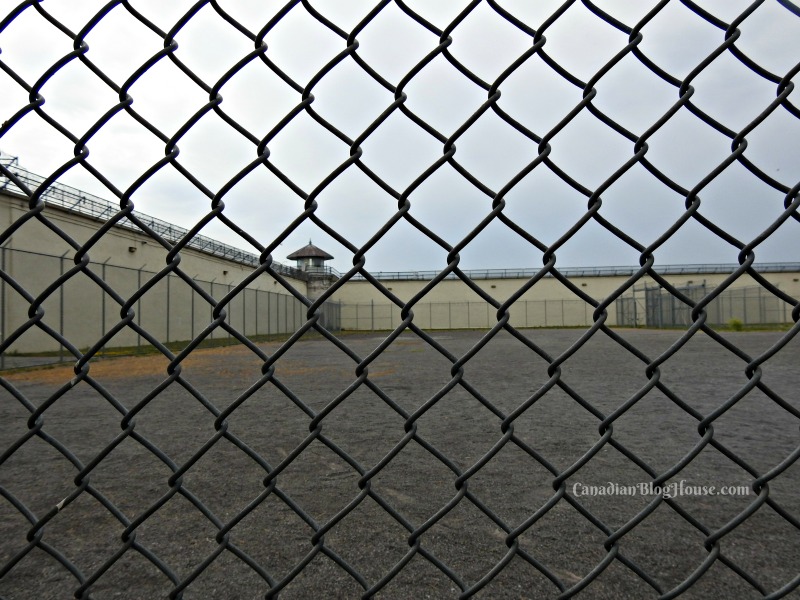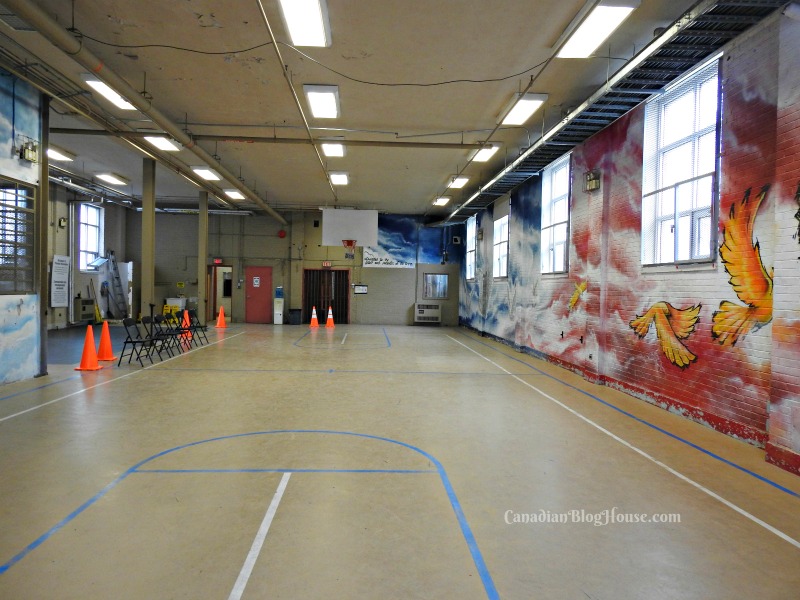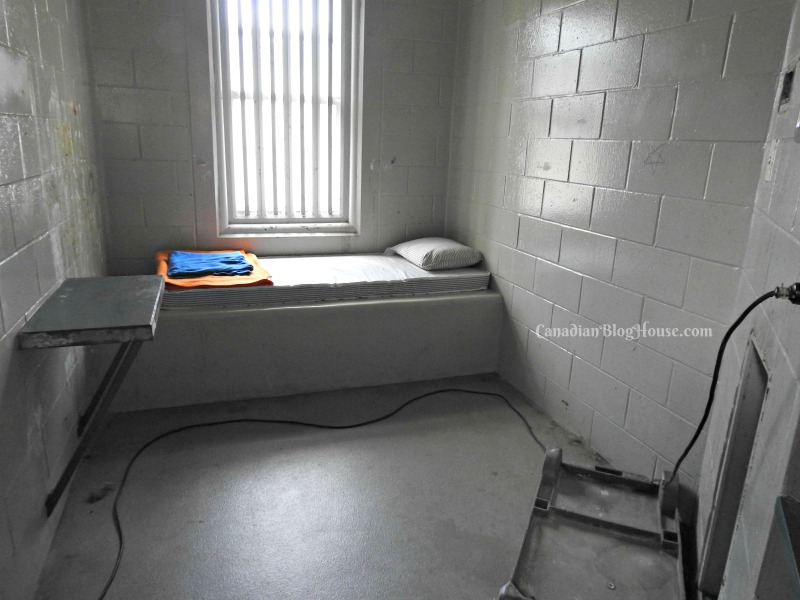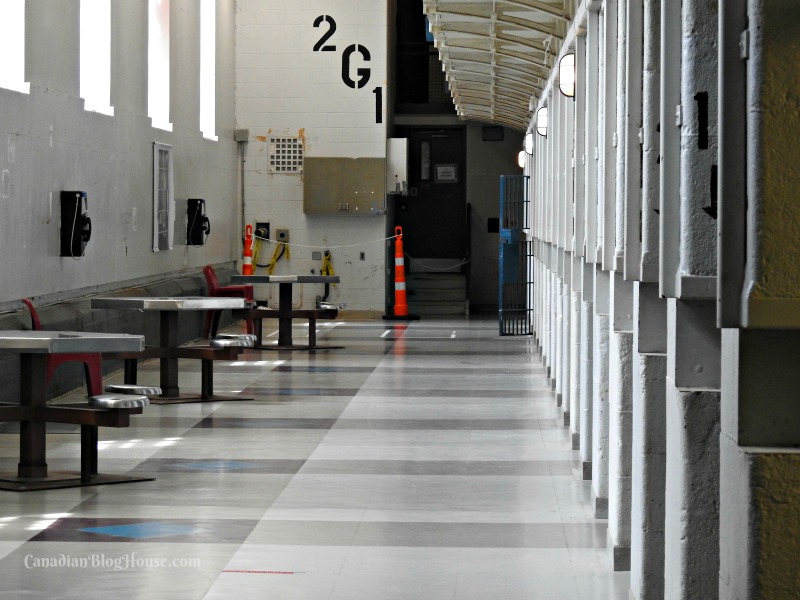 What an amazing glimpse of life behind these walls.
I was struck by my own memories of all those years of driving by this "limestone fortress" and wondering what laid beyond these walls.
Now we know…and so, should you.
Don't miss your chance to experience Kingston Pen Tours courtesy of Vinnie Rebelo and his staff! Reserve your tickets now as these tours book up very quickly!
Fort Henry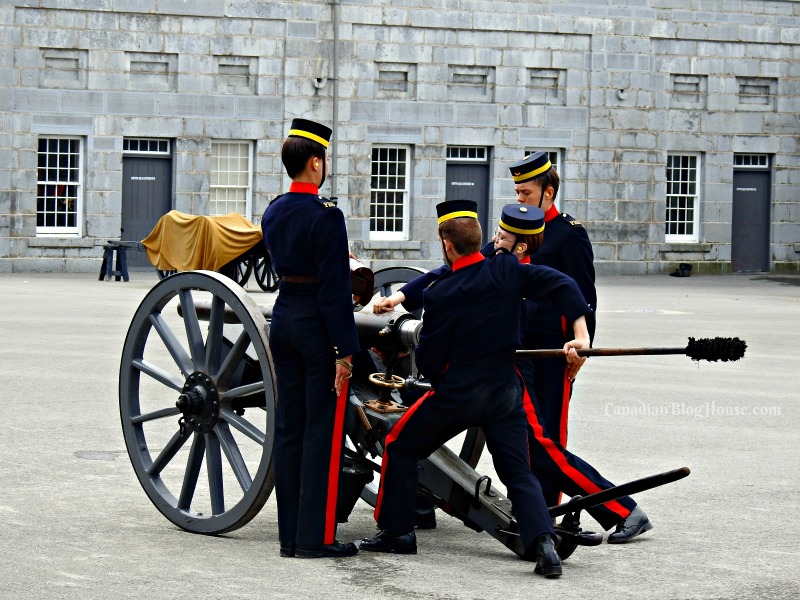 My experience with Fort Henry goes way back to the 1970's when my big brother spent a few summers as a soldier in the Fort Henry Guard.
I have many fond memories of those days watching him fire a musket, march on the parade square, and take part in the famous Sunset Ceremonies.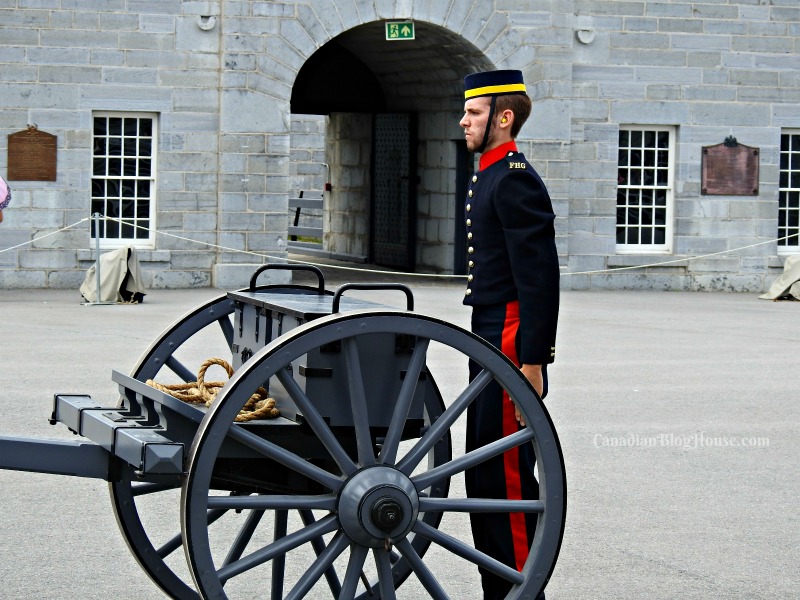 One of my favourite things to do was to watch him stand guard, in the hot sunshine, holding that heavy musket, staring straight ahead.
He was forbidden from smiling – no matter how hard some bratty kid (me!) tried to make him smile. All the while, wearing a heavy wool jacket.
Time has stood still since those days at Fort Henry, however, during this visit, it was my turn to fire a musket.
And sweat bullets under that heavy red wool jacket!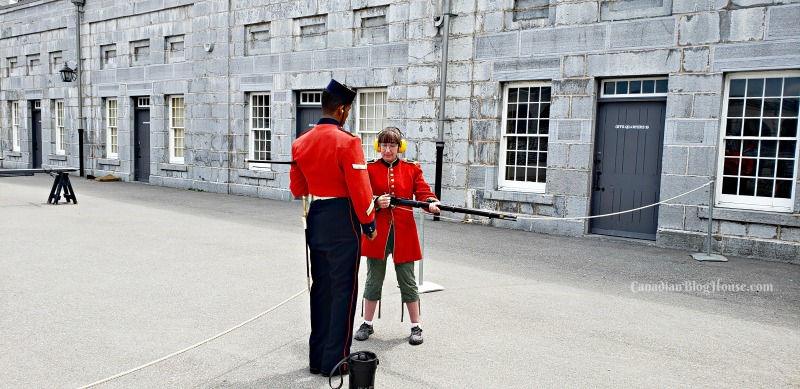 I have a whole new respect for my brother, and any man or woman that spends their summer wearing those jackets!
Those jackets are smoking hot!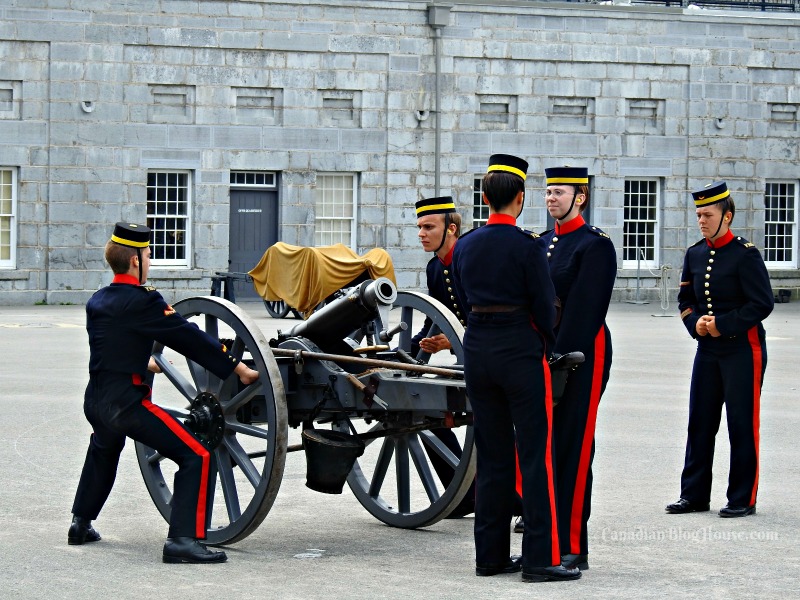 At Fort Henry, you too can fire a musket, take a tour of the fort, and watch a Sunset Ceremony.
Enjoy a bite to eat at the Battery Bistro restaurant located inside the fort, overlooking beautiful Lake Ontario and Wolfe Island. We ordered the tasty Battery Bistro Fish and Chips (beer battered whitefish).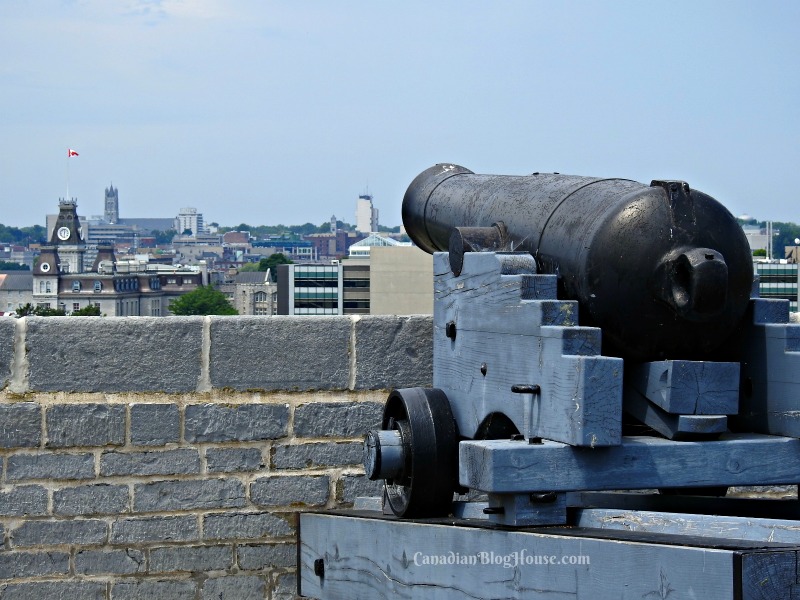 We doubt you will find a better view at any other restaurant in historic downtown Kingston!
Battery Bistro offers a very enjoyable place to sit and look out over the water, and a great menu selection to keep both adults, and kids, happy.
Other must-see attractions in Kingston include Bellevue House (closed this season for renovations), and a tour of Royal Military College.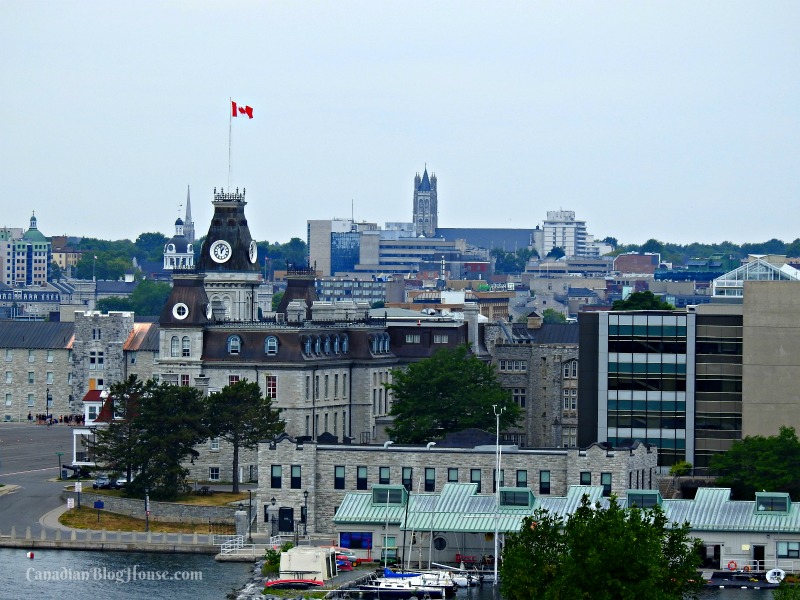 Park It In Kingston
You don't have to go far to find some beautiful parks in and around historic downtown Kingston.
A favourite of residents and visitors alike is Confederation Park, nestled between City Hall and Kingston Marina. This popular park is the perfect place to people watch and enjoy a nice, relaxing evening watching the boats come and go.
Other great parks to enjoy include:
Walk This Way
Something I love about Kingston, that you don't always find in other cities on the shores of the Great Lakes, is their fabulous Waterfront Pathway.
You'll find this Waterfront Pathway stretching for 8km from downtown Kingston all the way to Lake Ontario Park.
**Please note, parts of the pathway take you away from the water and in front of some waterfront buildings (Kingston Penitentiary) and houses.
Walking the full length of this pathway can take up to 2 hours to complete.
I have walked much of the Waterfront Pathway. It's a great way to see some amazing parts of the city, and of course, beautiful views of Lake Ontario!
Celebrity Sightings
Spotting local celebrities wandering around the downtown core, is a fairly common thing in Kingston.
Thanks to residents' laid-back approach, and tendency to leave celebrities alone, Kingston has a reputation for being a great place for stars to relax and unwind.
Over the years, I've spotted members of The Tragically Hip in various locales, David Usher, Kirk Muller, Doug Gilmour, and even former Prime Minister Joe Clark.
Various friends of mine have reported several sightings of Blues Brother, Dan Aykroyd (who owns a home in the Kingston area).
So keep your eyes peeled…you never know who you might spot when in Kingston!
Alleyways You'll Want To Walk Down
I'm sure it comes as no surprise that we don't usually make a habit of walking down alleyways when visiting another city.
Not so, in historic downtown Kingston!
Thanks to a couple of our tours, we discovered that Kingston has some very interesting alleyways.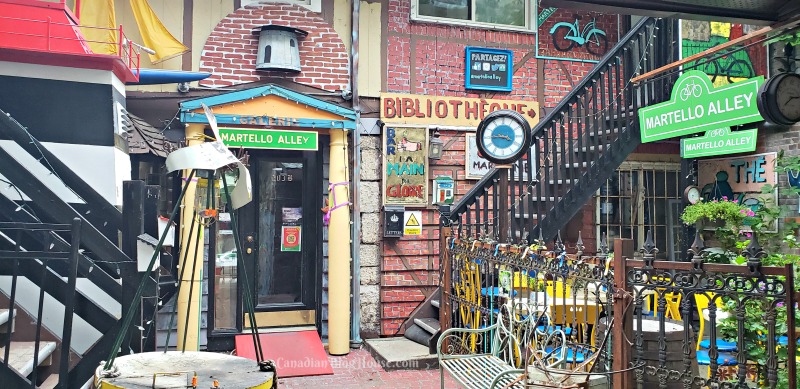 Martello Alley is a fascinating place to look around and, although we arrived there when this unique art experience was closed, we were able to stop and enjoy the view. You can purchase art from local artisans at the shop located in Martello Alley.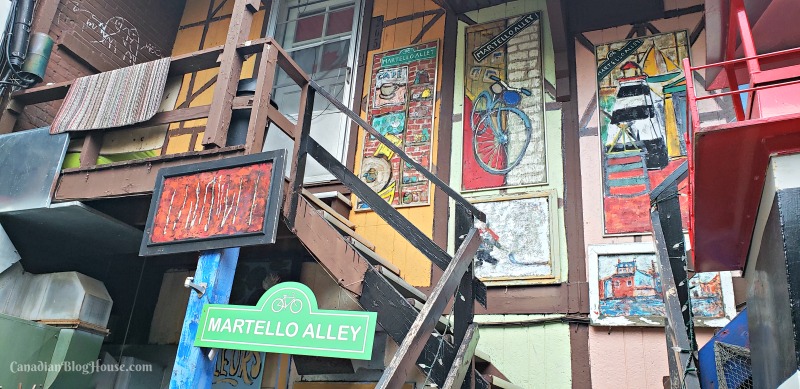 Antique lovers will delight in Antique Alley, a shop nestled down an alleyway inside some back buildings along Kingston's Wellington Street.
Another alleyway to explore can be found in the area around Pan Chancho/Chez Piggy and The Toucan.
Make Time For Statues
You'll find many statues, commemorative plaques, and sculptures featuring local politicians, Canada's first prime minister, military personnel, and dignitaries scattered around downtown Kingston.
Don't miss the iconic sculpture "Time" found at Breakwater Park, and the Olympic sculpture "Tetra" at Portsmouth Olympic Harbour. You can also find cannons and other artillery on display in various locations around the downtown area.
Don't Pay The Ferry Man – It's Free!
Want to take the family on a fun excursion that starts in historic downtown Kingston, and drops you off on a beautiful island?
Hop aboard the Wolfe Islander III for a great 20-minute cruise across the harbour to Wolfe Island.
Not only do you get to spend some time out on beautiful Lake Ontario, the view of the Kingston skyline is a real treat.
Whether you are traveling by foot, bicycle, or car…there's no charge to travel on this government-run ferry.
A great way for visitors to see the island is by bicycle.  Rent a bike from Ahoy Rentals in Kingston and take a leisurely bike ride around the country roads of Wolfe Island.
You'll Smile At All The Photo Ops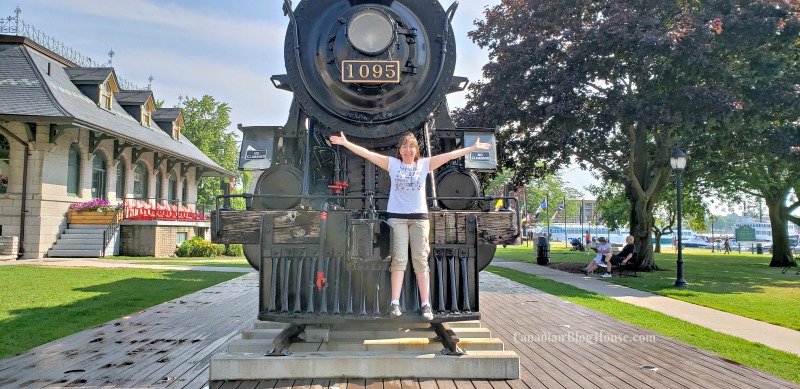 Historic downtown Kingston is an Instagrammers dream.
Really.
There are many amazing photo ops around every corner of this gorgeous city.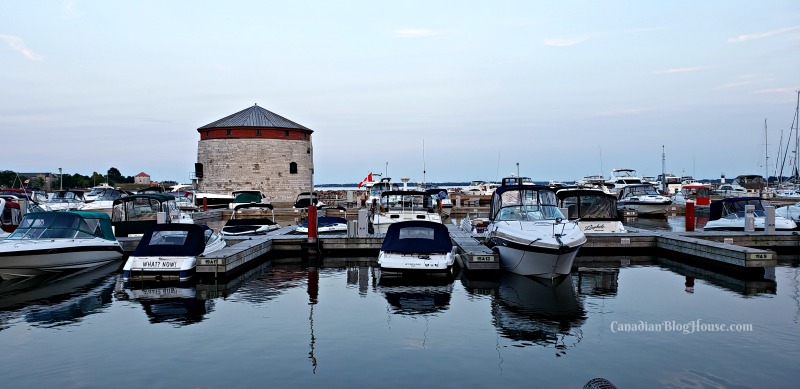 Here are a few Insta-worthy places to keep in mind if you are headed to Kingston…
the Kingston sign near the Visitor's Information Centre in Confederation Park – be the "I" in Kingston!
the Visitor's Information Centre (historic Kingston train station)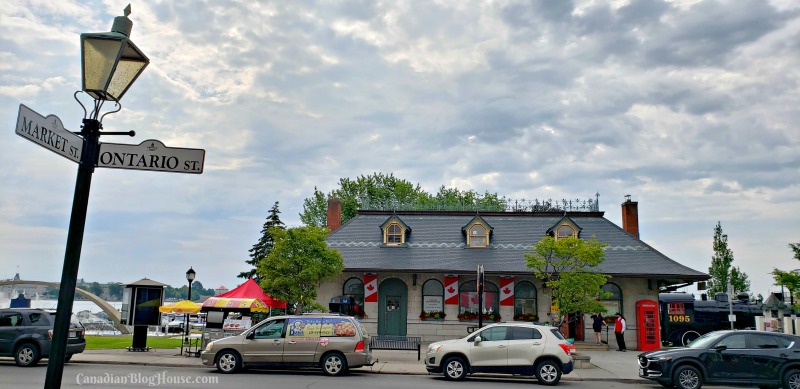 Spirit of Sir John A locomotive in Confederation Park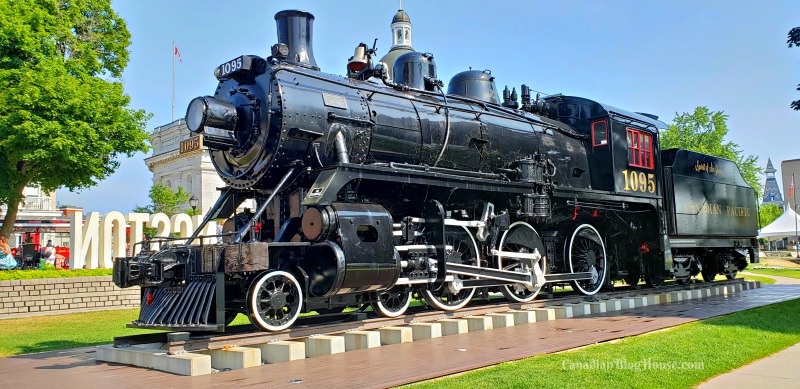 Kingston City Hall
Confederation Park (fountains/geese/ducks/flowers, boats
Springer Market Square
Queen's University Campus (limestone buildings)
historic churches
Martello towers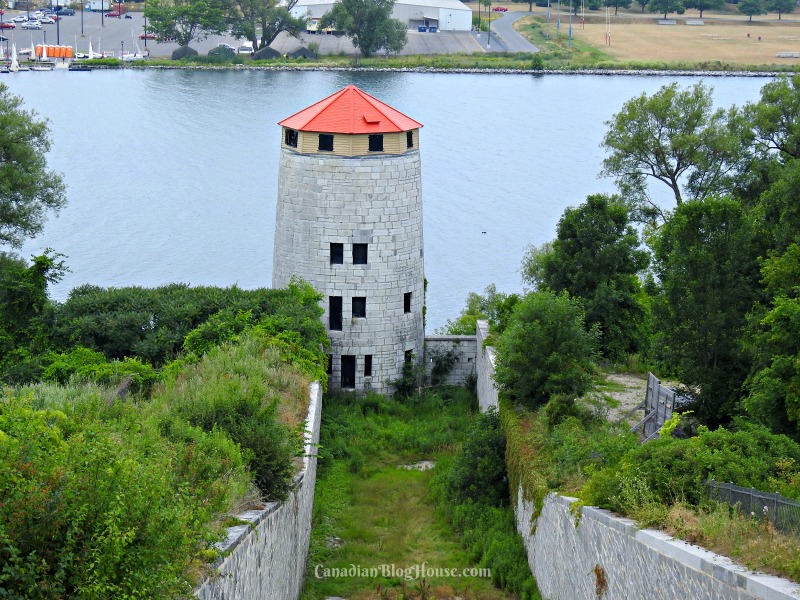 panoramic view of downtown Kingston, Royal Military College, and Wolfe Island from atop Fort Henry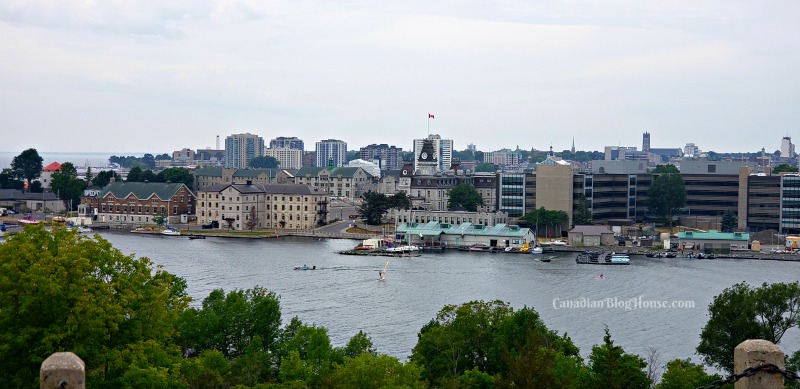 Kingston skyline from any boat tour leaving Kingston harbour (including the Wolfe Island Ferry)
view of downtown Kingston from Royal Military College
waterfront view from Delta Kingston Waterfront hotel
downtown alleyways like Martello Alley
historic signs and buildings
sunset over City Hall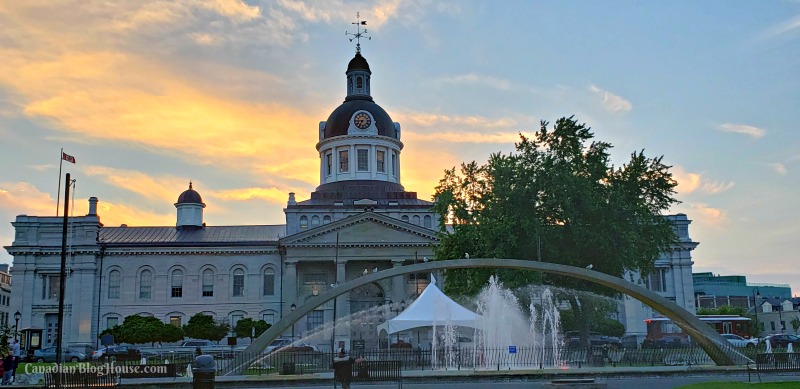 For more Kingston fun and information, don't forget to check out our first 15 Reasons Why You'll Want To Vacation In Historic Downtown Kingston, as well as our Kingston Instagram stories!