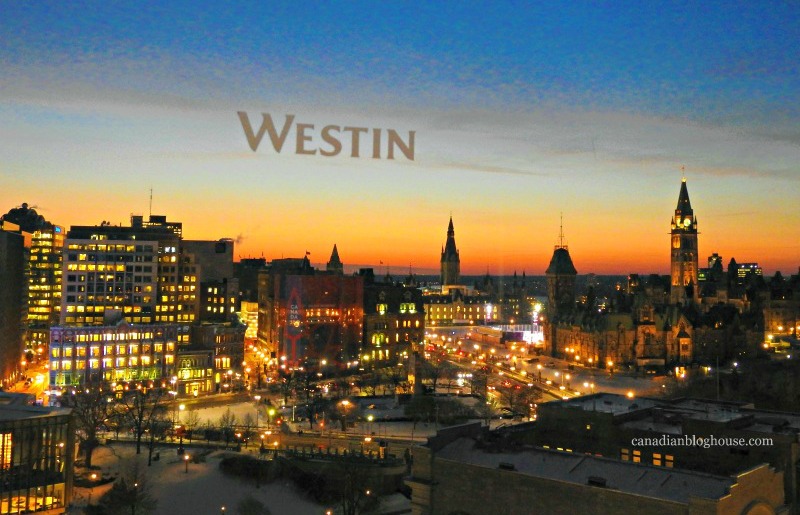 A recent media invite from The Westin Ottawa, to experience their SkateWESTIN program, gave us the chance to see #MyOttawa from a whole new perspective – as guests. All opinions are our own. 
Come Visit Ottawa And Experience The New SkateWESTIN Program This Winter!
Thanks to the new SkateWESTIN program at The Westin Ottawa, last weekend I slipped into a pair of skates, and went skating on the Rideau Canal –  for the first time in years.
YEARS!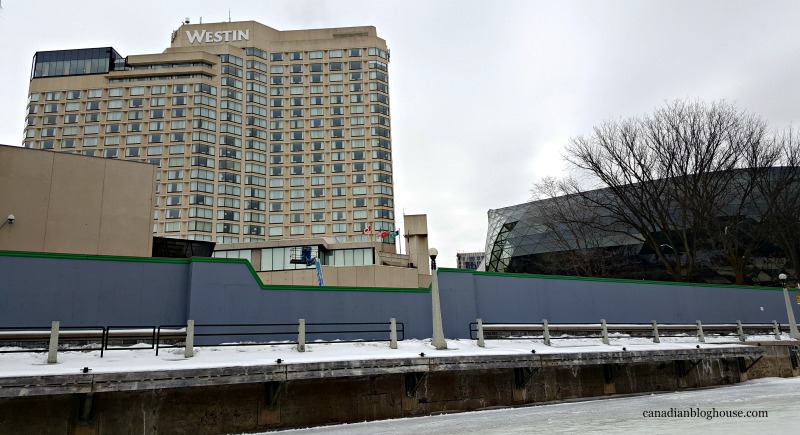 I am NOT a skater, so this experience was something way outside my comfort zone.
But you know me and my motto: Life is meant to be experienced!
Even if it scares the you-know-what out of you.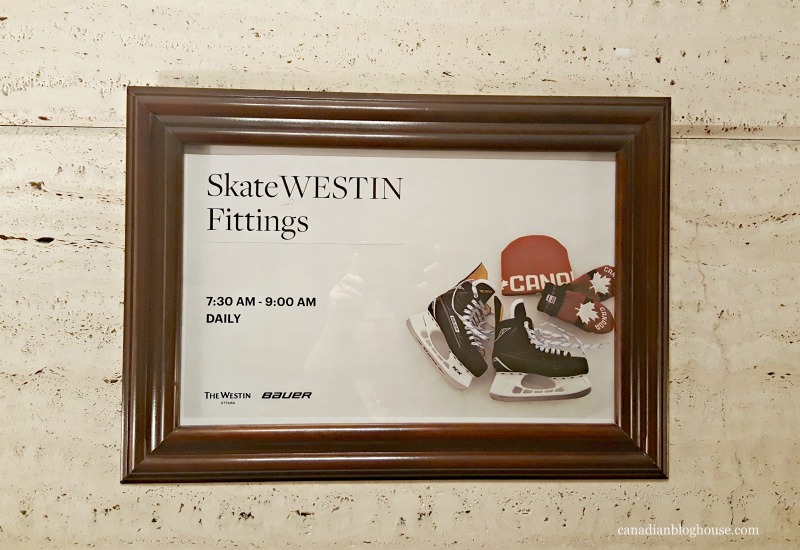 The Westin Ottawa, the official 2018 Winterlude Hotel Sponsor, is a magnificent hotel located in the heart of downtown Ottawa.
Centrally located just steps from Parliament Hill, and Ottawa's Byward Market, The Westin Ottawa has the distinction of being attached to one of Ottawa's prime shopping destinations – the Rideau Centre – and Ottawa's premiere convention centre, the Shaw Centre.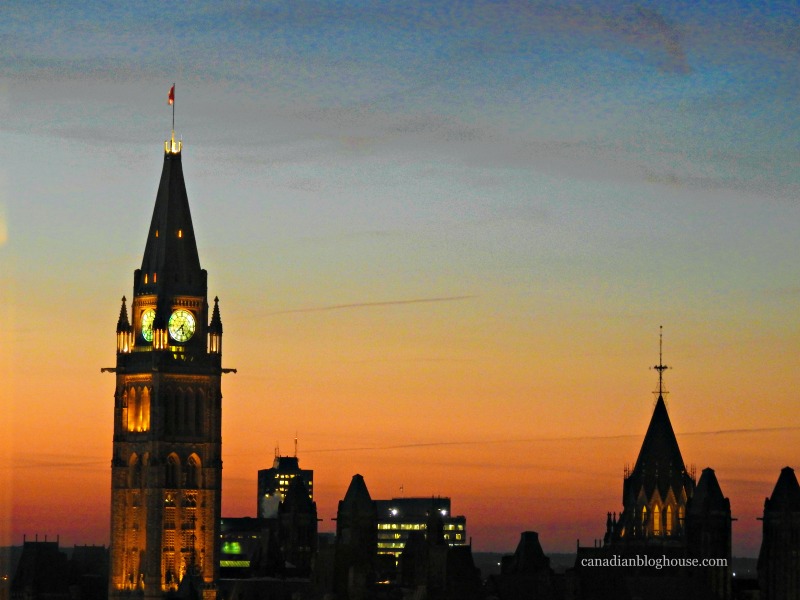 The Westin Ottawa is a "Signature Wellness Hotel" and a prime winter destination, especially during the excitement of Ottawa's Winterlude celebrations.
[bctt tweet="At The Westin Ottawa, You Don't Just Get Up – You Rise. " username="CanBlogHouse "]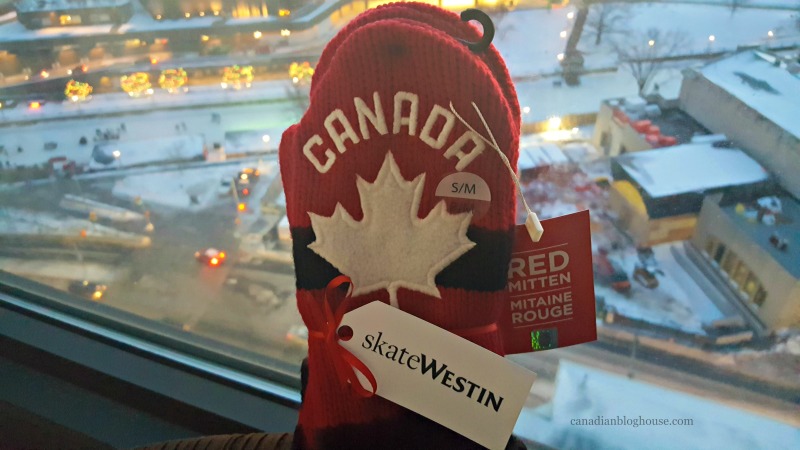 We were invited to The Westin Ottawa to experience this hotel's "Six Pillars Of Wellbeing", including their brand new SkateWESTIN program.
And experience them, we did – starting with an "eat well" experience at The Westin Ottawa's vibrant and classy The Shore Club – a steak and seafood restaurant.
Eat Well – At The Shore Club
Warm lighting sets the tone for a relaxing evening at The Shore Club. Seated amongst beautiful works of art, you can't help but get the feeling of a bygone era. With a nod to grand ocean liners, The Shore Club's elegant atmosphere is enhanced by the attire of the waiters who are dressed in formal white dinner jackets.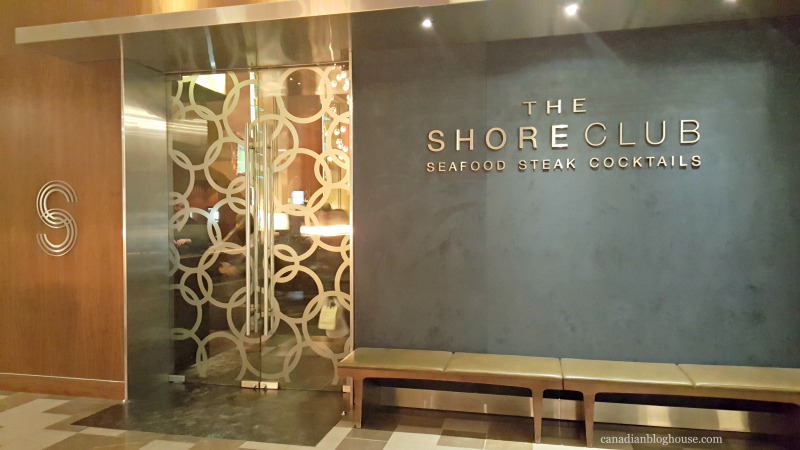 While we found the menu to be a little beyond a comfortable price range for us, our first bite of the succulent "Braised Pork Belly And Seared Scallop" and "King Crab Cake" appetizers made it perfectly clear. This was going to be an exquisite dining experience, and a real treat for us!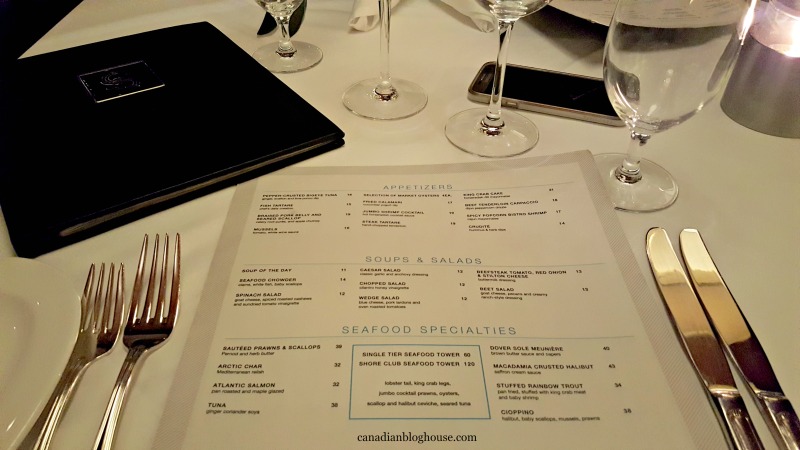 Our feast continued with a dinner of Macadamia Crusted Halibut for me, and the Steak And Lobster dinner for my partner.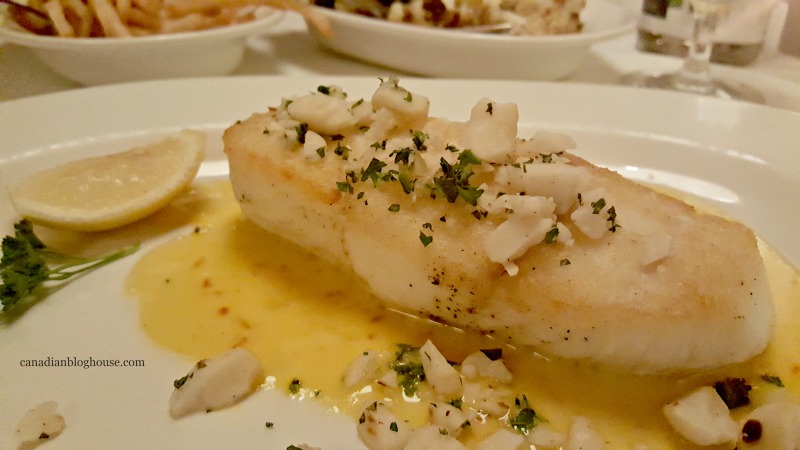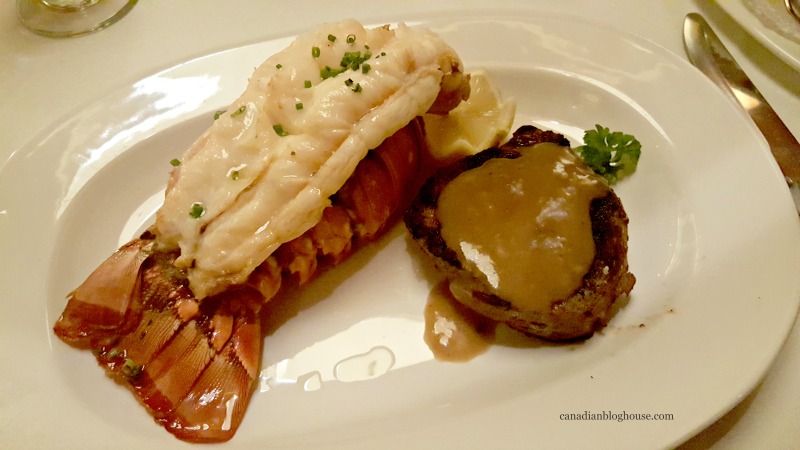 All sides at The Shore Club come separately from the main dinner entree of steak, seafood or other meats.
This list of sides is large – 21 items. This list is also very difficult to choose from. In all honesty, I would have loved to be able to try 18 of the 21 sides offered. I have no doubt they are all extremely tasty.
After much deliberation, we decided to try the "Salt & Vinegar Shoestring Fries" and another vegetable dish that was being offered as a special that evening – Roasted Cauliflower.  Both were delicious, and the flavour of the fries left us wondering how the chef infused the fries with such a tasty vinegar flavour.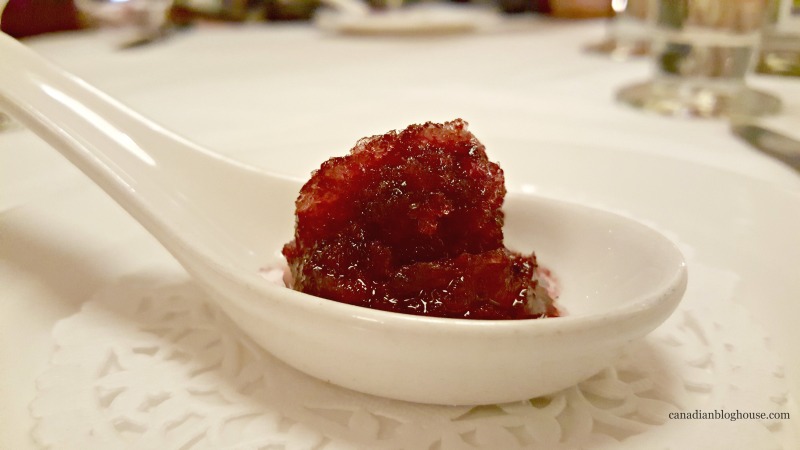 Sometimes it's the little "added touches" that can make a great experience even better. That was the case at The Shore Club. Warm homemade bread that was absolutely scrumptious (yes, of course, we had two helpings!), and 2 delightful spoonfuls of food to cleanse our palate between courses,
A special shout out to our waiter, Bob, whose professionalism, prompt service, personality, and great sense of humour, played a large part in making our experience at The Shore Club a fabulous one.
Sleep Well – On A Heavenly® Bed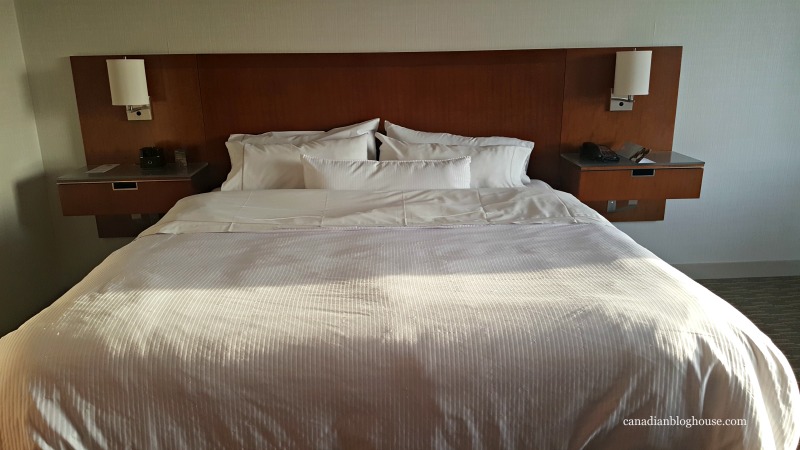 If you've ever had the chance to stay at a Westin Hotel, you'll already know all about their Heavenly® Bed. It's just as it sounds – heavenly.
It wasn't long after we returned to our room from dinner that we settled in for a wonderful sleep in our comfy bed. Apparently, we did not require the help of our "Sleep Well Lavender Balm Amenity", and its calming scent, to help us sleep. However, we did take this balm with us, to try at home. It does smell heavenly!
Work Well – Alone Or In Groups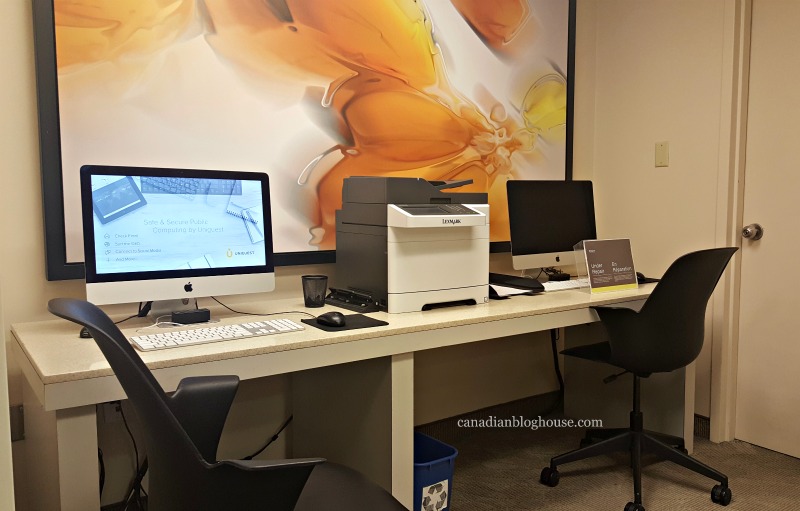 A blogger's work is never complete. There is always something to be done to keep your blog going – even while on vacation. That's why I love a hotel room, like our room at The Westin Ottawa, that offers plenty of workspace for you and all your devices. Rooms that offer space, and electrical outlets, to help keep laptops, smartphones, and cameras all charged up.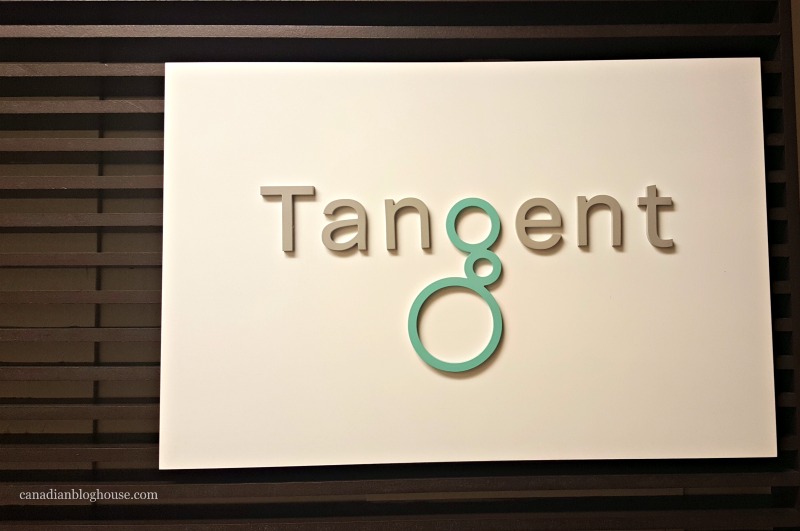 Need a larger work space? The Westin Ottawa's Tangent is a "flexible workspace which can be booked by the hour for up to four people at a moment's notice. Connect across the table or across the globe when you reserve Tangent for impromptu meetings, interviews, or brainstorming sessions."
Feel Well – Feel Soothed, Revitalized, And Heavenly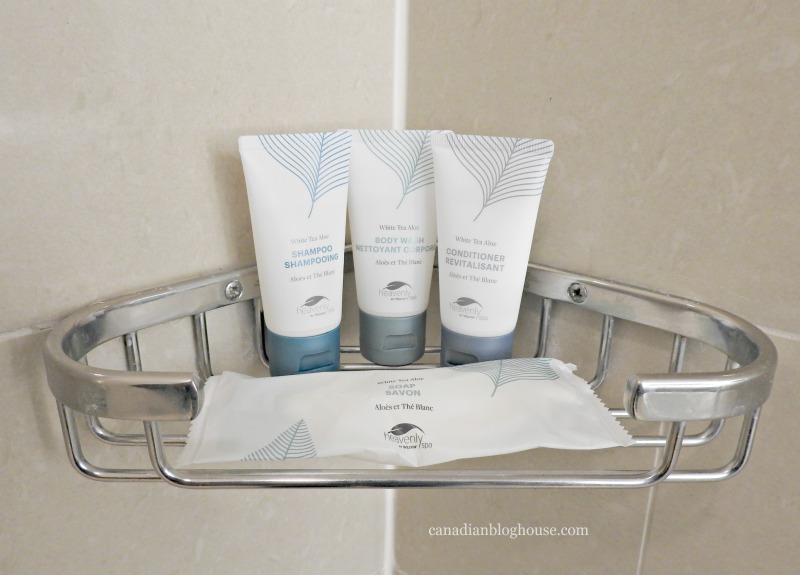 I admit it.
I'm a BAH.
That stands for "Bath Amenities Hoarder". Yes, I am one of those people whom always takes home whatever bath amenities she hasn't used…and possibly asks housekeeping for a few "extras".  In this respect, I was in my element at The Westin Ottawa. Their deluxe White Tea Heavenly bath amenities may have had me doing a little "happy dance" when I first walked into the bathroom.
Our Heavenly Shower® was incredible, and that says a lot coming from bath-loving me!
Move Well – SkateWESTIN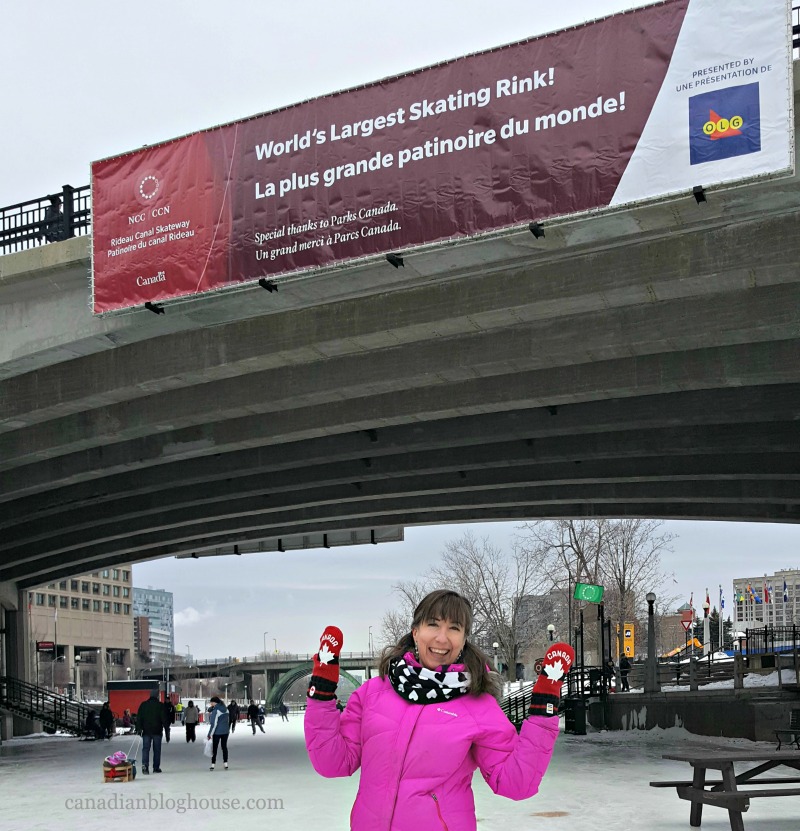 In winter, the Rideau Canal is transformed into the "largest skating rink in the world", with thousands of visitors lacing up to skate the canal's 7.8km length of groomed ice.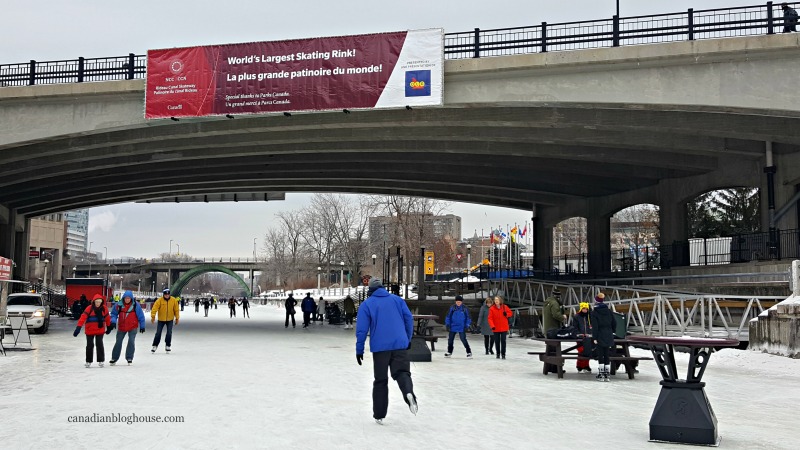 It was The Westin Ottawa's offer to us to take part in their SkateWESTIN program, that had me excited…and a bit nervous. Especially when I scouted out a few of my fellow influencers that would be joining me for our guided tour – and realized they were avid skaters who regularly skate our beloved canal.
But…I wasn't going to let the fact that I'm a lousy skater stop me. Nope!
So I bundled up, just like the night I attended the NHL 100 Classic, and out onto the ice I went!
It wasn't pretty (my skating I mean!) but…I managed to stay upright on my two skates. At least long enough to capture this shaky video!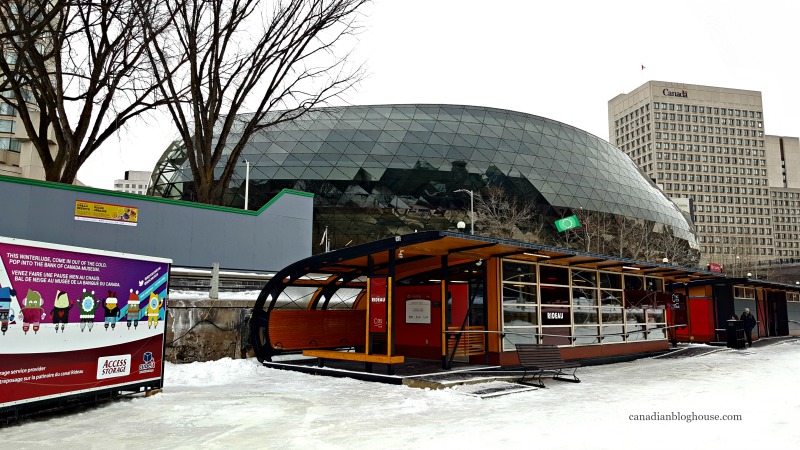 The SkateWESTIN program "is a new program launched this winter to give guests the ultimate Canadian experience – skating along the Rideau Canal Skateway.
When guests stay at The Westin Ottawa, they have the option to rent a pair of skates for $5.95 or bring their skates along for a guided morning skate on Wednesdays, Saturdays or Sundays. Their guided skates are led by their hotel skate concierge team.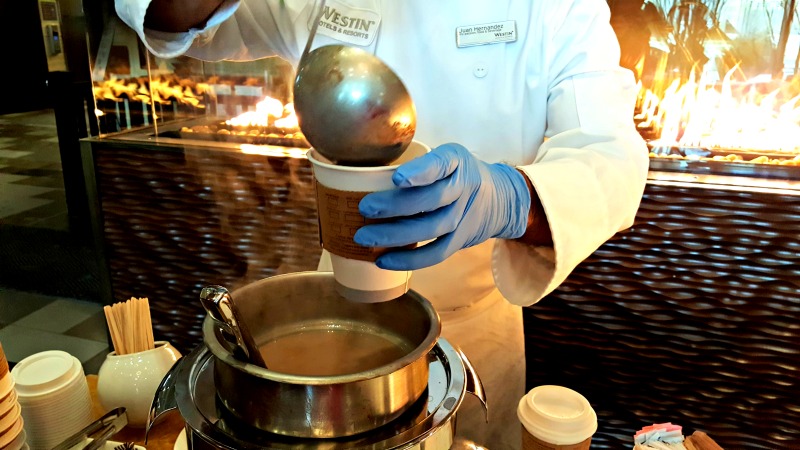 After a guided skate, guests can sit by the fireplace and enjoy a hot cocoa drink in their cozy lobby.
Before heading out on the ice, be sure to warm your belly with a nutritious and delicious breakfast at The Westin Ottawa's Daly's Restaurant. A beautiful brunch is served on the weekends. One of the best buffet breakfasts I have ever experienced. So many tasty choices and so beautifully presented.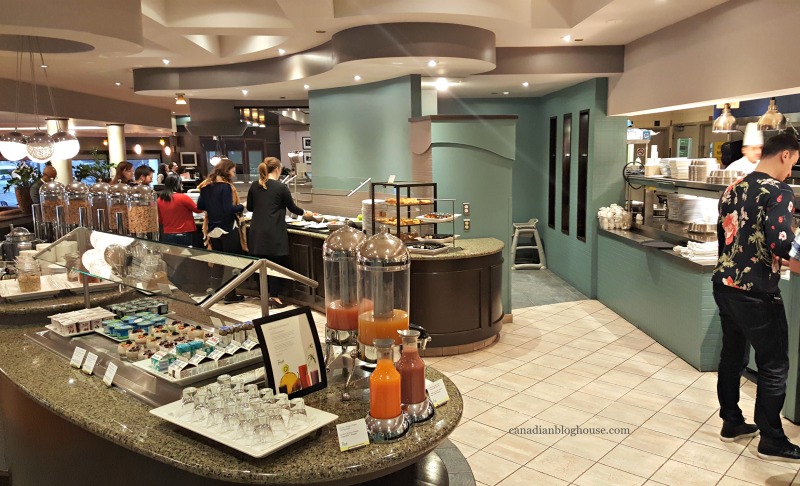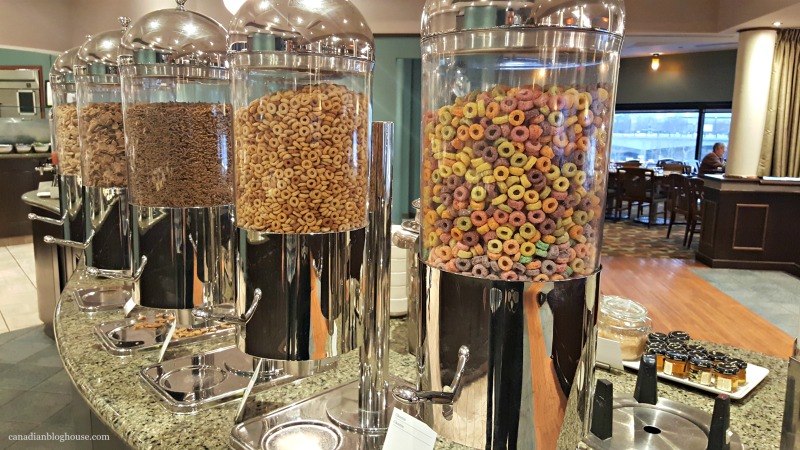 Play Well – There Will Be Time For Work Later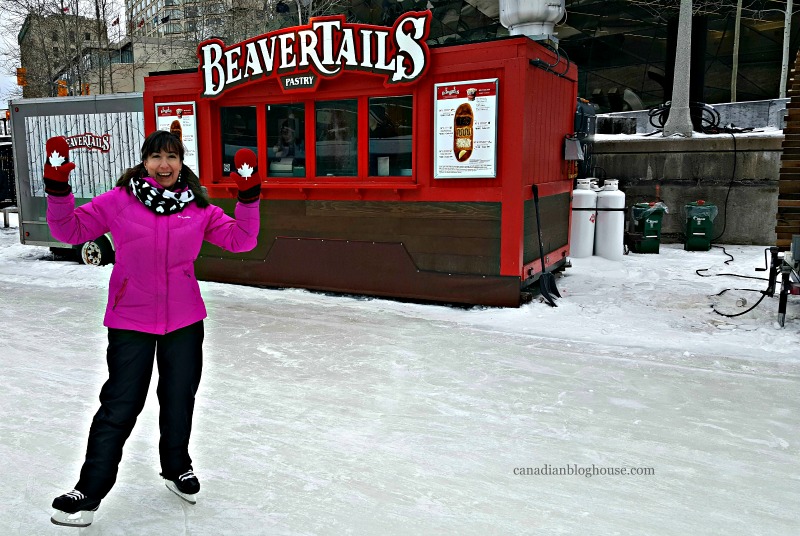 I love to go for weekend getaways but…the weekend seems to end so quickly, doesn't it? Especially if you have to check out of your hotel room by 11am!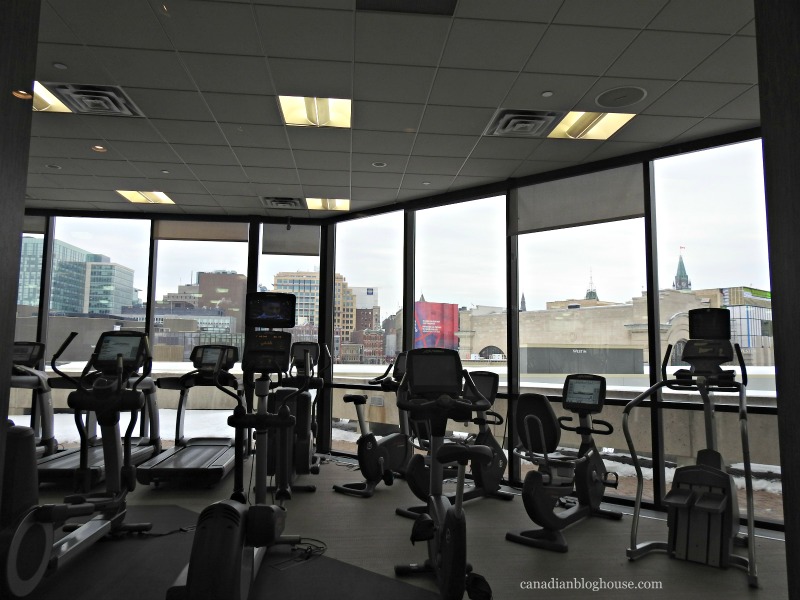 That's why I love that The Westin Ottawa offers a 3PM late check out on Sundays! During our SkateWESTIN experience, this made a huge difference for us.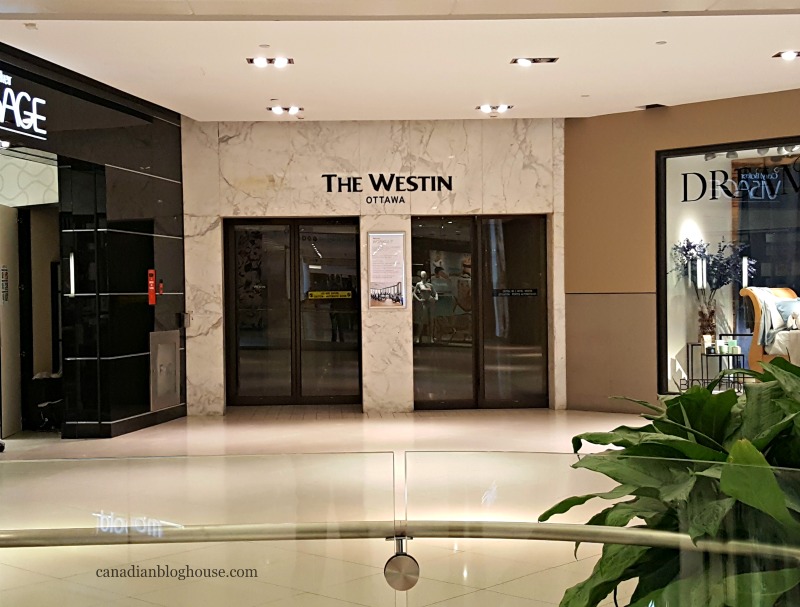 As a result, we were able to enjoy our fun morning activities, and still have time to come back to our room for a little more rest and relaxation before we had to pack up and leave.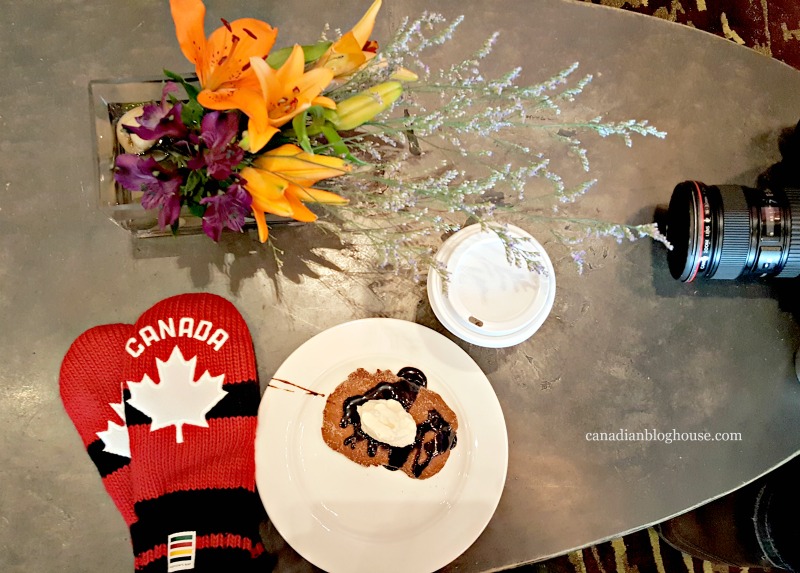 [clickToTweet tweet="Come Visit Ottawa And Experience The New SkateWESTIN Program This Winter! #skateWESTIN #MyOttawa " quote="Come Visit Ottawa And Experience The New SkateWESTIN Program This Winter! #skateWESTIN #MyOttawa "]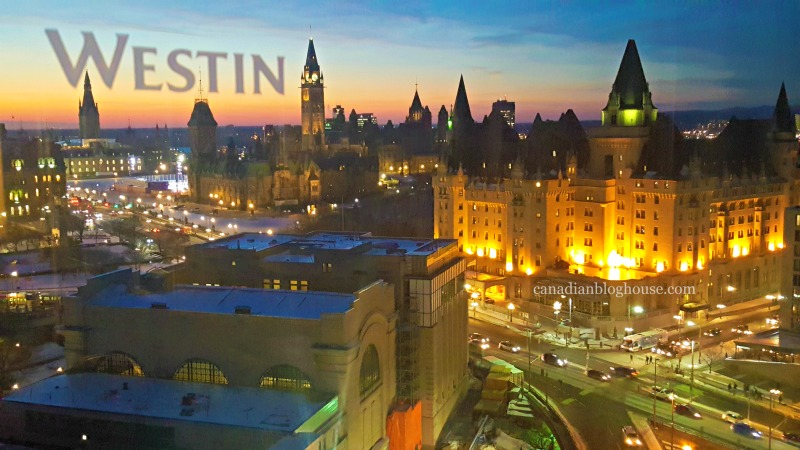 Thinking of staying at The Westin Ottawa during Winterlude 2018? Be sure to check out their current promotions! You could get up to 20% off your room or suite booking – OR take advantage of their Westin Experience Pass. This pass gives you discounts on the hotel's favourite restaurants and tourist destinations.
For more information on the SkateWESTIN program, or to book your stay, please visit The Westin Ottawa website.
Would you ever give the SkateWESTIN program a try?