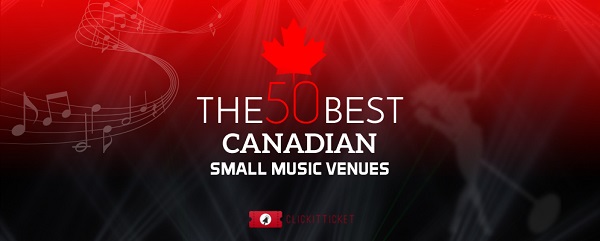 Canadians are passionate about live music. They love the thrill of a rock concert, the energy of a hip hop show, and the exuberance of a country music gig.
They flock to venues like the Air Canada Centre or Rogers Arena to see and hear their favorite artists. Of course those aren't the only venues Canadians visit.
Small venues are also a favorite destination of music fans in the Great White North. These intimate settings allow music connoisseurs the unique opportunity to experience local, regional, and even national artists, up close and personal.
Canada is home to hundreds of these small music venues. You'll find them from Vancouver Island to Prince Edward Island, from the southern border to the Northwest Territories.
It's only natural to survey these venues and acknowledge the ones that have distinguished themselves from other joints. That's the inspiration behind this article.
What small venues give music fans the best concert experience? Where are the best places to enjoy live music in a cozy and comfortable environment?
The answers to those questions are found in this great list of the 50 best Canadian small music venues by our friends at Clickit Ticket. Their list could have been much longer, but they determined 50 is a good place to start.
What exactly did they look for in a small music venue?
Obviously, venues like Scotiabank Saddledome and the Bell Centre are not small. They didn't establish a maximum size, instead they went on feel. Just by looking at a venue, inside and out, you can tell if it's small.
After that, the small music venue had to be dedicated to creating the most enjoyable concert experience possible. They must make their experience positive for both the audience, and the artist.
Furthermore, they didn't compare venues to one another. They looked at how well each venue maximizes their space, staff, and available technology to provide for their patrons and performers.
They didn't care about what genre of music a venue favored. They only cared about their appreciation for performing.
The following 50 music venues are the types of places you'll want to go even if you've never heard of the act on the marquee. These 50 venues are the kind of establishments you'll visit more than once. They're the kind of locations you'll tell your friends about.
If you love live music, you'll definitely want to check out as many of the following 50 small venues as you can.
The 50 Best Canadian Small Music Venues
---
2 Pierrots
Montreal, Quebec
"Parlez-vous français?"  At 2 Pierrots the singers sing in French (the staff speaks it as well).  Don't let that deter you.  This is an extremely amicale venue with a causal and inviting atmosphere.  Managers tap great talent to come and perform live on Pierrots' stage (which is quite high for a venue of its size).  The establishment has two floors and there's dansant all around.  Best of all, they have pop-corn!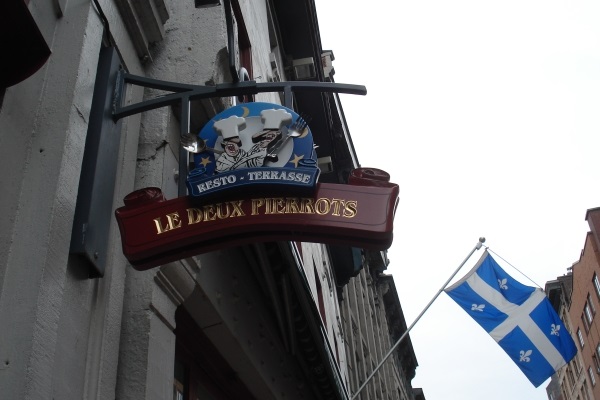 2 Pierrots, or "Le Deux Pierrots," in Montreal, Quebec.  Photo courtesy of Edward O'Connor.
The Acoustic Grill
Picton, Ontario
Owners Steve Purtelle and Jenny Leigh have perhaps the greatest philosophy this side of Hegel and Kant.  They want to provide great music, great beer, and great food.  Actually, they DO provide great music, great beer, and great food (best burgers in town!).  Besides operating a live music venue, Steve and Jenny are also record moguls.  Their Acoustic Jam Records has released more than half a dozen CDs of live performances all recorded at The Acoustic Grill.
At The Waldorf
Vancouver, B.C.
At The Waldorf contains three venues: Tiki Bar, Tabu, and The Hideaway.  Needless to say, the Waldorf sports Polynesian décor replete with palm trees (fake of course) and bamboo-lined walls.  Every Friday they put on Uno Dos Tre, a party that occupies each one of the aforementioned rooms.  The Tiki Bar and Tabu host live music while The Hideway offers visitors the opportunity to play air hockey, ping pong, and video games.
Babylon Night Club
Ottawa, Ontario
The Babylon Night Club is found in Ottawa's Centretown neighborhood.  What kind of acts does the Babylon book?  It's easier to ask what kind of acts they don't book.  On their website, the Babylon Night Club says their venue is all about "you."  "You make it up, and it is for you by you."  That sentiment is a large part of why the Babylon Night Club should be your next live music destination.
Bar Pub St-Denis
Montreal, Quebec
Bar Pub St-Denis is positioned at 6966 Saint-Denis in Montreal.  The bar and music venue boasts live shows Sunday through Saturday.  A cornucopia of quality live acts perform on a small stage containing a lightly colored, upright piano.  When bands take five, you can entertain yourself by playing a game of foosball or chalking up a stick and shooting some 8-ball on their red-felted pool table.
The Bassment
Saskatoon, Saskatchewan
The Bassment is located across from City Hall in a building that used to be a post office.  Speaking of "used to's," The Bassment used to book any indie band that had a van capable of hauling equipment.  Those days are gone.  Now, the venue hosts professional jazz players with the occasional folk, funk, roots, and classical act thrown in for good measure.  The Bassment is all ages and fully accessible.
Better Than Fred's
Grande Prairie, Alberta
Let's go through the rundown at Better Than Fred's.  Real pit barbeque? Check!  Sports? Check! Billiards? Check!  Live music? Double check!  General Manager John Kriska has expertly molded Better Than Fred's into a lean, mean bar-grill-and-live-music machine.  Over the years, BTF's has seen performances by Everlast, Tupelo Honey, Modern Myth, and Odds.  They've also hosted viewing parties for big sporting events like UFC bouts, Mayweather fights, and Super Bowls.
Blacksheep Inn
Wakefield, Quebec
Situated on the shores of the Gatineau River, in the picturesque town of Wakefield, Quebec, the Blacksheep Inn is one of the best small music venues in the National Capital Region – and one that is well-known by musicians and music fans alike. This venue offers great music, great vibes, a great bar, and delicious pub fare.
The Blue Grotto
Kamloops, B.C.
Since 1996, The Blue Grotto has been the destination for those looking for a killer bar, an exciting night club, and/or a fabulous performance venue.  In fact, The Blue Grotto is the zenith for live music in Kamloops.  Fans and bands love the Grotto's exquisite sound system.  You won't find better vibrations anywhere in, or around, the city.  All types of music acts come to the Grotto.  Keep in mind that Thursdays are reserved for special events.
Bovine Sex Club
Toronto, Ontario
The Bovine Sex Club is not only one of the best bars in Toronto but it's one of the best small music venues in the Great White North.  The BSC books elite bands from the genres of rock, metal, punk, glam, 70s funk, and 80s retro.  You know you've reached the stellar Bovine Sex Club by the bicycle parts affixed above its entrance.  Another thing, it has the best name of any bar EVER!
Broken City
Calgary, Alberta
Broken City opened in 2004 and since then it's been a performance space for any and all creative Calgarians.  The venue is adamant in its support for independent artists.  They also host DJs, stand-ups, pub trivia night, and an activity that's generally ignored by the other venues on our list, karaoke.  If you can, have a Caesar on the patio.  Their licensed patio is tres cool especially the big British police box.
Cadillac Lounge
Toronto, Ontario
When you enter the Cadillac Lounge you're likely to hear a great band playing rockabilly, blues, soul, R&B, reggae, Cajun, or zydeco.  Then, as you make your way through the establishment, you'll notice Cadillac hubcaps on the wall, a bust of Elvis Presley, leopard print upholstery, and a beer tap decorated with a Marshall amp.  Some call this a great live music venue.  Some call it heaven.
Café Campus
Montreal, Quebec
Café Campus was once located on the official grounds of Université de Montreal.  In 1993, CC moved to its current location at 57 Prince-Arthur East (it's not too far from another entry on our list, Tokyo Bar).  Café Campus is still a popular hangout for the college set as well as a swell place to have a drink, hang with friends and listen to exhilarating live music.  Café Campus also books top DJs.   
Call The Office
London, Ontario
Call The Office is London, Ontario's longest running night club.  On Friday and Saturday nights, Call the Office calls on the best indie bands to rock their stage.  Sunday nights, DJs spin 80s and 90s dance music.  Mondays and Wednesdays are all about pinball.  Mondays is when the serious flipper action goes down, but on Wednesdays, $5 gets you all you can play of not only the machines but video games too (yes, they have Pac-Man).
Le Cercle
Quebec City, Quebec
Founded in 2007, Le Cercle is part performance venue, part wine bar, and part art gallery, but it's one-hundred percent beautiful.  We love the exposed brick, mesmerizing art hanging on the wall, and the large Heinz ketchup cans used as plant holders.  A stage has been erected in the back corner and a disco ball hangs from the ceiling.  What if I'm there and there's no live music?  Don't fret.  Le Cercle offers 250 wine labels and a culinary experience you'll be hard pressed to exceed in the Quebec province.
Copper Owl
Victoria, B.C.
The word that best describes the interior of the Copper Owl is "vintage."  This performance venue, bar, and lounge is located above Paul's Motor Inn in downtown Victoria.  The Copper Owl hosts the best in local music as well as the continent's top touring acts.  If an artist isn't serenading patrons with music then the Copper Owl is likely hosting comedians, dance troupes, trivia contests, performance art, or weddings. One of the best owners in the business, Renee Crawford, has a good thing going at the Victoria's Copper Owl.
The Dakota Tavern
Toronto, Ontario
This is your destination the next time you want brunch on a Saturday or Sunday.  Head on over to The Dakota Tavern for their Bluegrass Brunch.  You can't surpass their quality music and exceptional chow.  The Dakota Tavern has the look and feel of an old western saloon—their decorator used a lot of wood.  This is the place to go for live tunes especially those of the country and bluegrass variety.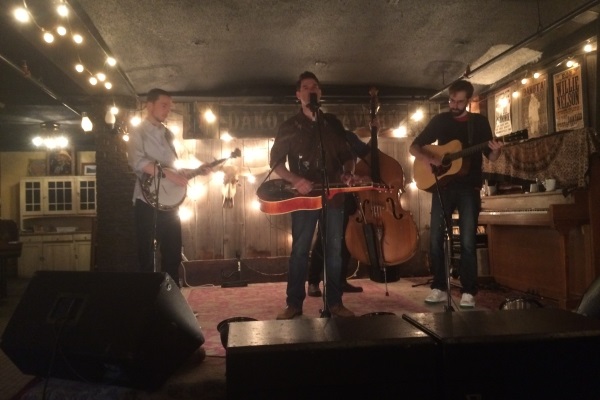 Musicians performing at The Dakota Tavern during Bluegrass Brunch.  Photo courtesy of Carlos Pacheco.
Doc Willoughby's Downtown Pub
Kelowna, B.C.
Doc Willoughby's Downtown Pub is named after Dr. Charles James McNeil Willoughby.  The venue that now bears his name is operated by his youngest grandson, David Willoughby.  Doc's inks a bevy of acts from a variety of genres.  The establishment offers a delicious menu of pub grub and spirits.  They also have a very nice patio; it's a terrific place for an afternoon cocktail or two.
The Drake Hotel
Toronto, Ontario
You've gotta love a nationally renowned music venue that's attached to a hotel.  When the encore is over you can just saunter up to your room and fall asleep.  The Drake Hotel actually has two performance areas: the Underground and the Lounge.  The Underground is in the basement and hosts everything from indie bands to poetry slams.  The Lounge is more of a restaurant-slash-nightclub.  Here, you can enjoy live music, DJs, trivia nights, and gastronomical events.
Fortune Sound Club
Vancouver, B.C.
Fortune Sound Club is one of Canada's best dance clubs.  It's famous for its famous Funktion-One Soundsystem.  The entire venue has been built around this system.  That's how committed Fortune Sound Club is to bringing its patrons pristine audio.  The club hosts Happy Endings Fridays and Sup Fu Saturdays.  You can visit their website for further details but basically those nights are excuses for DJs to drop the bass and for patrons to get down.  Fortune Sound Club is eco-friendly too.
The Foundry
Thunder Bay, Ontario
The Foundry is an Irish gastropub that emphasizes live music, food, and beer—basically, the three greatest things in life.  Created in 2012, The Foundry adheres to real estate's mantra of "location, location, location."  You'll find this magnificent bar and grill smack dab in the middle of Thunder Bay's waterfront entertainment district and right on the Cumberland/Court/Red River pub crawl route.  Keep an eye out for their open mic nights.
Great Hall, UBC Student Nest
Vancouver, B.C.
Here's the lowdown: the Great Hall is a venue belonging to the students of UBC Vancouver.  It's found at the Student Nest, or "Nest," which contains 250,000 square feet of meeting and event spaces as well as food vendors.  The Great Hall is one of the spaces The Nest has to rent.  The Nest is a remarkable building and the Great Hall is a remarkable space.  It's so remarkable that if it only hosted kazoo concerts it would have still made our list.
Harmony House Theatre
Hunter River, Prince Edward Island
You can only hear harmonies at the Harmony House Theatre from April through December.  The Prince Edward Island concert venue seats 140.  The name of this theatre has several meanings.  The owner enjoys singing harmony with her family and she likes the other definition of the word, which is "agreement."  The word "House" creates the alliteration, connotes family, and references the building's past history as a church (i.e., House of God).
Imperial Bell
Quebec City, Quebec
Imperial Bell is a famous Canadian performance venue.  Long and tall, the Imperial Bell dazzles patrons with its red walls and ornate gold trim.  The stage is hidden behind ruffled, red curtains and spectators sit at long tables covered with red table cloths.  With its look and feel you half expect the emcee of the Kit Kat Klub to come out and sing "Willkommen."  We almost forgot the most important aspect of the venue: bar is in the back.  The Bell's acoustics are to-die-for and the staff is exceptional.
Imperial Theatre
Sarnia, Ontario
Besides the usual accoutrements necessary to run a 600-seat theatre, the complex that is the Imperial Theatre also includes two bars, rehearsal halls, and the Nova Room (a space available for small events).  The welcoming Imperial is owned by Theatre Sarnia, one of the oldest operating Community Theatre groups in Canada.  The group's roots go all the way back to 1927.  Buy tickets and support the Imperial Theatre.  The venue doesn't use a dime of taxpayer's money.
Knoxville's Tavern
Edmonton, Alberta
Knoxville's Tavern will blow the cowboy hat right off your head.  The venue is comprised of three rooms, a two-level dance floor, and five bars.  Besides billiards and other games, Knoxville's has 65 televisions.  They also have a "mustache ride."  It's not what you think.  It's a mechanical bull made to look like something you'd find on a hirsute lip.  Edmonton's largest country/party bar is open Thursdays through Saturdays and Sundays on three-day weekends.
Lee's Palace
Toronto, Ontario
Since 1985, Lee's Palace has programmed great local and national bands.  That includes The Polyphonic Spree, Veruca Salt, Mudhoney, Peter Murphy, and Wolf Parade.  If you feel like shaking your money maker, you can always head upstairs to The Cave.  The Cave hosts the best DJs in the land.  Oh yeah, and the mural on the outside of Lee's Palace was painted by Runt.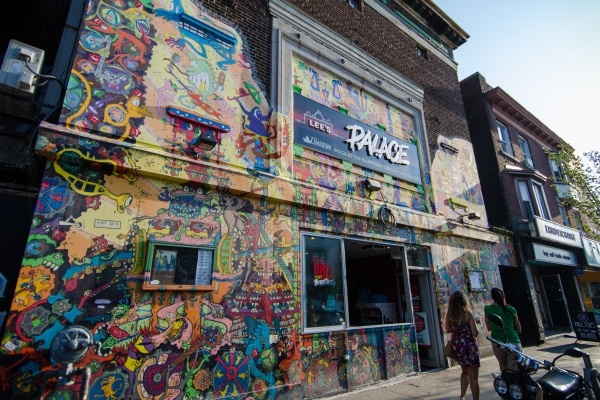 Lee's Palace was seen in the 2010 film Scott Pilgrim vs. the World.  Photo courtesy Jeff Hitchcock.
Manhattans Pizza Bistro & Music Club
Guelph, Ontario
Manhattans Pizza Bistro & Music Club organizes live music almost every night.  Most of the live tunes belong to the jazz genre.  Occasionally, Manhattans will host a comedy night.  General Manager Thomas Aldridge and his crack staff work incredibly hard to make Manhattan's the number one nighttime destination in Guelph.  For example, they've put together a menu starring New York style thin crust pizza.  They serve other stuff but who needs anything more to eat when there's New York style thin crust pizza?
Maxwell's Concerts & Events
Waterloo, Ontario
The visionary geniuses behind Maxwell's Concerts & Events are Paul Maxwell, Jay Taylor, and Steve "Soupy" Campbell.  They have worked long and hard to establish Maxwell's as Waterloo's elite live music venue.  Their amazing facility can be customized to serve between 100 and 700 ticket holders.  Over the years, the venue has hosted a variety of live acts including Collective Soul, Frank Turner, and Obie Trice.  Maxwell's also has a soft spot for nostalgia.  Already in 2017, they've booked KISS, Led Zeppelin, and Metallica tribute bands.
The Media Club
Vancouver, B.C.
Situated downtown, below the Q.E. Theatre Complex, The Media Club showcases a wide array of musicians and artists.  Over the years, The Media Club has hosted sets from Seether, Hot Hot Heat, A Perfect Day, Citizen Cope, and Ben Lee.  The venue can hold 150 Canucks and has a fully licensed bar.  The cozy music venue is equipped with a sound system, lighting grid, giant screen, video projector, and DJ booth.
Mercury Lounge
Ottawa, Ontario
The Mercury Lounge bills itself as "A 21st Century Soul Club."  The club's main achievement is combining the philosophy of jazz with the electronic break beat culture.  With that being said, the Mercury Lounge hosts gigs from a plethora of musical genres as well as poetry readings and dance performances.  To get to the lounge just head towards 56 Byward Market Square.
The Mule Night Club
Penticton, B.C.
The Mule Night Club is "Famous for smiles, and music of all styles."  For the past decade, The Mule has been Penticton elect nightclub.  The joint's light show is phenomenal.  It's so good it's been written up in Spin Magazine.  Their sound system is pretty killer too.  As their slogan indicates, The Mule Night Club books acts from nearly every music genre.  Basically, it's the place to go if you're in Penticton and you want to listen to astounding live music.
The Music Gallery
Toronto, Ontario
The Music Gallery was founded in 1976 by Peter Anson and Al Mattes.  Since 2001, The Music Gallery has called St. George the Martyr Church home.  It's a beautiful space.  You'll find it at 197 John Street at the south end of Grange Park.  The Music Gallery is committed to promoting and encouraging all types of music performances especially the experimental.  You can support the Gallery, so they can support musicians, by becoming a member.  Check out their website for additional details.
New City Gas
Montreal, Quebec
New City Gas was built in 1859 to turn coal into gas.  It's still producing energy but not the kind that can light streets and power buildings.  New City Gas has 40,000 square feet of event space covering two floors.  It's the perfect venue for dance parties.  It's the perfect venue for thumping bass, mind-blowing light shows, and confetti cannons.
The Owl
Regina, Saskatchewan
The Owl is a restaurant and pub located on the campus of the University of Regina.  Their facility also has an amazing performance space—besides concerts it also hosts events and weddings.  Established in 1967, The Owl has been built by the university's students.  Sure, it's nestled on a college campus, but The Owl is still one of Canada's best places to experience live music.
Parts & Labour
Toronto, Ontario
Parts & Labour is a cool industrial restaurant located on Queen Street West in Toronto.  Its basement is called "The Shop" and is a multi-purpose space that can accommodate 170.  The Shop is used for a lot of things but mainly it welcomes renowned touring bands and red hot DJs.  It has a "DIY-aesthetic" and is always ready for some revelry.
Phog Lounge
Windsor, Ontario
Phog Lounge can't help but reap accolades.  CJAM 91.5 named it the "Best Bar In Windsor" not once but nine times in a row.  In 2009, CBC Radio 3 bestowed upon Phog the honorific of "Best Live Music Venue in Canada."  The dive bar brings bands to Windsor that specialize in rock, folk, country, blues, punk, ska, ambient, noise, instrumental and indie.  In case you were wondering, the Phog Lounge does serve "phood."
The Piston Bar
Toronto, Ontario
The Piston Bar, also known as "The Piston," is an incredible live music and DJ dance party establishment.  On the restaurant side, The Piston is one of Toronto's best smokehouse barbeques.  You'll find this miraculous venue at 937 Bloor Street West.  The Piston is West of Ossington, adjacent to the Long & McQuade.  They are opened every day of the week until 2am.
The Pump Roadhouse
Regina, Saskatchewan
There's "Always a party at pump."  The Pump Roadhouse hosts a wide variety of events as well as burgeoning acts and established veterans.  The venue is very fond of country music.  On Thursday, The Pump offers dollar drafts—they call it "Thirsty Thursdays."  We're going to be there.  You should too.  If you arrive before us get an order of wings.  They won't disappoint.
The Railway Club
Vancouver, B.C.
Barenaked Ladies, Los Lobos, Tragically Hip, Blue Rodeo, and k.d. lang have all played The Railway Club.  Get this: The Railway Club has occupied its downtown location (on the corner of Dunsmuir St. and Seymour) since 1931.  It's been hosting awesome live music since 1981.  Besides live tunes, you can also enjoy a scrumptious burger or a delightful pizza.  Thirsty?  The Railway Club offers a fine selection of micro brews and scotches.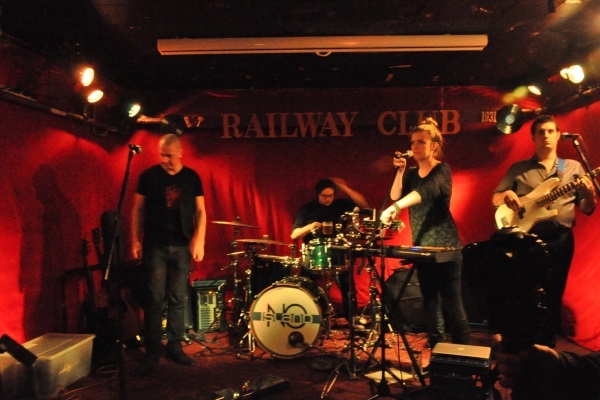 No Island performing at The Railway Club.  Photo courtesy of Melissa Nemeth.
Red Room Ultra Bar
Vancouver, B.C.
Erected at 398 Richards Street, Red Room Ultra Bar thrills patrons with its state of the art PK SOUND system, and intelligent lighting.  Oh yeah, the Red Room on Richards has a capacity of 450 but there's not a bad sight line in the house.  Red Room hosts Cancun Nite Fridays and SUBculture Saturdays.  Both events are great reasons to get out on the dance floor and experience Red Room's sonic superiority.
Sneaky Dee's
Toronto, Ontario
They'll definitely answer if you call them Sneaky Dee's.  The legendary music venue on College Street West will also answer if you call them "Sneak's," "Sneaky's," and "Dee's."  Musically, SD's has welcomed sets from such biggies as Arcade Fire, Broken Social Scene, and Feist.  This iconic venue can accommodate more than 200 souls.  In the nourishment department, 'Neaky offers a tempting menu of Tex-Mex and traditional pub food (try the King's Crown nachos).
Stonewalls
Hamilton, Ontario
Stonewalls has it all.  You can watch the big hockey game on their 120-inch HDTV screen and then enjoy live music—acts from all walks of life—on their new stage.  The venue has a state-of-the-art sound system and a lavish light show.  Family operated, Stonewalls presents live music Friday and Saturday nights.  Their menu ranges from complex gastronomical works of art to yummy comfort food.   One more thing, they have free WIFI.
Streaming Café
Kelowna, B.C.
The Streaming Café has three passions.  Those passions are coffee, music, and art.  The Streaming Café brings live music to its stage every Saturday.  And yes, the Streaming Café streams its live events on the internet.  For more information about their streams visit their website.  The café was first brewed in 2008 and is open seven days a week.
Sugar Swing
Edmonton, Alberta
Sugar Swing is the only venue on our list where you can learn to dance.  During the week, experts will teach you how to tap, Lindy hop, and swing (no partner needed).  Then on Thursday, Friday, and Saturday nights, you can test out what you've learned at their Swing dance sessions.  In February, general manager extraordinaire Birkley Wisniewski and Sugar Swing held their first ever jam night.  It was a rousing success.
This Ain't Hollywood
Hamilton, Ontario
You can't have a list of must-attend music venues and not include a rock n roll bar and if you're going to include a rock n roll ball then you have to include This Ain't Hollywood.  Positioned on the James Street art crawl route, this venue may not be "Hollywood" but it's still ready for its close up.  After all, it's a music venue with a refreshingly cool vibe, thirst-quenching ales, a world class sound person, and a licensed patio.  We almost forgot to mention their courteous and helpful staff.
Tokyo Bar
Montreal, Quebec
Tokyo Bar has a wonderful patio that offers patrons a vista of the St. Lawrence River.  This venue is a dance club through and through, and a stellar one at that.  It's not pretentious and its staff is über friendly.  If you need to take a break from raving, Tokyo Bar offers plenty of comfortable lounge areas where you can sit down and catch your breath.
Venue
Vancouver, B.C.
With its address of 881 Granville Street, and general managed by the illustrious Ty Jensen, Venue might be the best small music venue in all of Canada.  With two levels that can abet 500 music aficionados, Venue hosts both live music shows and dance parties.  The Venue books a diverse range of acts, everyone from Hank Williams III to David Guetta.  We really like their sound system and light show, but we love their staff.  They are top notch.
Wine-Ohs
Calgary, Alberta
To find live music at Wine-Ohs enter through the alley on 1 Street SW, walk past the kitchen, and then down the stairs.  We mention all this because at Wine-Ohs, the "Bistro" is on the ground floor while the "Cellar" is below ground and the Cellar is where you'll want to go to enjoy live music.  It has an inviting speakeasy feel—think New York or Chicago during Prohibition.  As the name implies, Wine-Ohs is famous for their wine list but they have other type of drinks too.
Zaphod Beeblebrox
Ottawa, Ontario
Zaphod Beeblebrox is "the original nightclub at the edge of the universe."  Its coordinates are "Sector ZZ9 Plural Z Alpha" or the heart of Ottawa's Byward Market.  Beginning at 11pm on Thursdays, Fridays, Saturdays, and Mondays, Zaphod beams in one of their resident DJs.  The venue also host live touring acts.  Zaphod's has a page on the website called "Our Philosophy."  The last philosophical point listed on this page states: "All our guests, especially women, should feel comfortable and safe here."  Kudos to Zaphod!
Know of any other great Canadian small music venues not mentioned here? Tell us about them in the comments section!