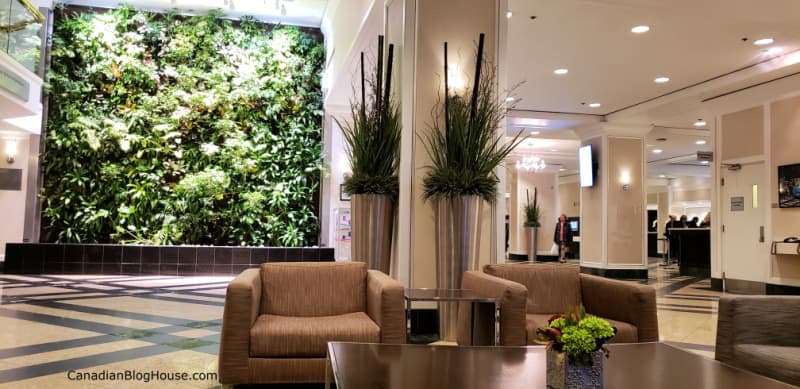 Canadian Blog House partnered with the Chelsea Hotel, Toronto, and Toronto Tourism, to show you how this family-friendly hotel can also be the perfect hotel experience for the solo traveler. All opinions are our own.
I've never envisioned myself to be a solo traveler. As someone who loves the companionship of my partner, or other family and friends, when I travel to far away places, solo travel is generally an experience that is out of my comfort zone.
To say I was a little apprehensive about a recent invitation to Social Media Week in Toronto – an invitation for just me – would be an understatement.
After the excitement of receiving the invitation wore off, reality set in.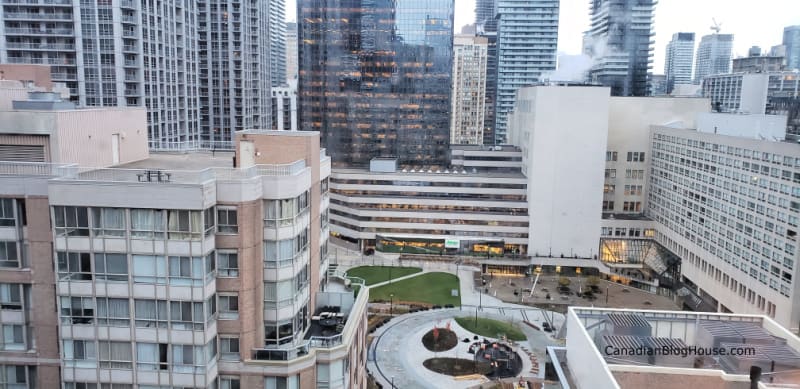 If I wanted to attend Social Media Week in Toronto, I quickly realized "the force" would not be with me. I'd be planning this trip (Han) solo.
I know. Groan.
After numerous attempts to find a blogging friend who might be able to travel to Toronto with me – and striking out – I put on my big girl panties and decided the only way this trip was going to happen was if I went by myself.
So I accepted the invite and then did something I knew would help ease my comfort level while in Toronto – I contacted Tracy from the Chelsea Hotel, Toronto.
Home Away From Home
Regular readers of Canadian Blog House may remember that we had our first perfect hotel experience at the Chelsea Hotel, Toronto back in the summer of 2016.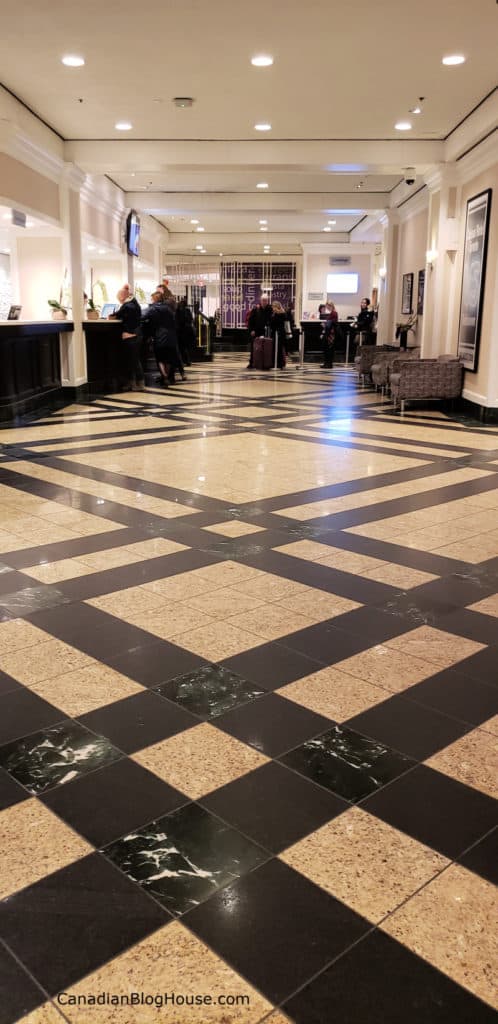 The Chelsea Hotel's prime downtown location (Yonge and Dundas), fabulous family atmosphere, delightful on-site restaurants, and fabulous amenities, make this hotel the perfect hotel experience for visitors while in downtown Toronto.
From the moment I walked back through the front door of the Chelsea Hotel, Toronto, I felt like I was "home". This was a great feeling for me to experience, particularly on my solo journey to Toronto.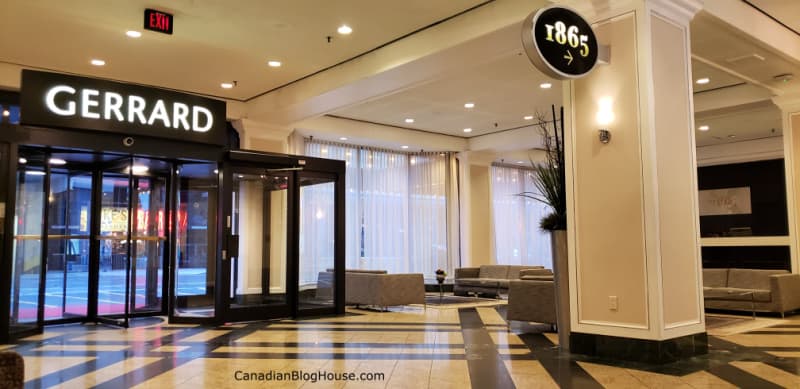 Why should you choose the Chelsea Hotel, Toronto for your next solo travel experience to Toronto?
Here's why!
Chelsea Hotel Toronto: The Perfect Hotel Experience For The Solo Traveler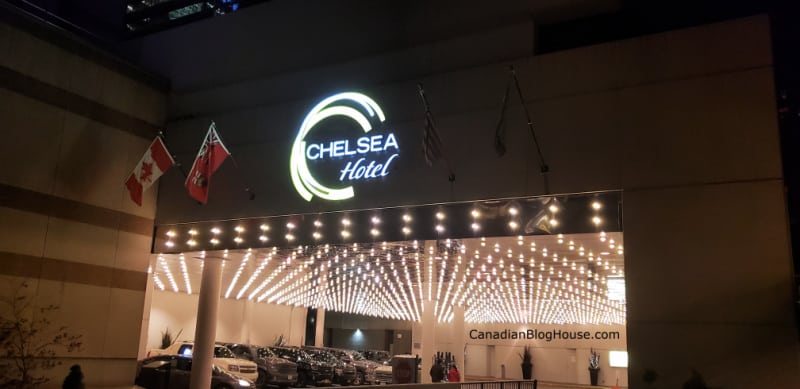 Location, Location, Location!
The Chelsea Hotel, Toronto is centrally located in the heart of downtown Toronto, making it an extremely convenient place to stay, no matter your reason for visiting the city.
The downtown location of Canada's largest hotel is perfect for the solo traveler who is visiting the city without a car. The Chelsea Hotel, Toronto is within easy walking distance of so many shops, bars, restaurants, and tourist attractions.
Need to go a little further afield? No problem! Guests can easily access a city taxi right outside the lobby of the hotel. For those seeking a little more adventure, hop on the Toronto subway, with two subway stations located just a short walk from the hotel.
A Room With A View
While there are plenty of great room options available at the Chelsea Hotel, Toronto, the room I stayed in was perfect for this solo traveler.
The Chelsea Room is "the ideal choice for busy independent travelers seeking something extra. With a variety of bed configurations available, Chelsea Rooms provide a warm welcome to guests returning from a day of business or sightseeing."
My Chelsea Room had a double bed, flat screen tv, desk, complimentary coffee and tea, and a chair seated beside the window that looked out to a beautiful view of Toronto skyscrapers and a courtyard below.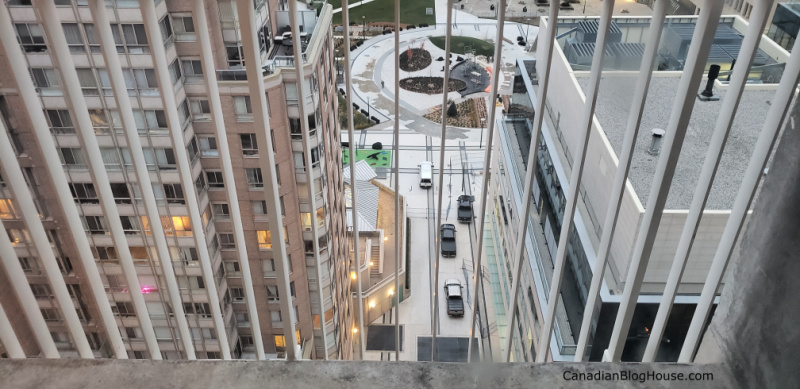 My room was cozy, comfortable and the bed…ohhh the bed. I had such a great sleep in my bed each night that, come morning, I wanted nothing more than to ignore my wake-up call and stay snuggled up in this glorious bed.
When traveling alone, one of the most important things for me is to feel safe and secure in the hotel (and hotel room) I am staying in. The Chelsea Hotel, Toronto may be Canada's largest hotel but, I could not have felt more at ease than I did staying in this family-friendly hotel.
Eat In!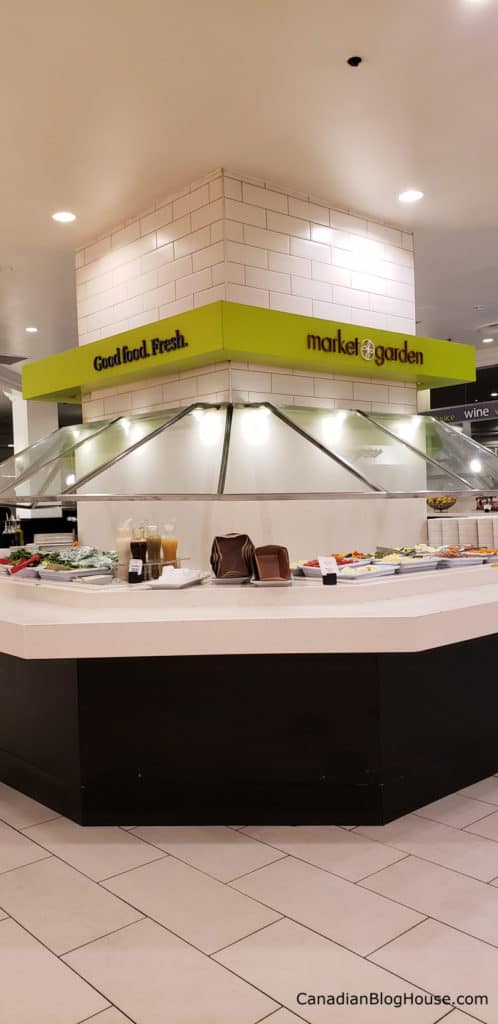 It's no secret that Toronto has plenty of fabulous dining options for visitors to explore.
While I love experiencing new restaurants in any city I visit, I am most comfortable staying in, and eating at my hotel restaurant, when traveling solo.
The Chelsea Hotel, Toronto has four dining options available to guests:
T|Bar
Market Garden
Market Garden On The Go
express|o coffee and wine bar
The Chelsea Hotel, Toronto culinary experts have always used the flavours of wholesome ingredients to inspire the food they make. For over 40 years they have offered classic dishes that have kept customers returning year after year.
"As we reach back in time for our inspiration, we are always pushing forward to create quality combinations for modern tastes.
We keep our recipes simple because we believe that you should taste every ingredient.
We source locally because we believe the best food comes from home.
We present our food with creativity because we believe you eat with your eyes first.
We make it right because we believe that you deserve our best."
I had the pleasure of experiencing all dining options during my stay.
I enjoyed a scrumptious "Grilled Cheese Slider Trio" for dinner one evening at T|Bar.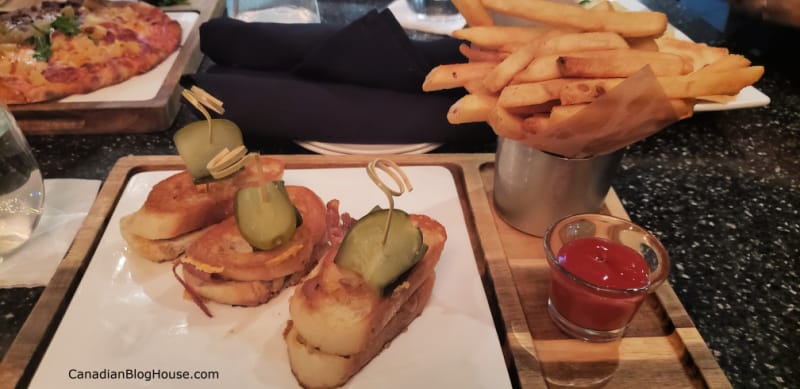 I was also able to experience a delicious breakfast at T|Bar on my last morning at the hotel…this Devonshire County breakfast (minus the banger).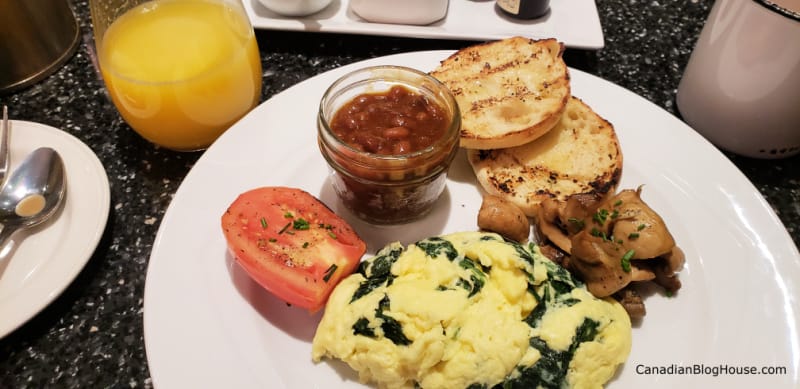 The other mornings, I grabbed a terrific cup of coffee and a muffin from express|o coffee and wine bar. This breakfast was an easy, convenient, and tasty option for me when I didn't have time for a sit-down meal.
Good Night, Sleep Tight
You already know how much I loved my bed at the Chelsea Hotel, Toronto. I would be remiss if I also did not mention that my sleep was made that much better by the blackout drapes in my room, and windows that kept out downtown noise. An overall great sleep experience!
Feel The Attraction
There are so many great tourist attractions in downtown Toronto! If you stay at the Chelsea Hotel, Toronto, you will be close to all the action!
Just steps from Yonge-Dundas Square and Toronto's Eaton Centre, guests of this hotel will find there's always something to see, hear, and do, within a short walk from the hotel. For those of you who love to people watch, the Yonge-Dundas area is the place to be!
Summer visitors looking for something unique to do in downtown Toronto can hop a ferry for a ride across the harbour to the Toronto Islands. Here you will find Chelsea Beach – named after this fabulous hotel of course!
Don't forget to check out Chelsea Hotel, Toronto's "Show Your Key And Save" program to receive "exclusive discounts to the city's hottest attractions, live theatre, retail venues and more ."
Choices, Choices
Spending time as a solo traveler at the Chelsea Hotel, Toronto, gave me a chance to check out a few areas in the hotel that I did not get to, the last time we stayed there as a family.
Deck 27 Adult Pool & Fitness Centre
Deck 27 Adult Pool & Fitness Centre is a great place to unwind after a busy day! Here you'll find a male/female sauna, heated indoor pool and whirlpool, and in the warmer weather, a seasonal outdoor sundeck.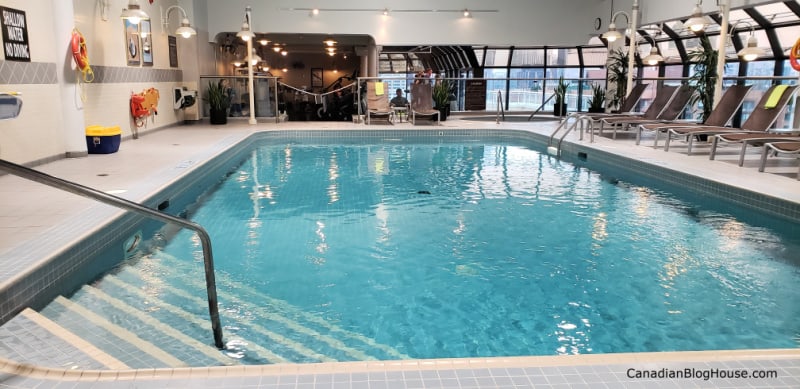 Family Fun Zone
Solo travelers who love the hustle and bustle of a busy family-friendly pool, should check out the Family Fun Zone – and its corkscrew waterslide!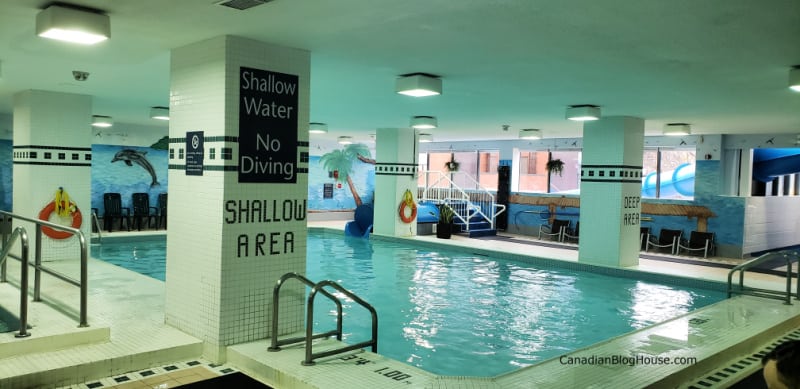 Bring Your Best Friend
Traveling solo doesn't mean you have to leave your favourite four-legged best friend at home. The Chelsea Hotel, Toronto is dog-friendly! Your small to medium dogs can join you for only $35 (for up to a 5 day stay).
Personally, although I adore my dogs, I wouldn't travel with our poodles because I'm not sure they would behave if I had to leave them alone. For those of you who do have well-behaved pooches, keep this in mind for your next trip to Toronto!
Added Touches
As I've mentioned several times before, I love when hotels surprise guests with added touches – things that make your stay a little more pleasurable.
Chocolate treats are always a welcome surprise!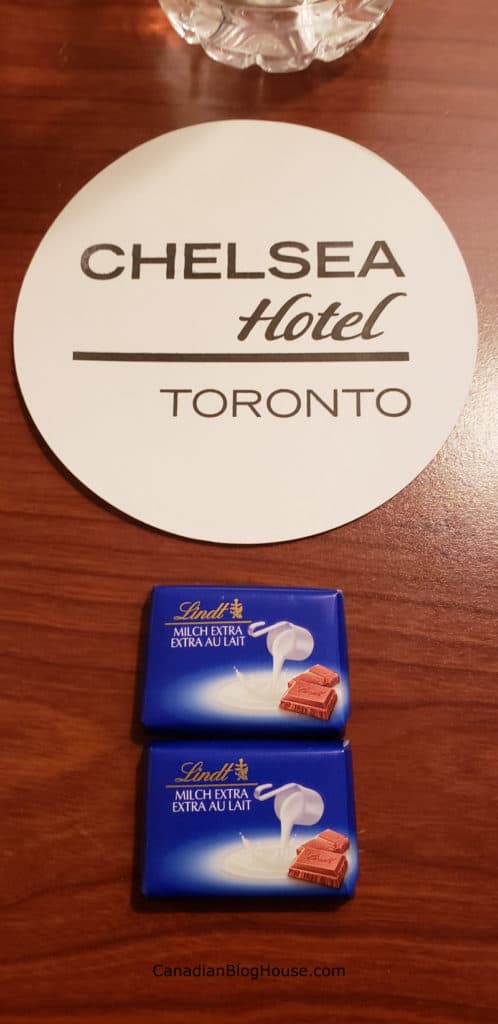 FREE WiFi is a must for me when I travel. There is nothing more frustrating, however, than when a hotel advertises free WiFi but, the signal is so poor, you can't even use it. Even on the 18th floor, far from the hotel lobby, the WiFi in my Chelsea Hotel, Toronto hotel room worked like a charm!
Many of us travel with several electrical gadgets (mobile phone, camera, tablet, laptop) these days. Multiple electrical outlets, and places to charge our gadgets, are a necessity in hotel rooms.
I always give kudos to hotels like the Chelsea Hotel, Toronto for going above and beyond by providing guests with bedside table/lamp options like this…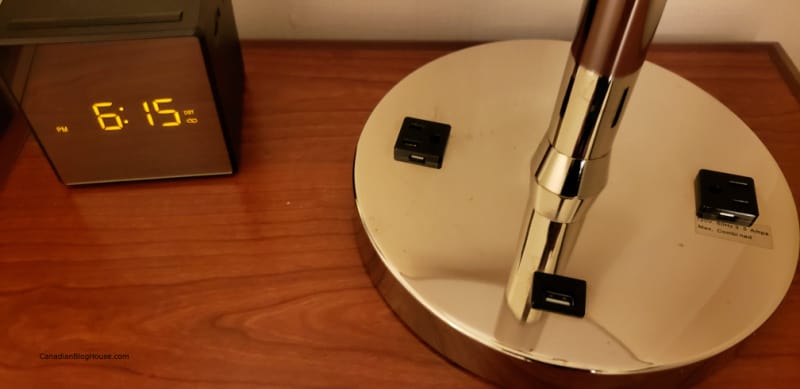 A lamp with several plug-in options may seem rather insignificant but, for a traveler like me who needs to stay connected online, it's a big deal.
Helpful Tips For The Solo Traveler
My stay at the Chelsea Hotel, Toronto was a perfect hotel experience for this solo traveler! I wouldn't hesitate to do it again, and in fact, I hope to. Afterall, I still have a fear to conquer…but more on that in an upcoming post.
Here are just a few tips for you should you decide to enjoy a solo stay at the Chelsea Hotel, Toronto:
My biggest tip is the result of me being gullible. A cab ride from your train at Union Station, to the Chelsea Hotel, Toronto, should only cost you around $10 ($15 max if you are caught in rush hour traffic).
Upon my arrival at Union Station, after 5 hours of travel, I was in a hurry to get to the hotel so I could eat and relax. I foolishly fell for a ride with a "taxi driver" who had run up to me outside the station. He told me he could take me to my hotel for $25 – and promptly told me that this is the price everyone charges at rush hour.
While this price sounded too high for the distance I needed to travel (I was pretty sure the Chelsea Hotel, Toronto wasn't very far from Union Station), I was tired, it was crazy busy with people and cars outside the station at rush hour, and I just wanted to get to the hotel – so I agreed to pay $25.
Sadly, I was scammed. A very kind and wonderful taxi driver who picked me up at the Chelsea Hotel, Toronto to take me back to Union Station at the end of my trip, told me that I should only have been charged between $10-15 for my other cab ride.
For his honesty, advice, great sense of humour, and quick drop off back to Union Station, I gave this cab driver a good tip, made him smile, and was on my way home.
Reputable taxis can be conveniently found at the hotel entrance off Elm Street.
This hotel is big. Very big. As a female solo traveler, next time I would request a room closer to the elevators. My walk to my room was a very long one. I never felt unsafe but, for my own comfort level, I would have preferred a shorter walk to my room.
Take time to explore the hotel. While I had not intended on visiting the Family Fun Zone on this trip by myself, I ended up wandering down to this area of the hotel. This led me to where the Chelsea bunnies are housed! I spent some time watching and petting these delightful critters and it gave me some much-needed furry friend time when I was missing my dogs.
No matter where you stay as a solo traveler, always practice normal safety precautions. Be aware of your surroundings, use dead bolt locks when in your room, and never open the door to anyone you aren't expecting.
I made sure to text my partner whenever I ventured away from my hotel room just so someone knew where I was headed. I would also text him when I had arrived at my destination.
Feel like venturing outside for dinner? On Elm Street (located at the back entrance to the hotel) you'll find several local restaurants lining this pretty downtown Toronto street.
I was lucky to be asked by friend and fellow travel blogger, Yashi from Baby & Life, to meet her for dinner at the Queen and Beaver Pub, located directly across from the Chelsea Hotel, Toronto. Delicious food made from scratch, a great pub atmosphere, and good company, made for a wonderful evening out!
Not feeling like a sit-down breakfast? Do like I did and grab a coffee and muffin to go from the Express|o Coffee and Wine Bar. "For the discerning coffee lover, express|o coffee & wine bar offers a selection of hot and cold beverages from cappuccinos to chai tea lattes." You'll also find a great assortment of mouth-watering treats to choose from.
Thinking of planning your own solo trip to Toronto – or a family getaway? Be sure to check out the Chelsea Hotel, Toronto's Winter Wanderer Sale – 20% off their Best Available Rate of the Day and plan your own perfect hotel experience!
Details about the Winter Wanderer Sale can be found on the Chelsea Hotel, Toronto website here.
For more fun from the Chelsea Hotel and Toronto, be sure to visit Canadian Blog House (@CanBlogHouse) "Toronto" highlights on Instagram!