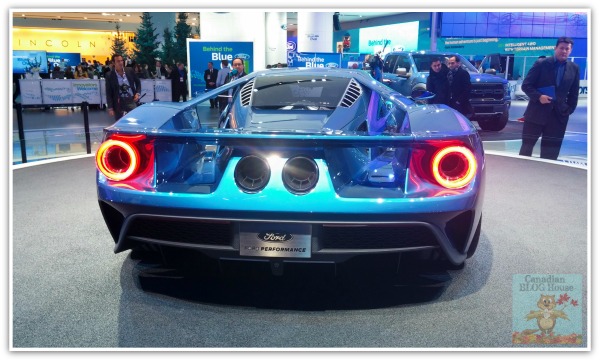 From the North American International Auto Show (NAIAS) in Detroit: the all new 2017 Ford GT Supercar.
One sexy beast.
Admit it, you've been staring at its rear end, haven't you?
Well so was I – A LOT. You can't help it, especially when you are standing 5 feet behind this magnificent dream car like I was when I spent 3 days with Ford Canada "Behind The Blue Oval" at NAIAS.
In fact, I fell so in love with the Ford GT Supercar that I couldn't resist sharing my secret with the world:
Maybe it's the sleek lines, maybe it's the horsepower (over 6oo HP), maybe it's the driver-centric technology…or maybe it's that eye-catching "Ford Blue" colour that got me all excited but, whatever it was, it was love at first sight.
The Ford GT Supercar was just one of 3 spectacular new Ford vehicles that were showcased at this year's 2015 North American International Auto Show, and I got to stand next to all three of them! Heck, I even got to touch them (shhhh..that's our secret, ok?). This was after the exciting Ford Press Conference that I, and 20 of my fellow Canadian writers, got to witness on the morning of January 12, 2015, at Joe Louis Arena (Yes! Home of the Detroit Red Wings!).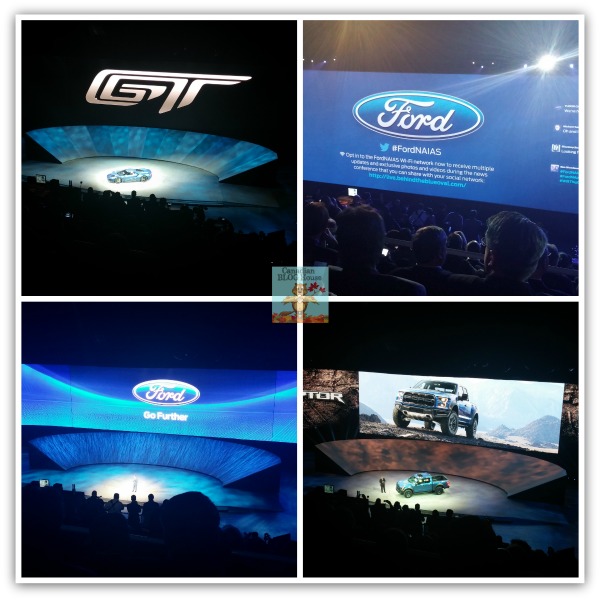 Ford Press Conference – January 12, 2015 – Joe Louis Arena – Detroit, Michigan
It was at this Ford Press Conference that Ford revealed the superstars of the NAIAS:
Ford GT Supercar

Ford Shelby GT350R Mustang

Ford F-150 Raptor Supercab
the use of carbon fibre gives the GT Supercar one of the best power-to-weight ratios of any production car.

the Shelby is the most race-ready Mustang Ford has ever built.

the Raptor features a 10-speed automatic transmission – first ever!
So after the much-anticipated Ford Press Conference, it was time to head onto the ice at Joe Louis Arena! Well, maybe not the ice…more like floor boards, but it was here that we got to get up close and personal with these Ford superstars.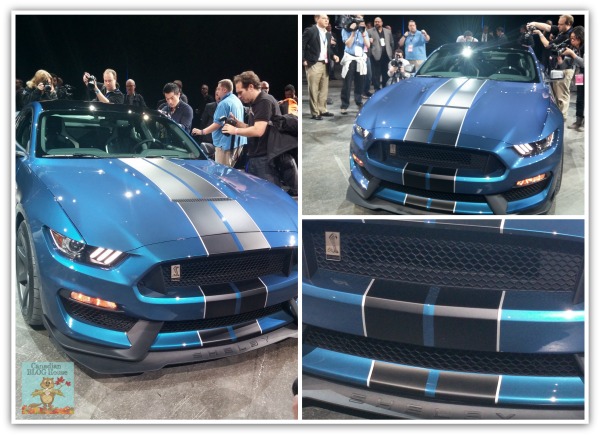 Ford Shelby GT350R Mustang
Built specifically for the demands of the track, the agile Ford Shelby GT350R Mustang is the first vehicle ever produced with standard carbon fibre wheels. This race-ready, yet road legal, Mustang boasts a decrease in weight of 130 pounds in comparison to other Shelby Mustangs. When Ford engineers were developing the Ford Shelby GT350R Mustang, they examined every single part of the vehicle, from bumper to bumper – to see what parts they could safely eliminate. If a part wasn't necessary for performance, or to make the car legally safe to drive, it was eliminated! This includes such parts as a back seat, and air conditioning – both of which are absent from this vehicle.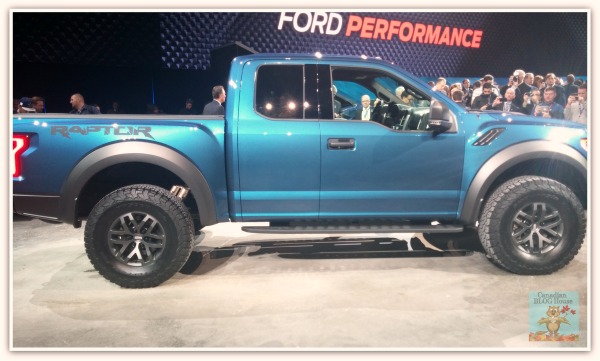 Ford F-150 Raptor Supercab
Rugged enough to handle anything an expert off-road driver can throw at it, yet beautiful enough to capture the heart of male and female urbanites everywhere, the Ford F-150 Raptor Supercab weighs in at over 500 pounds LESS that its predecessors, yet doesn't compromise on either strength or performance.
The buzz around these vehicles was fascinating to watch. Journalists and writers from all over the world were mesmerized by these beauties. I watched grown men and women all vying to get as close as possible to these automotive masterpieces. With elbows flying, tri-pods being squeezed into tight places, and some people literally tripping over one another, I quickly took the photos I wanted…and backed off to watch all the excitement unfold before my eyes.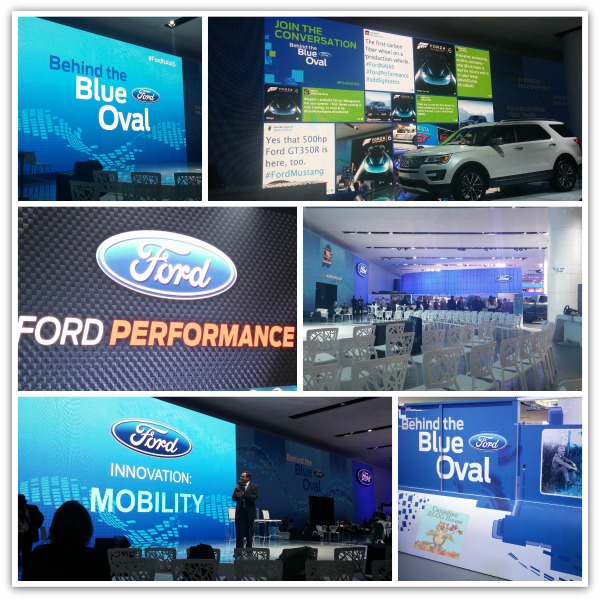 Behind The Blue Oval
Once the press conference concluded, we made our way over to the Cobo Centre where we would spend the next couple of days at the North American International Auto Show.  Team Canada's (as we called ourselves) "home away from home" at the Auto Show was the area known as the Ford Blue Oval. The Blue Oval was a beautiful, inviting area where we spent time listening to presentations, checking out the many amazing Ford vehicles on display, spending time getting to know each other and…eating and drinking! Yes, we were treated to some yummy food, snacks and beverages during our time in the Blue Oval.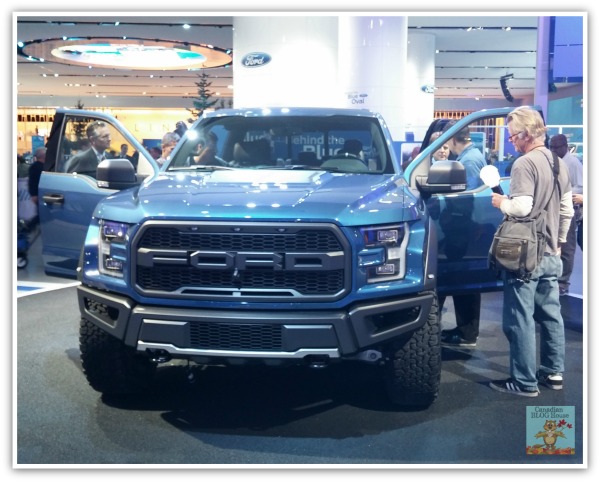 The Ford F-150 Raptor Supercab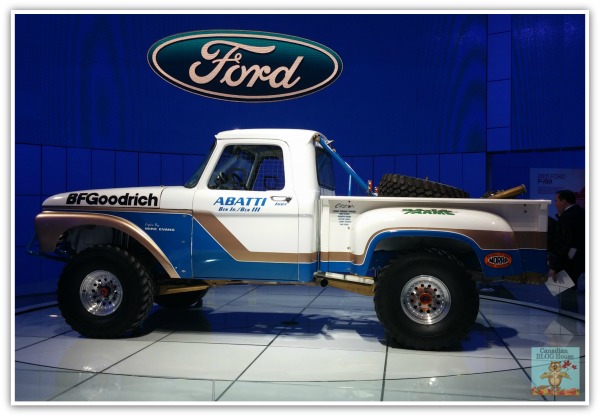 1966 Ford F-100 Custom Cab Flareside
This vintage Ford truck was one of my favourite Ford vehicles on display. Anyone know what this is? It's a 1966 FORD F-100 Custom Cab Flareside that was modified to an offroad/Baja truck.  Imagine what kind of ride you could have in this beauty! That's one of the things I love most about the North American International Auto Show. Not only do you get to see the most powerful, sexiest new cars, you also get to check out vintage masterpieces from years past.
The NAIAS has it all: Past, Present and Future!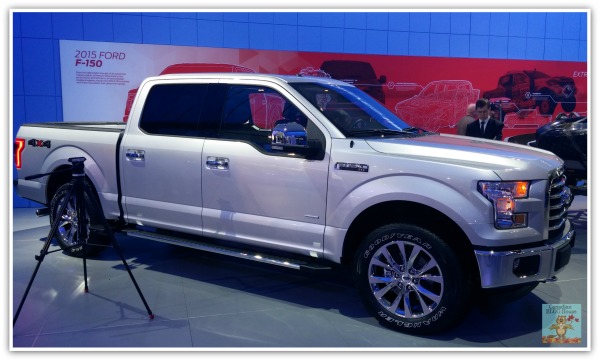 Speaking of present, this 2015 Ford F-150 is something we hope to own one day.  This truck has it all: looks, performance, muscle, an extended cab (lots of room for kids and the dog!), and great hauling capabilities. The perfect vehicle for many Canadian families no matter where you live!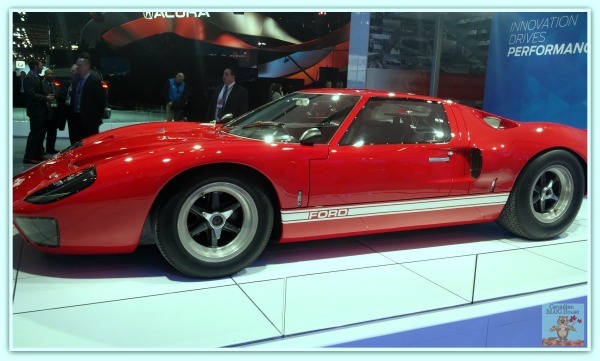 Ford GT40 Race Car
The Ford GT40 Race Car is another stunning Ford vehicle I came upon while wandering around the Blue Oval. This ravishing red race car is an ancestor of the sexy blue GT Supercar beast I love so much.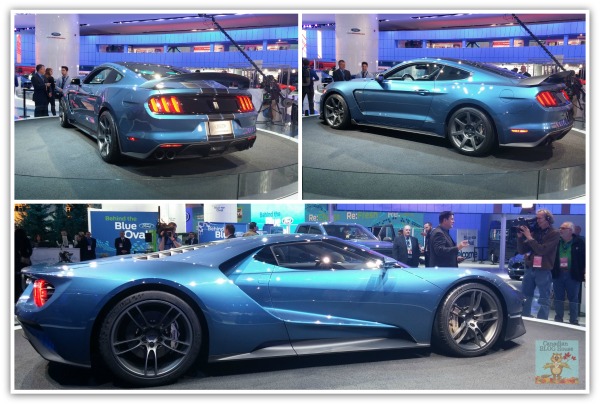 The Ford Shelby 350GTR Mustang & my beloved Ford GT Supercar
A highlight of our time at the NAIAS in Detroit was getting to meet Ford Motor Company President and CEO, Mark Fields. Mark wandered over to our table on the final morning we were there. It was fascinating to hear him speak about the company he is so passionate about, and what he envisions for Ford's future. It's that passion that was evident in every Ford employee we spoke with, right from Mark Field's on down the (assembly) line. You can feel the pride in Ford employees, that they are part of a family that plays such an important role in automotive history.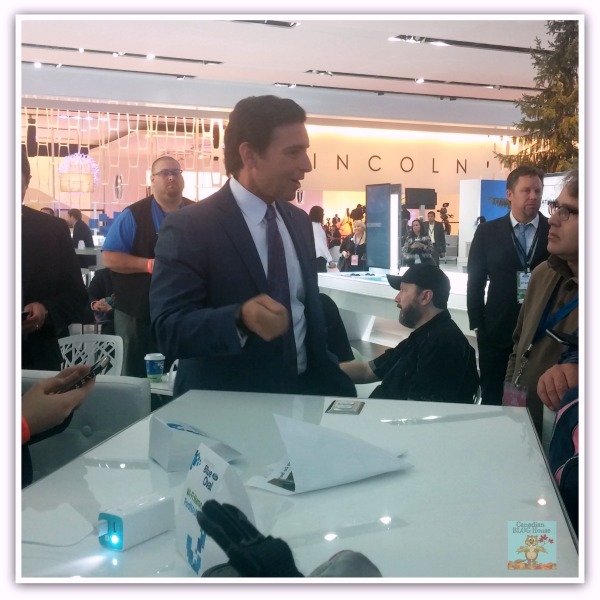 Ford Motor Company President & CEO – Mark Fields
The North American International Auto Show is something everyone should get to experience at least once in their lifetime, no matter if you are a car buff or not. The NAIAS, which began as a regional auto show way back in 1907, became an international auto show in 1989, and brings hundreds of thousands of visitors to Detroit each year to witness the most amazing vehicles the world has to offer. Wandering through the massive automotive showrooms of Cobo Centre, you cannot help but be awestruck by all that is the NAIAS. Whether you are a Ford fan like me, or a fan of another brand – or just of cars in general – be sure to add this event to your bucket list.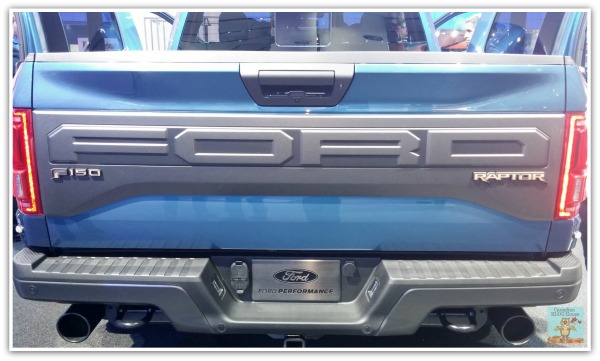 Ford F-150 Raptor Supercab
A special thank you again to Ford Canada for inviting me to join them on this unforgettable trip to the North American International Auto Show!