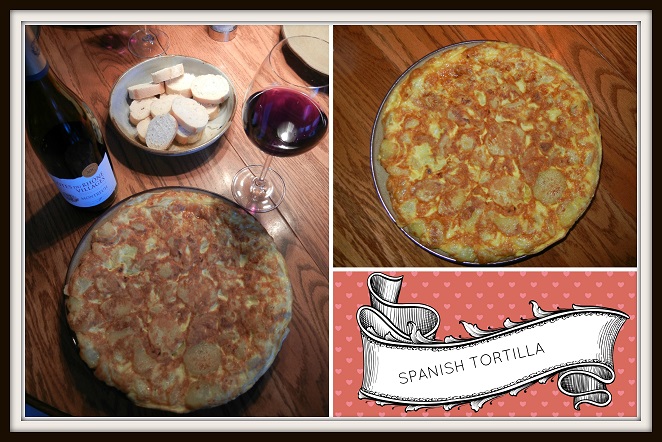 Have you ever eaten Spanish Tortilla? By tortilla, I don't mean the kind of flat round bread you find in your local grocery store.  I mean a real Spanish Tortilla.
Spanish Tortilla (or Tortilla de Patatas in Spanish) is actually a Spanish omelette, and is a popular dish in Spain. Consisting of very basic ingredients including Spanish onion, eggs, yellow flesh potatoes, olive oil and salt, this Spanish favourite is absolutely mouth-watering!
How do I know?  I got to try Spanish Tortilla for the first time last weekend when my wonderful partner offered to make it for me.  I love trying new foods, so I was all for that!  His recipe comes from the Spanish side of his ex-wife's family…straight from Spain.  So you know it has to be authentic.
In Spain, Spanish Tortilla is an appetizer or "aperitivo" that is often served with a glass of beer (many pubs in Spain serve slices of Spanish Tortilla for free!).
We chose to make our Spanish Tortilla "Sunday supper", and served it alongside a glass of red wine and a basket of fresh baguette.  It was so delicious I had to restrain myself from having piece number three!  By the next morning, we had managed to polish off the rest of our Spanish Tortilla.  If it's possible, our Spanish Tortilla tasted even better the next day!
Spanish Tortilla – Family Favourite Recipe
Want to make your own Spanish Tortilla? Here's the step-by-step recipe:
 ~ SPANISH TORTILLA ~
1 Large Spanish onion

6 large eggs

6-7 medium yellow flesh potatoes

3-4 cups of olive oil (not extra virgin)

Salt
Slice potatoes into "chips" about 1/8th of an inch thick (make them all equal)
Cut the onion into cubes about the size of a nickel
Beat the six eggs in a large bowl
Bring the oil to frying temp and add potatoes, 3-5 minutes after, add onions. Do not let the potatoes brown or turn crispy, keep flipping them until cooked – you will be able to easily break the potatoes with a spatula
Drain the cooked potatoes and onions (I let them sit on a plate with paper towel to soak up extra oil – do this a couple of times)
Mix the potatoes, onions and beaten eggs and add salt (you may want to experiment with this – you can always add more salt later)
Heat, on medium, a deep pan with a 10" (approx.) flat bottom, and add 2-3 tablespoons of Olive Oil
Pour mixture in and cook for 3-4 minutes –you can lift an edge and see if the egg is browning. Once it is, remove from heat and put a plate over the pan and flip the tortilla into the plate. You then slide the tortilla back into the pan and cook the other side for 3-4 minutes (until you see browning when you lift the side of the tortilla).
Let sit for approximately 15 minutes.
Enjoy!