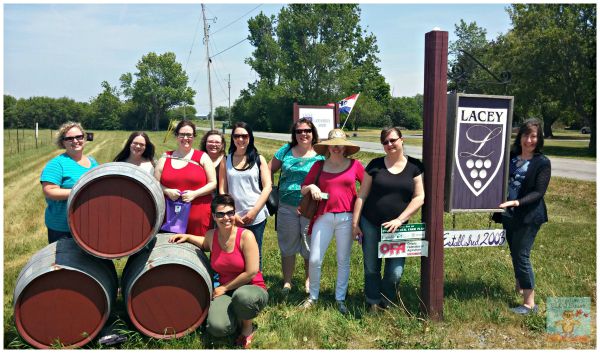 Here in Ontario, we are blessed with three spectacular wine-producing regions, including Prince Edward County in Southern Ontario. Prince Edward County's wine region is the youngest wine region in Ontario. It is also one of the fastest growing wine regions, thanks in part to tourism, and the growing number of fabulous shops and restaurants in the area.  Located at the same latitude as the wine-growing region in France, Prince Edward County produces wines that are very similar to French wines. Prince Edward County (and French) wines tend to have a higher acidity with more mineral flavours. Characteristics of Prince Edward County wines make them excellent wines to pair with a variety of foods.
It was in Prince Edward County, or "The County" as it is known to locals, that I spent a half day with 9 other bloggers this past May, touring 5 wineries with Sandbanks Vacations & Tours.  As you can imagine, it was a great way to spend a sunny spring afternoon!
Sandbanks Vacations & Tours was established in 2009 by owner Richard Barrett. As a long-time vacation property owner himself, Richard saw a need for worry-free vacations, and that's what he and his team seek to provide business and pleasure visitors to Prince Edward County. Richard and his team live in the County, so they are full of "insider" information about this beautiful region.
Sandbanks Vacations & Tours offer a vast selection of property rentals from across all corners of Prince Edward County. Featuring stunning beachfront properties available for weekly rentals in spring and summer, to cozy getaways in the fall and winter, no matter what type of vacation rental property you are looking for, Sandbanks Vacations & Tours has something to please everyone!
Of course, any stay in Prince Edward County wouldn't be complete without a visit to some of the County's best vineyards! Lucky for us, Sandbanks Vacations & Tours took us to see some of the best that PEC has to offer.
Our first stop was at Lacey Estates Winery located in Hillier, Ontario. Kimball & Liz Lacey are the dynamos behind this winery. We were especially excited to visit this vineyard as, the previous night, both Kimball & Liz had graciously agreed to join our group for a private wine and cheese party highlighting all the wines Lacey Estates Winery has to offer. Having the opportunity to spend some time at their vineyard, and enjoy a few more tastings of their magnificent wine selection, was a complete pleasure. Winemaker Kimball, is a wealth of knowledge about the varieties of grapes, how to grow a great crop, and how to deal with the barrage of pests that threaten vineyards. Thanks to the late spring freeze this year, we also got to learn how Kimball dealt with the horrible frost conditions that wiped out many crops in Prince Edward County. Kimball's stories were fascinating, and the Lacey's warm welcome and hospitality were the epitome of the residents of this inviting region.
We enjoyed 4 more stops along the way:
At each winery our group enjoyed a selection of tastings of some of Prince Edward County's most exquisite wines. I fell in love with so many new wines during our tour, making a choice as to which wines I was going to purchase to take home with me was daunting. If I could, I would have filled the back of our Ford Expedition Platinum with bottles of Prince Edward County wine. Of course, I tucked a couple of bottles of Lacey Estates wine in my suitcase (the Chardonnay and the Baco Noir).
In front of our group of digital influencers, Joni Gillingham, co-owner of Domaine Darius, described herself as being "technically challenged", and offered up the best quote from the whole wine tour. It made us all chuckle, and I knew I just had to include it in my video (see below).
I truly enjoyed participating in this Sandbanks Vacations & Tours winery tour with my blogging friends. I found it fascinating to watch as everyone sipped on the wines and discussed their favourite varieties. What was one of my favourites was not necessarily a wine one of my blogging friends would choose, and vice versa. That's the great thing about Prince Edward County wineries – they have a wine to please everyone!
Thinking of booking a winery tour for you and your friends? Sandbanks Vacations & Tours can provide comfortable, safe and fun transportation for your group in one of their 3 transportation options, including the 12-16 passenger limo bus that our group traveled in. Traveling with Sandbanks Vacations & Tours means you can leave your vehicle at your vacation rental property and let them handle the driving (they will pick you up anywhere within Prince Edward County). With all the tasting that happens on winery tours, traveling with Sandbanks Vacations & Tours is one of the safest and most responsible ways to enjoy your tour.
I also brought home 2 of my other favourite Prince Edward County wines, one from Harwood Estate Vineyards, and one from Domaine Darius. Which ones, you ask? You'll have to check out my video to find out!
Come see a little of what a winery tour with Sandbanks Vacations & Tours is all about! Go easy on me – it's my first attempt at making a video slideshow! **Apparently I need to work on my editing skills. I left out the "E" in Lacey in their intro! Sorry Kimball & Liz! 
Enjoy the music…or turn off your speakers if you don't want to listen.
A huge thank you to Richard Barrett and his team at Sandbanks Vacations & Tours for hosting our blogging group for a truly memorable afternoon touring some of Prince Edward County's most superb vineyards!
Have you ever been on a winery tour of Prince Edward County? What wineries did you visit?
Come see what my friend Shannon, from Shannon's View From Here,  thought of our Sandbanks Vacations & Tours winery tour!