Canada's National Capital Region, encompassing the cities of Ottawa, Ontario and Gatineau, Quebec (and their surrounding rural areas), is a vibrant region full of world-class attractions and activities, restaurants and eateries, educational institutions, sprawling green spaces, and beautiful architecture that provides spectacular photo opportunities around every corner.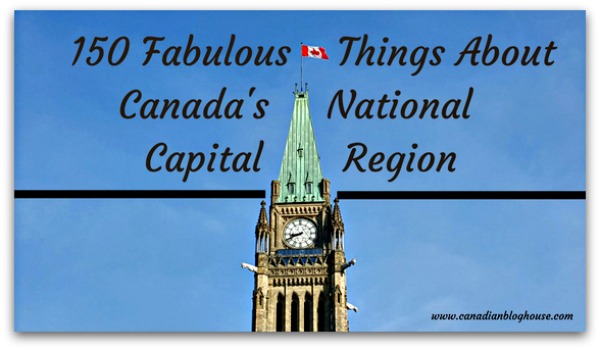 Don't just take my word for it. Even the New York Times would agree with me. In fact, they love all of Canada for that matter.
The two metropolitan areas that make up Canada's National Capital Region are very distinct cities, and they both offer visitors, and residents alike, so many great things to see and do, as well as many great outdoor spaces perfect for hiking, biking, or just spending time in.
Ottawa is the 4th largest city in Canada yet, ask any local and they will say that Ottawa still has that small town feel about it – except when you are caught in our rush hour traffic, that is!
Gatineau is the 4th largest city in Quebec. Located just across the Ottawa River from downtown Ottawa, and joined to Ottawa by 6 different bridges, Gatineau, and the Outaouais, are full of must-see (and do!) activities – and spectacular scenery!
So in honour of Canada's 150th birthday this year, I just had to share 150 things that help to make Canada's National Capital Region so great!
Many of these things you will have heard of, seen, or experienced yourself. Hopefully you'll find a few things on my list that will intrigue you, surprise you, and just make you want to learn more about them – or visit them next time you are in the region!
On this list I've also included some famous Canadians who were either born here, or who have made Canada's National Capital Region their home, and made their mark on this area.
This list by no means covers all that is great in our National Capital Region. I know there are many more wonderful things that could be listed here. So, if you know of something fabulous in the National Capital Region that I did not list here, please go ahead and share it in the comments section! We, and your fellow Canadian Blog House readers, would love to hear about them!
150 FABULOUS THINGS ABOUT CANADA'S NATIONAL CAPITAL REGION:
---
TOURIST ATTRACTIONS:
Arbraska Lafleche
Bank of Canada Currency Museum
Billings Estate National Historic Site
Brew Donkey Tours
Byward Market
Canada Agriculture and Food Museum
Canada Aviation and Space Museum
Canada Day celebrations
Canadian Children's Museum
Canadian Museum of History
Canadian Museum of Nature
Canadian Tire Centre
Canadian War Museum
Capital Cruises
Carleton Jail
Casino du Lac Leamy
Centennial Flame
Champlain Lookout
Changing of the Guard
Chateau Laurier
Diefenbunker Museum
Edelweiss
Embassies
Fairmont Le Chateau Montebello
Flying Squirrel Trampoline Park
GO Skydive
Great Canadian Bungee
Haunted Walks
Karters Korners
Lady Dive Amphibus & Double-Decker Tours
Lansdowne Park
Library and Archives Canada
Mackenzie King Estate
Mont Cascades
National Arts Centre
National Art Gallery
National War Memorial
Nokia Sunday Bikedays
Notre-Dame Cathedral Basilica Ottawa
Parliament Hill/Peace Tower
Papinack Zoo
Paul's Boat Line
RCMP Musical Ride
RCMP Stables
Rideau Canal
Rideau-Carleton Raceway
Rideau Hall
Royal Canadian Mint
Saunders Farms
Science and Technology Museum
Skyzone Trampoline Park
Supreme Court of Canada
Valleyview Little Animal Farm
Watson's Mill
Wilderness Tours – Whitewater Rafting
24 Sussex Drive
Zaphod Beeblebrox
NATURE:
Andrew Haydon Park
Brittania Beach
Bruce Pit
Capital Pathway
Chapman Mills Conservation Area
Dow's Lake/Pavillion
Experimental Farm
Gatineau Park
Lac Leamy
Major's Hill Park
Meech Lake
Mer Bleu Conservation Area
Mooney's Bay Park
National Capital Greenbelt
Nepean Point
Ottawa River
Petrie Island
Rideau Falls
Rockcliffe Park
Rockcliffe Parkway
Vincent Massey Park
Wesley Clover Park
Westboro Beach
EDUCATION:
Algonquin College
Carleton University
Ottawa University
FOOD:
Beavertails
Hintonburger
La Cigale
La Pataterie Hulloise
SuzyQ Doughnuts
Thyme & Again
BEVERAGES:
Big Rig Brewery
Harvey & Vern's Soda
Kichesippi Beer Company
FESTIVALS:
Casino Lac-Leamy Sound of Light Festival
Festibière de Gatineau
Gatineau Hot Air Balloon Festival
International Busker Festival
Mosaika
Ottawa Dragon Boat Festival
Ottawa Folk Festival
Ottawa Jazz Festival
Ottawa Lumière Festival
Ottawa PoutineFest
PEOPLE:
Alanis Morrisette – born in Ottawa
Bryan Adams – lived in Ottawa during his teenage years
Dan Ackroyd – born in Ottawa
Jeremy Hotz – born in Ottawa
Kelly Rowan – born in Ottawa
Keshia Chanté – born in Ottawa
Matthew Perry – raised in Ottawa
Mayor Jim Watson – Voted Best Mayor in Canada 2017
Paul Anka – born in Ottawa
Sandra Oh – born in Ottawa
Sarah Chalke – born in Ottawa
Tom Cruise – lived in Ottawa during his childhood years
Tom Green – born in Ottawa
SPORTS:
Ottawa Fury
Ottawa Redblacks
Ottawa Senators
Ottawa 67's
SHOPPING:
Bayshore Shopping Centre
Billings Bridge Shopping Centre
Carlingwood Mall
IKEA
Les Galleries de Hull
Les Promenades
Ottawa Trainyards
Place d'Oreans
Rideau Centre
Sparks Street Mall
St. Laurent Shopping Centre
Tanger Outlets
The Glebe
---